To Give, or Not to Give a Hoot: Japan's Owl Cafes
What if you could offer the comfort and companionship of pets to millions of people who don't have the space, or are forbidden by landlords, to keep their own? It was this idea that led to the opening of Japan's first cat cafe in Tokyo in 2005.
Although not a unique concept – Taiwan opened the world's first in 1998 – it was one that gained popularity fast. The cafes became a hit with locals and tourists alike, with many of the former visiting for stress relief while the latter were drawn to the unconventionality of it all. In just five years, the 'pet-rental' business in Japan had grown to include 79 cat cafes alone.
Today, stores offer more than just cats. Customers can spend time with rabbits, dogs, snakes, goats, or – the latest trend – owls.
Almost everyone I know who has been to Fukuoka has visited the Hakata branch of Owl Family, which opened in January 2014 . Intrigued by the idea of getting to see the magnificent birds of prey up close, I begged Mark – who'd already been once before – to take Ken and I for a look after our trip to Nanzoin Temple. But during our visit, the novelty wore off fast.
It's a blink-and-you'll-miss-it kind of place. Located on the Canal City end of the Kawabata Shopping Arcade, the minimal storefront gives little of its contents away; the wooden door is always closed and the windows obscured by screen blinds. Even the logo, two orange owls, is partially hidden underneath a decoration of ribbons draped to meet another store on the opposite side of the street.
But it took all of a second for one of the employees to pop her head outside after we knocked and take our reservation. The shop works on a first-come-first-serve basis – visitors sign up for the next available hourly time slot and wait their turn.
We killed our 30 minute wait time at the surrounding shops and Kushida Shrine.
Owl Family is spotlessly clean, but very, very small. There were only 8 of us – Mark, Ken, me, two other tourists, and three staff members – but it felt crowded.  We walked in to see 4 or 5 owls perched on a railing and at least a dozen more in open cages against a wall, each of them tied down by the talon.
Upstairs is a cafe where you are taken first to order a drink and get the lowdown on how to handle the owls. In a payment system that I don't quite understand, you cough up 1500円 ($12 / R187 / €11) for a soda or 1700円 ($14 / R211 / €13) for a beer and then have 45 min to drink it, in which time you can also visit with the owls.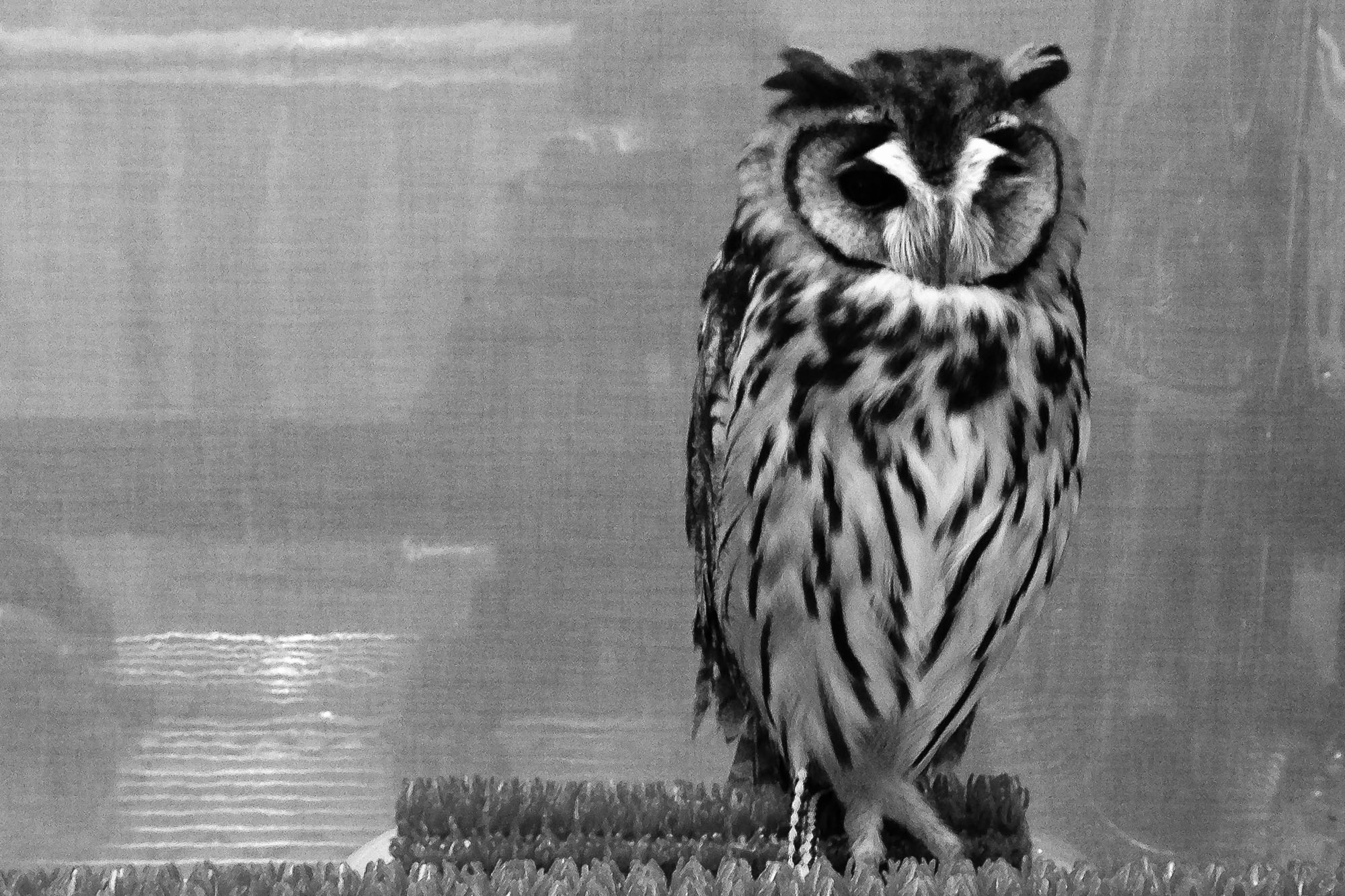 Even though Owls are cute, please don't forget Owl is "rapacious bird"
Owls don't care how many pictures you take, however please don't forget to turn off flash lights.
Please touch head and wings nice and carefully.
If you don't follow rules, you can be cast out from cafe.
The Engrish guidelines for visitors might offer some comfort to those questioning the ethics of visiting such an establishment; the owner seems to really care about how the owls are treated and the staff are very knowledgeable about them.
The company's website also assures that the birds are monitored daily for abnormalities in weight, beaks, and claws. If the staff suspect that something is not right, they isolate that owl in a dormitory and consult with a vet. The owls are also rotated so that each takes a week long break at the home of the owner. During these breaks the owls are free to hunt, the website claims.
But as a fellow English teacher reminded me, "Even if the animals are taken care of, you must remember that an owl would never choose that kind of life."
Madelyn is a vegan vlogger who's lived in Japan for two and a half years and is vehemently opposed to animal cafes.
"These majestic and wild creatures are held captive in tiny cafes in urban centers, far from their natural habitats," she says of owl cafes in particular. "[They] don't naturally hang out with humans, and these cafes allow the public to believe that the birds are cute and respond lovingly to affection."
"Owls, whether they've been poached or bred in captivity, do not like to be handled."
The owls at Hakata are bred in captivity and although visitors are allowed to hold and stroke them, they are warned to take care in doing so: "When you see hate signs while you touch the owls, please stop touching owls right away."
Visitors are also not allowed to pet the owls in cages, or Chip, a gorgeous snowy that is a doppelganger for Hedwig in the Harry Potter movies.
As I prepared to hold my first owl, I wondered why I hadn't felt nearly as unsettled when I visited a cat cafe in Tokyo. But then cats generally enjoy lazing around and being the center of attention, no?
No, says Madelyn.
"People are still using the animals as entertainment."
Fair enough. But many of the cats, previously neglected or abandoned, are adopted from shelters and stay at the cafes until they get used to humans, after which the owners try and place them in new, loving homes.
 "You can also never guarantee that an animal is well looked after in such establishments."
Also fair. A particular horrific image of a sheep I once encountered at a petting zoo here tied up with a neck chain comes to mind.
Ken and Mark went for the bigger birds, but I held just two, small ones – a barn owl named Yuzu and a northern white face called Sabu. My experience was positive in that both the owls were calm and friendly, but I wondered the whole time what they made of all of it.
As a recovering vegetarian, I realise it's all kinds of hypocritical to feel bad about these owls and then go and eat a hamburger for dinner.
"As long as you know," says Madelyn.
When Sabu didn't look at the camera for the photo we were both posing for, the employee taking our picture forced his face her way.  I went back upstairs after that, finished my beer and waited for the boys.
—
Editor's Note: These photos were taken on an iPhone 5s in the interest of not shoving a lens into the owls' faces. Please forgive the poor quality.
Related posts