Hiroshima's Peace Park in Black and White
I spent most of my visit to Hiroshima's Peace Memorial Park sitting on a bench.
This was partly due to the fact that I was supercalifragilisticexpialidociously hungover from the previous night's festivities; after gatecrashing the Hiroshima JETs' welcome party to catch up with two old friends, Fiona and Gavin, I ended up at a bar with a lovely Aussie couple on their way to Kyoto, an ESL teacher fresh off the boat from South Korea, and a bartender far too liberal with her vodka. By the time I slumped into bed it was well past 3 a.m.
The City of Water had been on my travel bucket list forever, so when the summer leave form was being passed around at school and I realised I had a bunch of days left over from the last contract year, it took me all of two seconds to find and book a hotel. It seemed a fitting time to visit too: this August marks the 70th anniversary of the Hiroshima and Nagasaki bombings.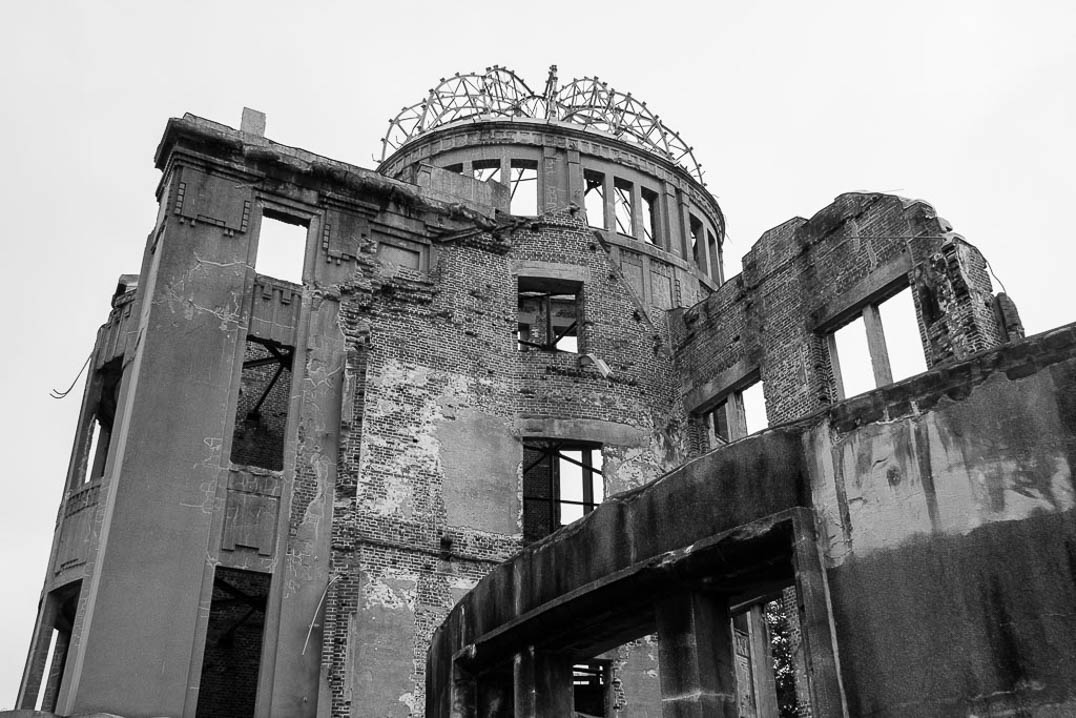 From Miyazaki, you can take the train up to Oita, transfer there for one heading to Hakata in Fukuoka, get off at Kokura and then jump on the shinkansen to Hiroshima City. The entire 527.1 km (327.5 mi) trip takes about 5.5 hours and only costs around 15,000円 (R1,572/$121/€108).
I was going to head home the same way, but Mark realised he would be in Hiroshima with his brother around the same time (unlike JETs, Interac teachers get most of the summer off) and invited me to tag along to Tokyo afterwards.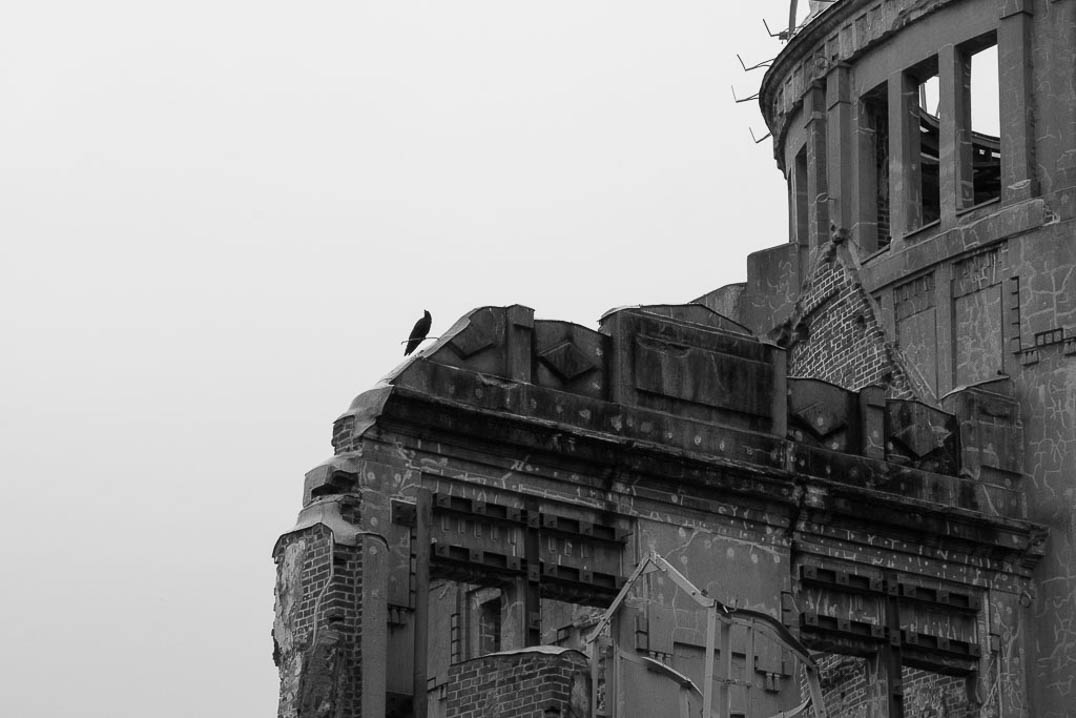 Despite travelling for a good chunk of the previous day and spending the entire night out, I was fully confident that I would wake up early and meet up with my new buddies from the bar, Emily and Sean, as we had planned the night before.
But 26 doesn't wear a hangover nearly as well as 19 did – I only rolled out of bed around 10 am, with a fuzzy head, and realised I wouldn't be going anywhere fast. I told them to go ahead without me (you can read about their adventures here) and slowly made my way through something of a morning routine.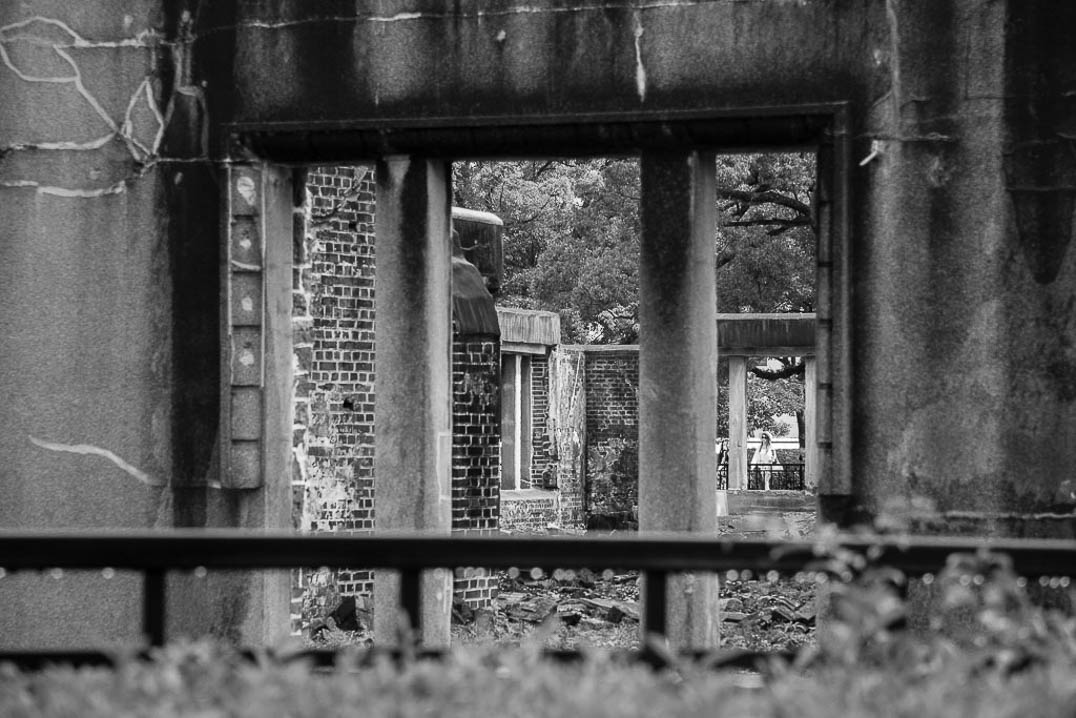 One of the advantages of having spent the night on the town was that I pretty much had the bus system down. Ten minutes later, I hopped off opposite the Sogo Department Store and disappeared down a staircase.
In downtown Hiroshima, the intersection at Kamiyacho doesn't have any pedestrian crossings. You have to pass through an underground mall that sits directly beneath the Sogo building. The mall also connects to a bunch of other nearby facilities, including parking lots and the Astram Line, although its 78 shops and restaurants make it an attraction all of its own.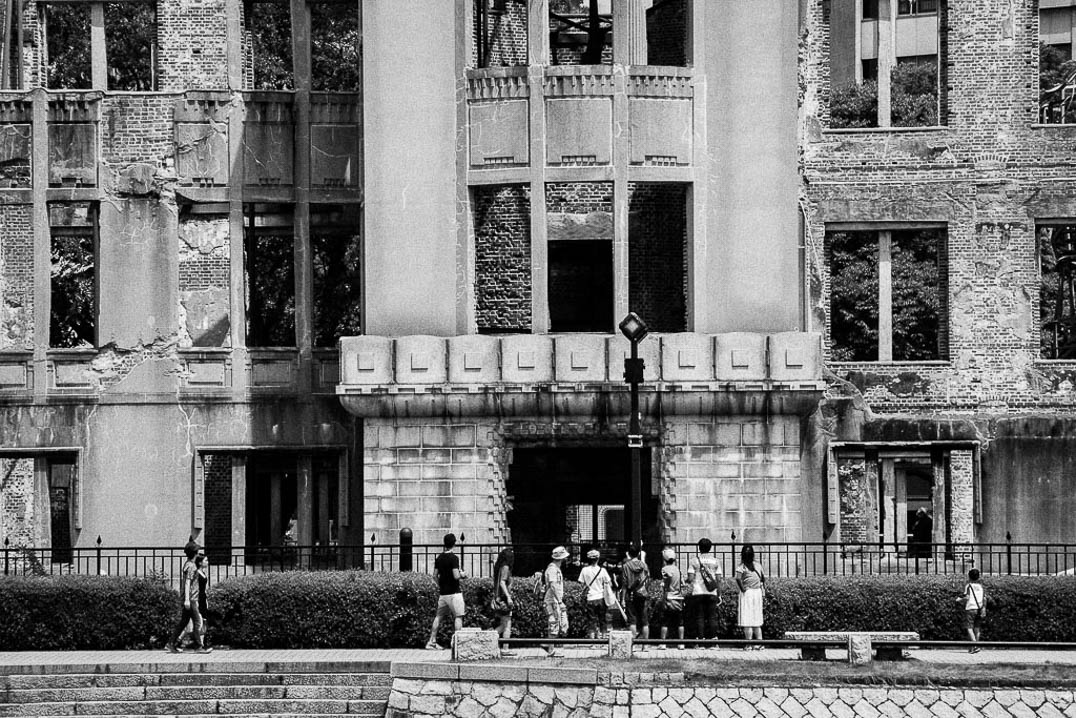 I emerged above ground again on the other side, just a short walk away from the A-Bomb Dome.
Man, it was a lot to take in. You know that feeling you get when you finally stand in front of a place you've only ever seen in pictures? That, and being simultaneously distracted by the images my mind had conjured up of fire and smoke and screams.
In 1914, Czech architect Jan Letzel designed a building for the Hiroshima Prefectural Assembly that became known as the city's Commercial Exhibition Hall, a place to promote industrial production in the prefecture. When the first atomic bomb exploded over Hiroshima on the morning of August 6, 1945, the building was the only one left standing near the hypo-centre of the bomb blast.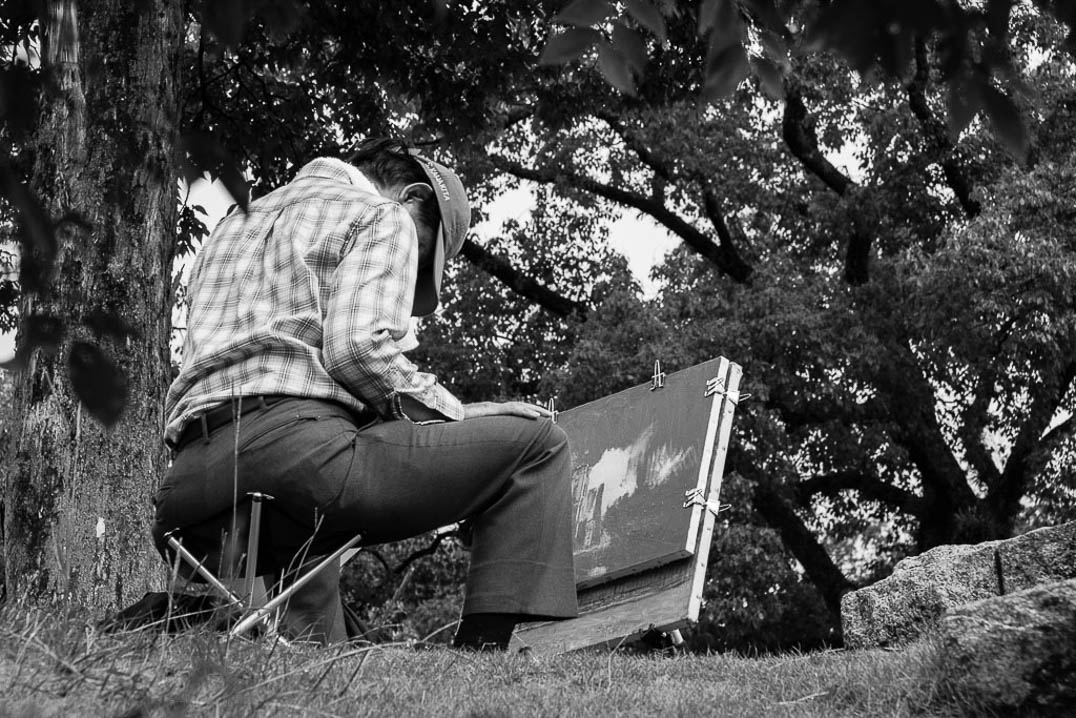 People have worked tirelessly to preserve its skeletal frame ever since, and the ruins serve as a stark reminder of the devastating effects of nuclear warfare. The wire framework of the dome is the building's most iconic feature and has become a symbol of peace and healing. The property and the 42.7 ha (103.7 ac) buffer zone surrounding it form the Peace Memorial Park, which was designated a UNESCO World Heritage Site in 1996.
I had been so completely lost in thought that I had barely noticed the other people around me. It was as busy as you would expect a famous landmark to be, but not nearly as busy as I had heard it could get. Definitely more than enough room for all those selfie sticks, and the smiling tourists that come attached to them.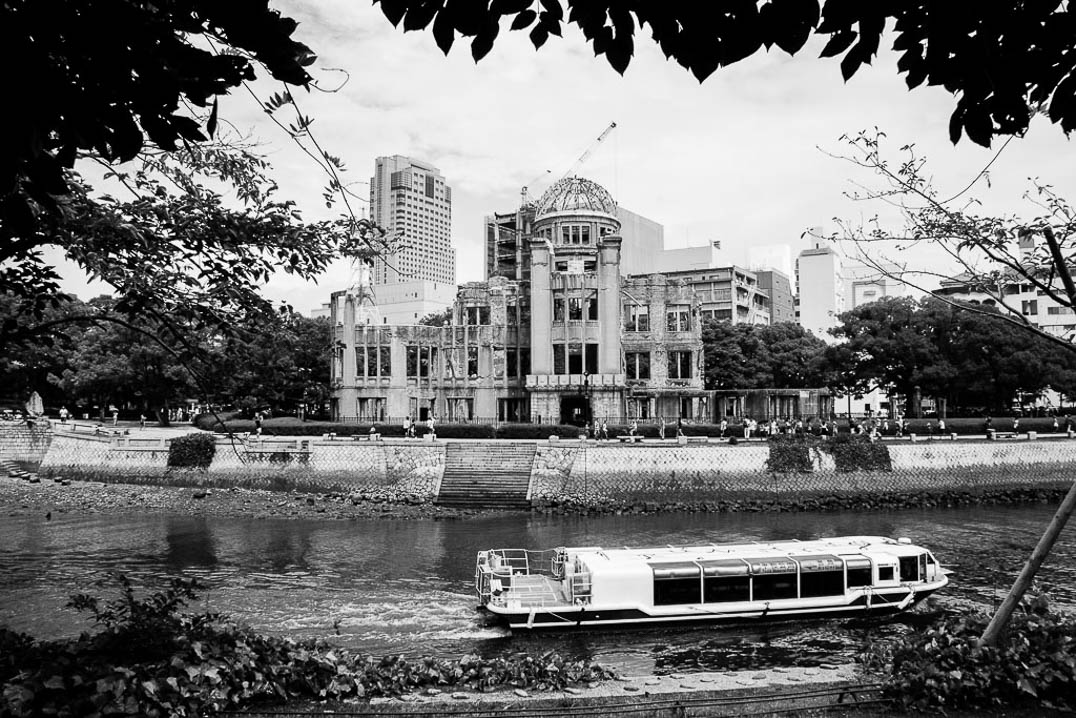 Seriously, what the fuck is up with people taking selfies at memorial sites?
After completing a loop around the dome, I crossed over a bridge to see it from the other side. And that's how I came to be sitting on that bench, sipping coffee from the nearby 7-Eleven, the river acting as my own little private buffer zone.
A surprising cure for my fuzzy head sitting there was: it's completely impossible to feel sorry for yourself on the site where 80,000 people lost their lives in an instant.
But it's also funny, in a completely non-humorous way of course, how I could be there staring at one of the world's most famous anti-warfare symbols while, at the same time, a bomb was likely being detonated somewhere in the world.
Ironically, the sun came out just then.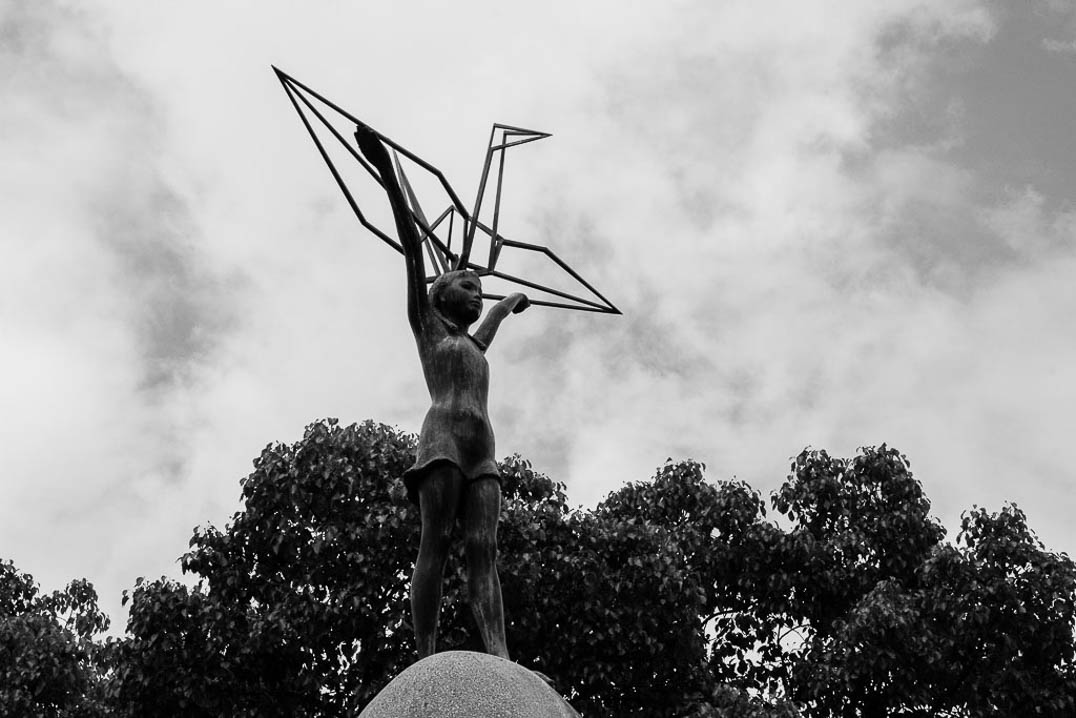 The death toll would rise to 140, 000 people after the bomb was dropped, some only succumbing to its effects years later. Sadako Sasaki was two years old when she was exposed to the A-Bomb. Nine years later she was diagnosed with leukemia and admitted to the Hiroshima Red Cross Hospital. She believed that folding paper cranes would help her get better, and she kept at it until her death eight months later.
Shocked and heartbroken, Sadako's classmates started a national campaign to build a monument honouring all the children who died from the atomic bombing. The Children's Peace Monument that stands in the Peace Park today is the result of that campaign, funded by donations from all over Japan.
On the top of the pedestal is a bronze figure of a girl holding up a folded crane. Underneath is inscribed, "This is our cry. This is our prayer. For building peace in this world."
Every year, the monument receives about 10 million folded cranes from around the world in memory of Sadako and all the children who have fallen victim to the effects of war. These are housed in glass cabinets around the pedestal.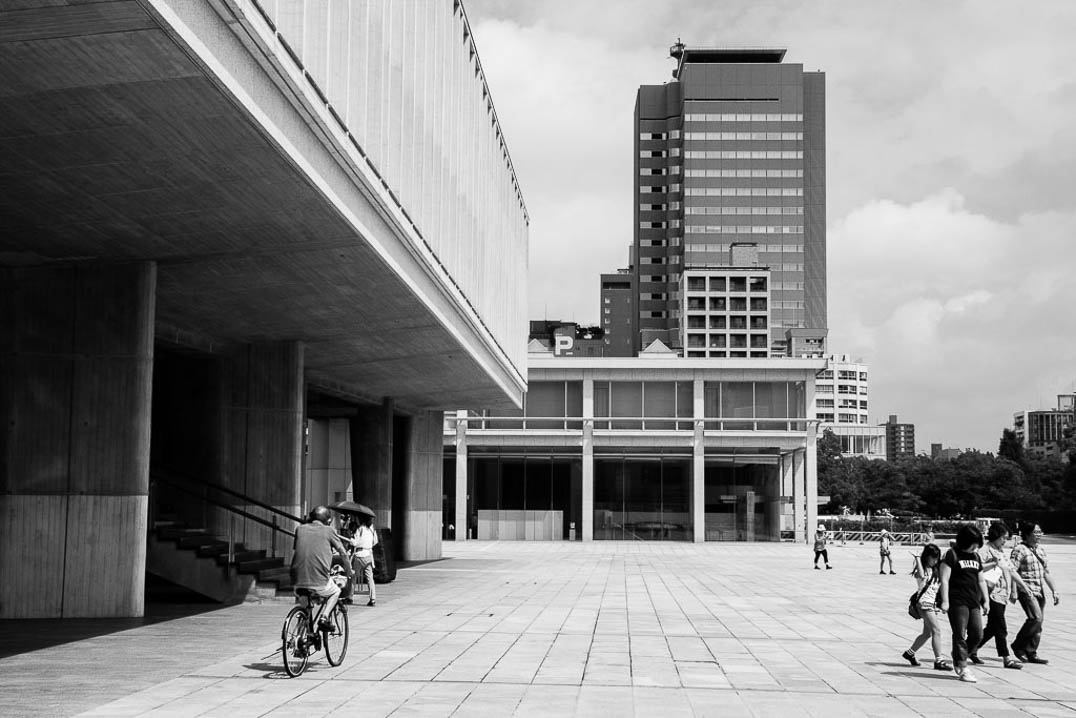 The Peace Park also has its own museum which is incredibly cheap (50円/R5.25/$0.41/€0.36) and also quite informative, from what I've heard that is. I don't usually mind lines in Japan – they move quickly – but this one wasn't going anywhere fast and I wasn't up for waiting.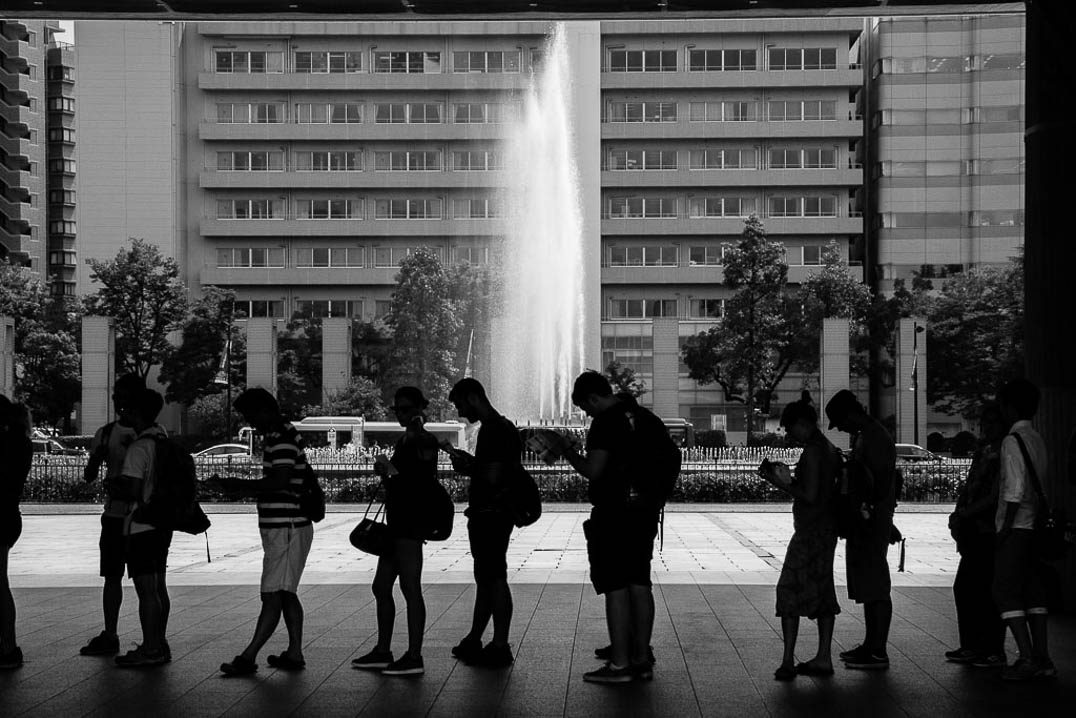 Instead, I plopped myself down on another bench and enjoyed some people-watching. I'm not the world's laziest person, I swear, I just come from the highveld and my body doesn't function well in 90% humidity. Besides, I had a nice view of the park's fountain, its light spray a temporary relief from the 35°C (95°F) heat.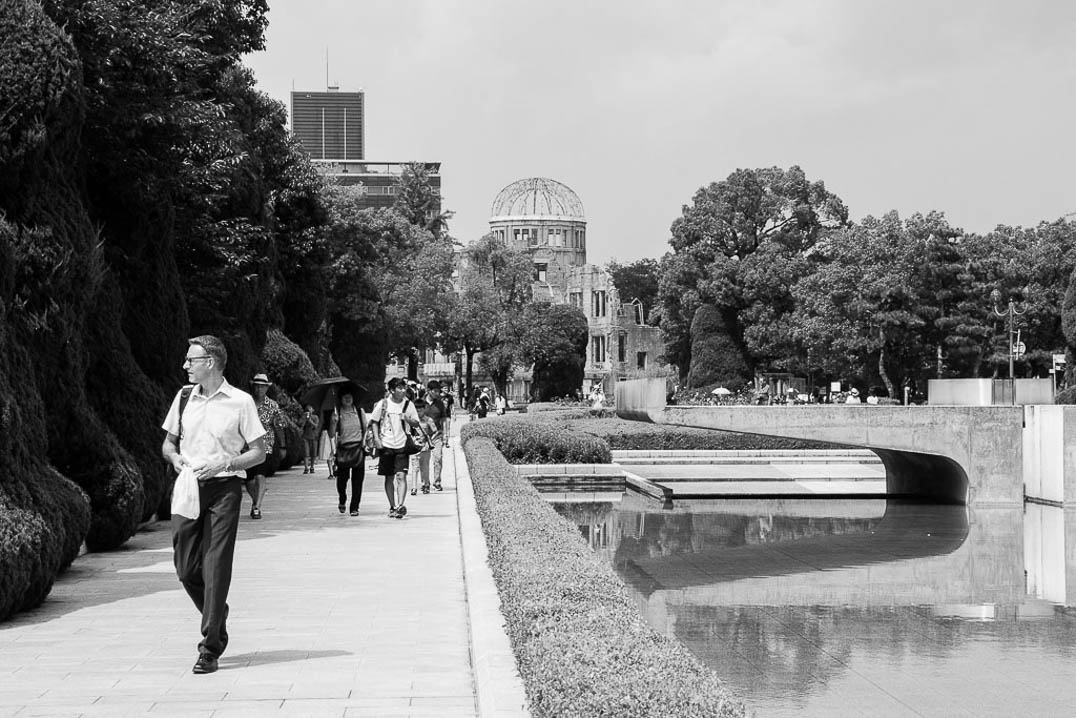 Then the clouds opened and I got a full on shower. I hurried back towards the A-dome hoping to catch the boat to Miyajima (55 minutes; 2,000円/R210/$16/€14 one way; 3,600円/R377/$29/€26/ round trip; 3-12 round trips per day; Japan Rail Pass not valid), but the next one was a two hour wait.
I decided to head back to the downtown area and catch a tram instead, but not before I took one last look around.
Related posts