The Onsen-Bathing Monkeys of Yamanouchi
Because of Japan's high volcanic activity, thousands of hot springs are scattered throughout the country. Locally known as onsen, the mineral-rich water is believed to cure a wide range of ailments and diseases, from muscle pain to diabetes. Bathing in onsen has been a part of Japanese culture for centuries, and more recently it has been adopted by another population: the wild macaques of Nagano prefecture.
The town of Yamanouchi is covered in snow for a full third of the year, making it the perfect location for Japan's largest ski resort and dozens of indoor and open-air baths. It was in one of these open-air onsen that a very young monkey first learned to take a bath. The warm water was welcoming in the cold weather and other monkeys in his troop soon began to copy his behaviour.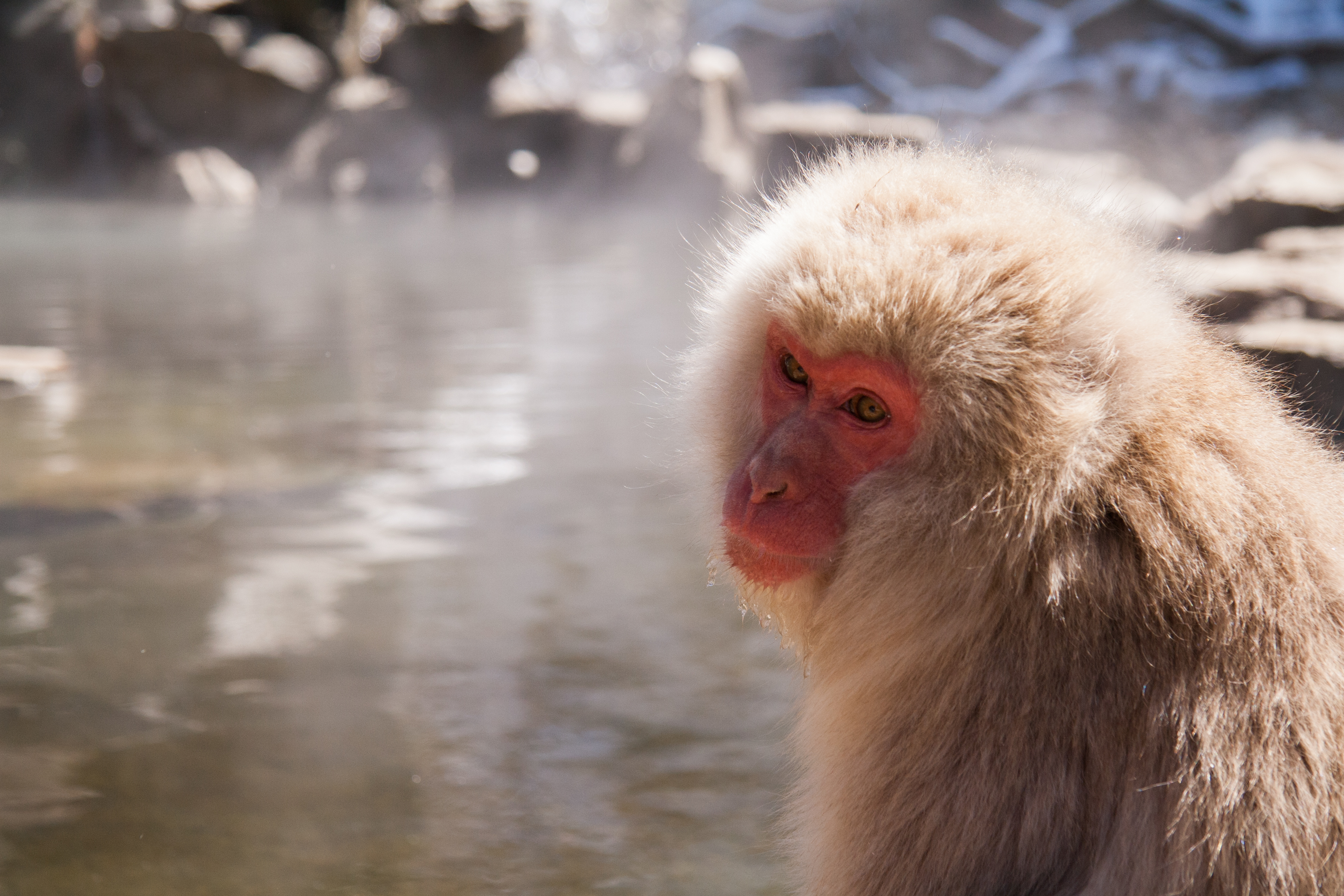 This onsen, named Korakukan, is located in the valley of the Yokoyu River. It is part of the Joshinetsu-kogen National Park, built around several dormant and active volcanoes. The valley is named for its sharp cliffs and the steam that rises from the ground – Jigokudani, or "Hell's Valley".
The continuous presence of the monkeys at Korakukan raised concerns about hygiene. Eventually, the park built a separate, private onsen  in the valley for the monkeys and began to feed them for study and observation.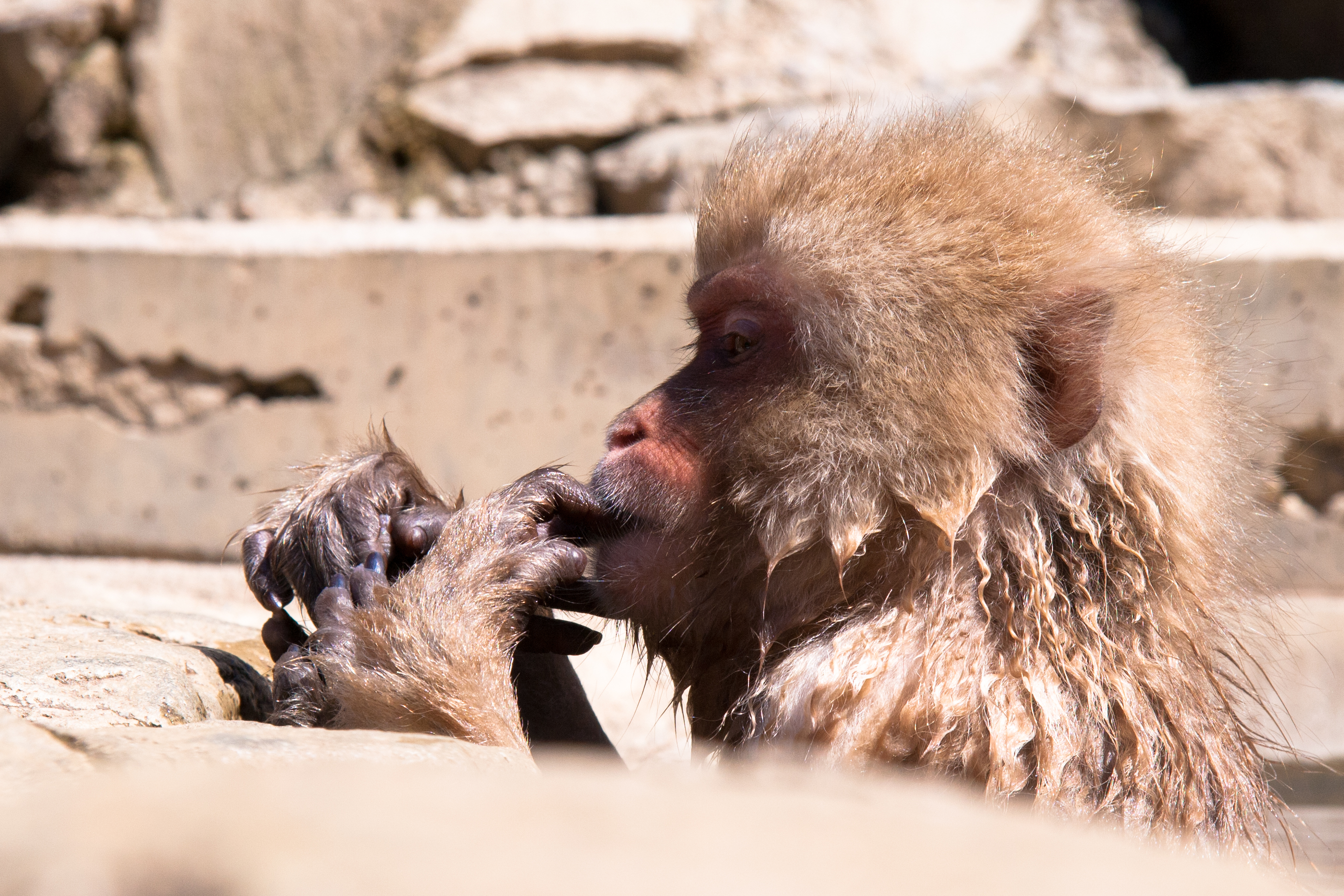 This onsen and the surrounding area, now known at the Jigokudani Monkey Park (地獄谷野猿公苑), plays host to over 200 Japanese macaques during the winter. It has been claimed as the "only place in the world where monkeys bathe in hot springs". On the second day of our trip up north, John and I were going to scratch seeing these very famous creatures off our bucket lists.
Reaching the valley involves a 30-minute walk on a narrow path through the mountains. Casual walking shoes are not enough, a sign will remind you at the entrance, as the path is covered with mud and snow. If you suddenly lose confidence in your shoes or simply want to keep them clean, you can hire a pair of boots at the adjacent souvenir shop for 500円 ($4.16).
The walk, although slippery, is beautiful. It wasn't snowing that day, but it might as well have been; a breeze was sending the white powder that had collected on the tree branches from the previous night's snow back into the air and falling down around us. Along the way, there are a couple of waterfalls and streams, and signposts with information about the monkeys and surrounding nature.
Eventually, we got to a small wooden house, which is part ticket office (500円 for adults) and part souvenir stand. From there, its just a short walk and across a bridge to where the monkeys come to bathe, just a few hundred metres from the original Korakukan onsen.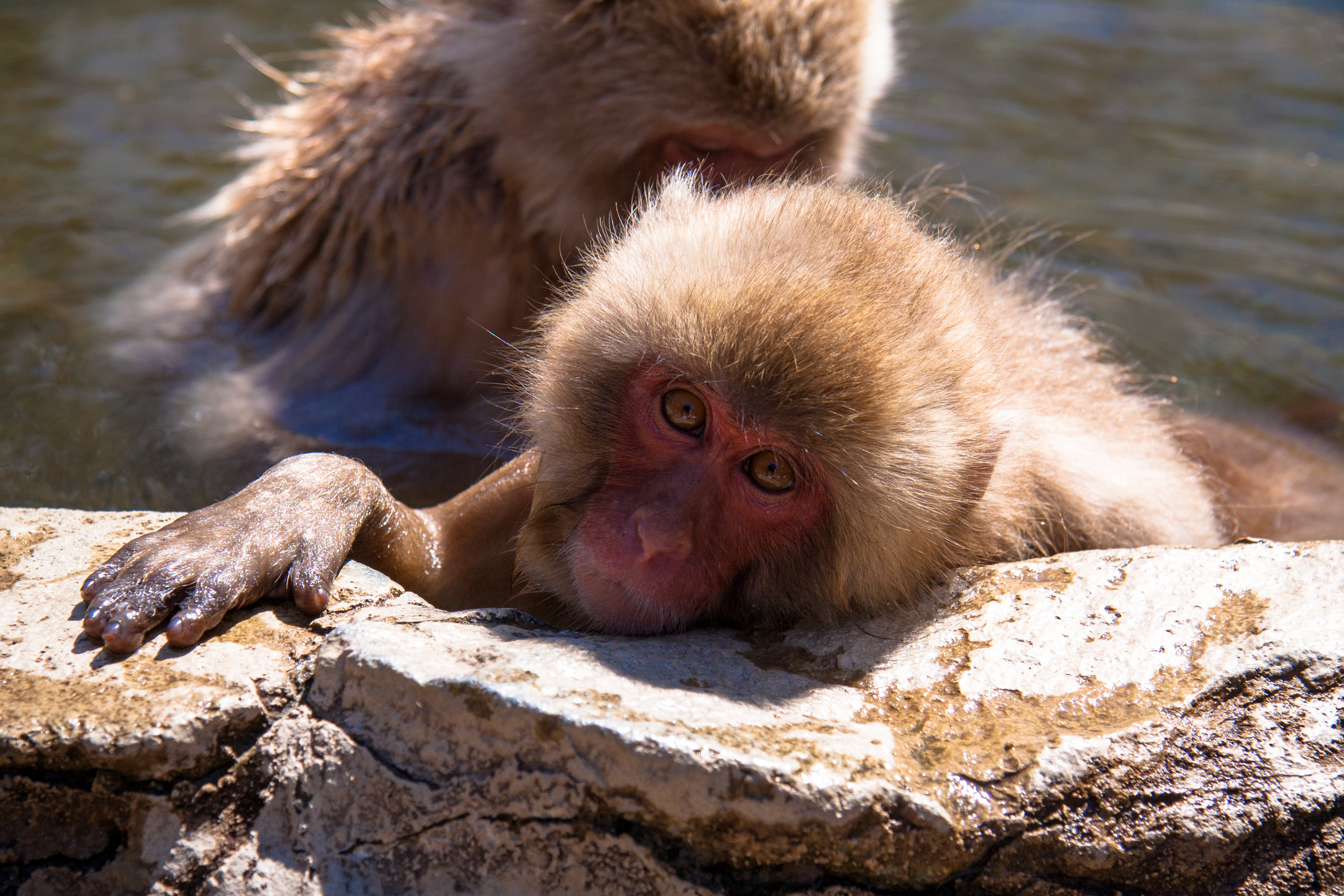 In the cold months, the monkeys descend from the surrounding forest and steep cliffs to warm themselves in the water. Unlike humans, monkeys do not feel cold after getting out and are immune to frostbite – they have fewer sweat glands and their capillary vessels shrink to avoid releasing heat.
When we reached the onsen, the sun was out and there were just a couple of monkeys in the water. Some of them don't enjoy bathing in warmer weather, and some don't enjoy bathing at all.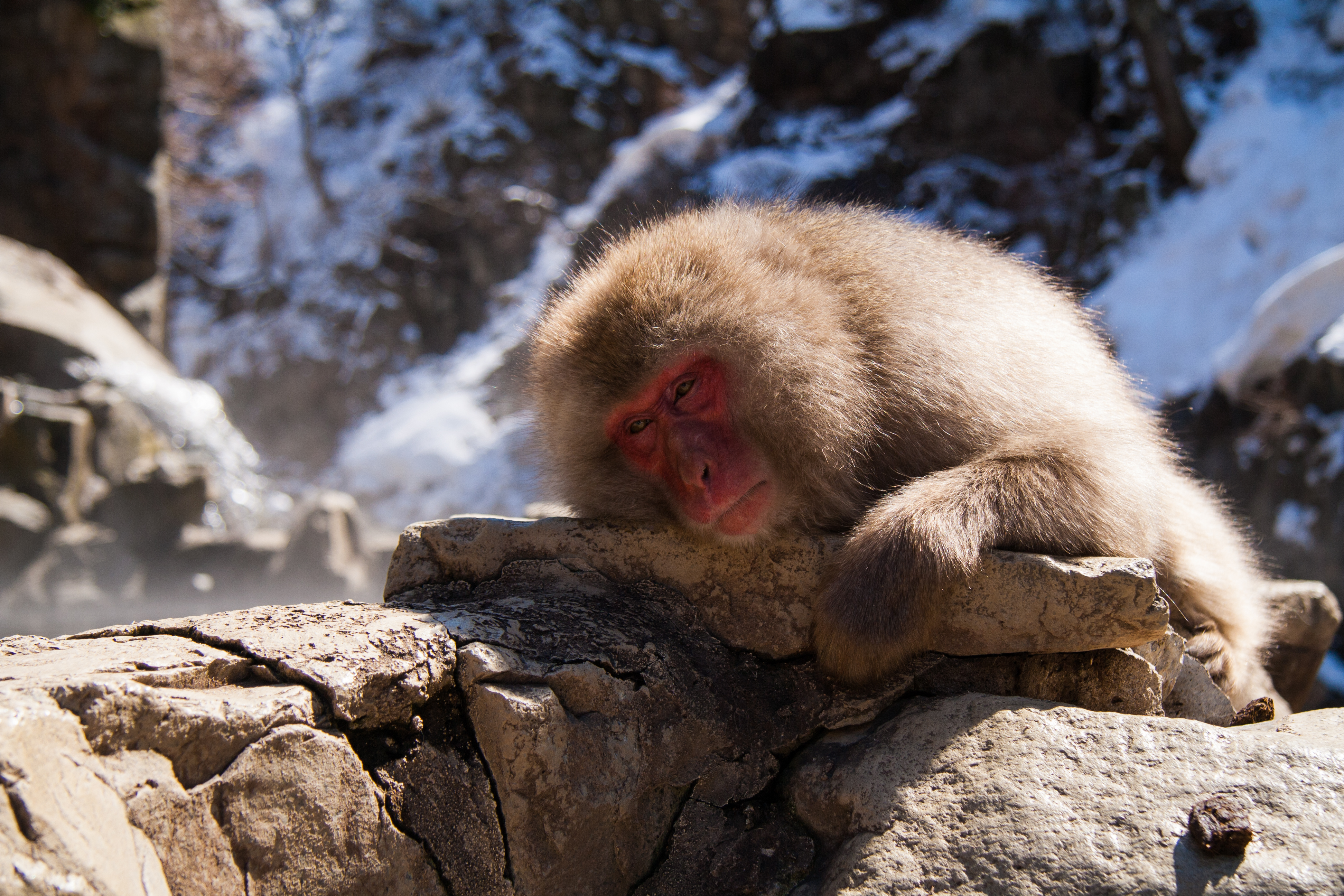 The peak viewing season is when it's coldest (early January) because the monkeys prefer to forage in other parts of the forest during the warmer months. But then you have to fight the hordes of tourists crowding around to get their shot – we were lucky enough to enjoy them with only 30 or so other people around.
The monkeys are very calm and pretty much ignore you as they go about their business. You can also get quite close but you are warned to not make direct eye contact or to touch them; they're chilled, but they aren't tame.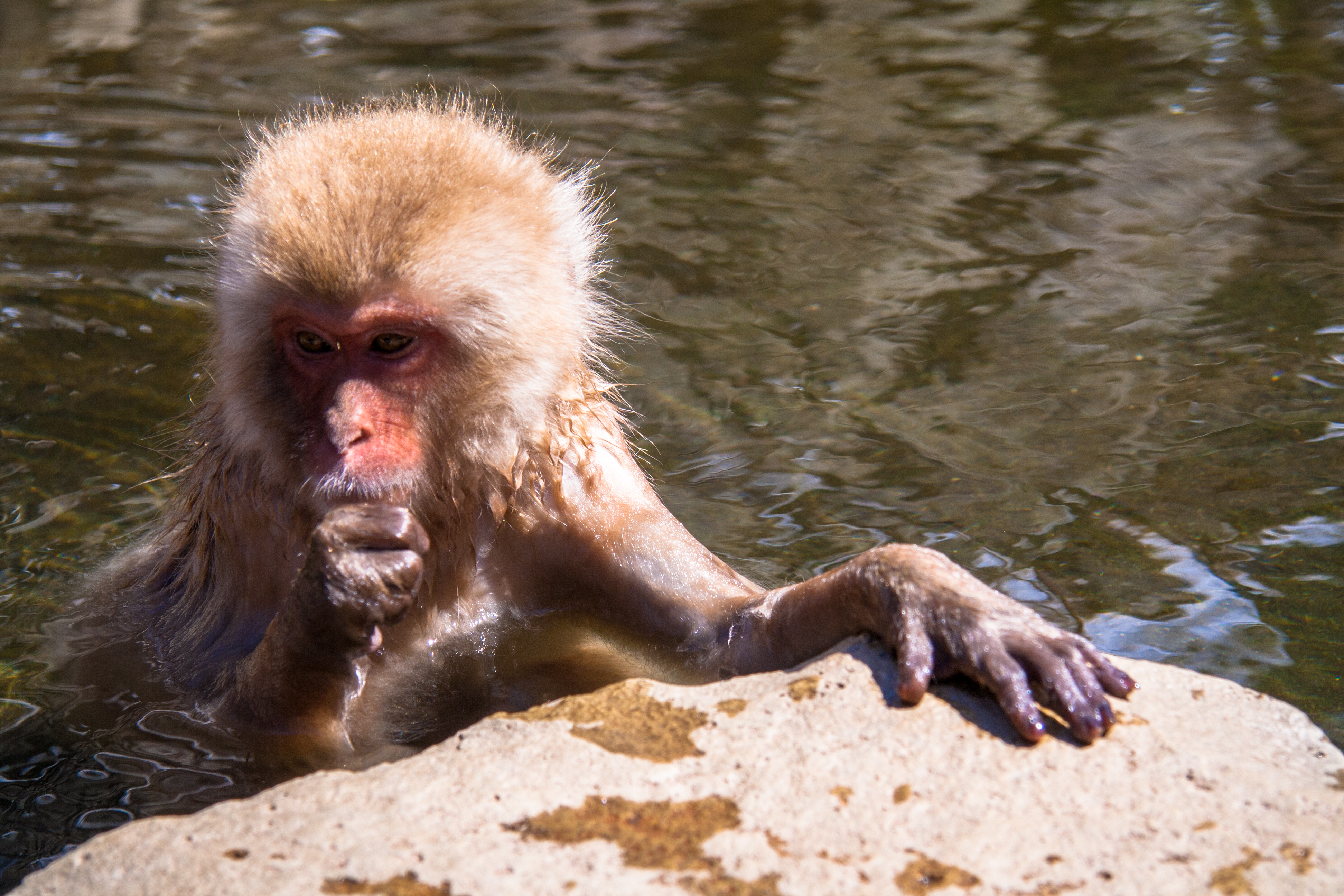 I saw one lady almost get knocked out when the monkey she was taking a photo with suddenly leapt up out the water and ran away squeaking from another, higher ranking monkey coming down its path. So you've gotta be careful.
There are a few who really enjoy the spotlight, though. I had one little guy who did full on poses for me, changing every few seconds as if he was working a photoshoot. It was all just a really awesome experience.
As midday approached, they slowly left the water one by one and we decided to warm up with some coffee from the ticket-slash-souvenir-stand.
It was a slippery, wet trek back in the cold, but having seen the monkeys through the steam, outlined in sun, and bathing against a backdrop of snow covered cliffs was an experience that made every one of those 30 minutes worth it. In a heartbeat, I would do it again.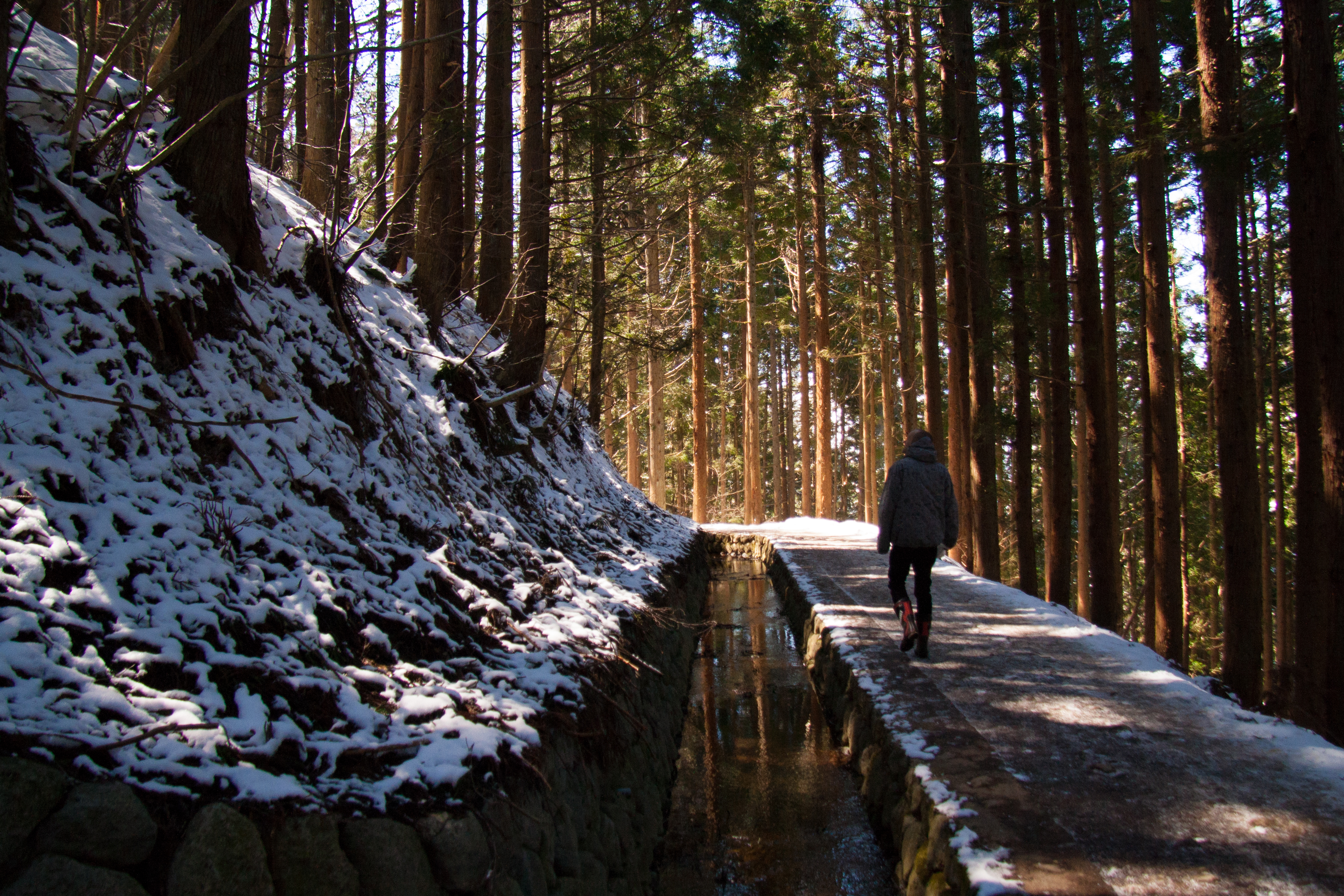 Check out a live webcam of the snow monkeys here!
Related posts