Inside Abandoned Nara Dreamland
"There's no way my butt is going to fit through there." Mark and I were staring at the small hole in the fence and I wondered nervously if this was such a good idea after all. "Can you go over, maybe?" I wedged the toe of my knock-off Toms into a foothold and tried to hoist myself up but I could feel it creak beneath me." Nope, it's going to buckle." And I wasn't ready for a hug from a roll of barbed wire.
Just then, a car came hurtling round the corner and we both jumped back in fright. "Shit. Do you think they saw us? They totally saw us." Mark didn't answer. I looked up and down the road. "I'm kind of scared now. I mean, I just don't know about this. Maybe we should keep walking, there could be another one down the…" a sudden rustling near the ground distracted me and I looked down to find him scrambling through the fence. "Well fuck, ok."
Standing on the side of the road was one thing, but we couldn't risk being seen idling on the other side of the fence. It was now or never. I took a deep breath, got on my hunches, dived headfirst through the hole, and promptly got stuck in the middle.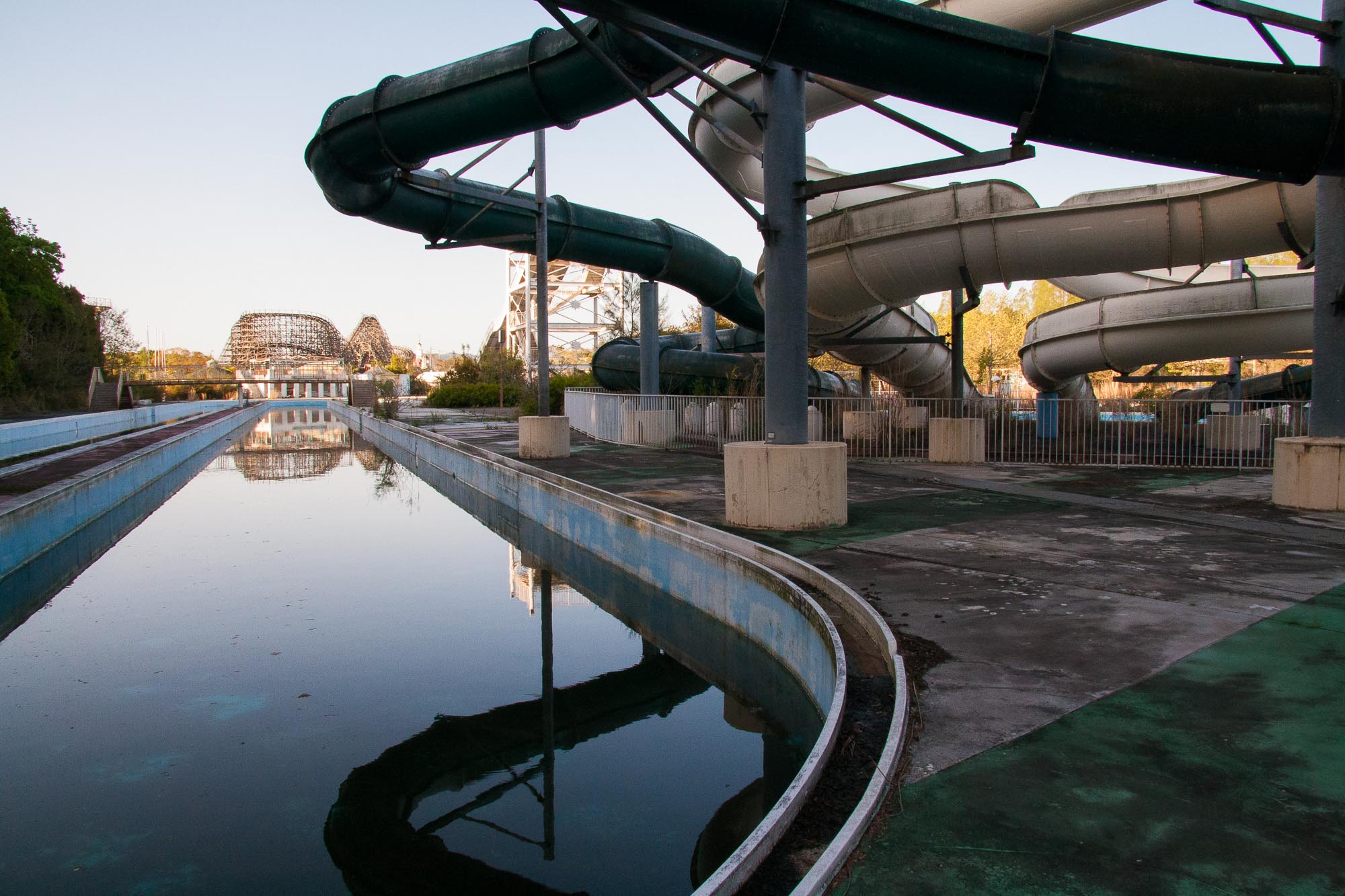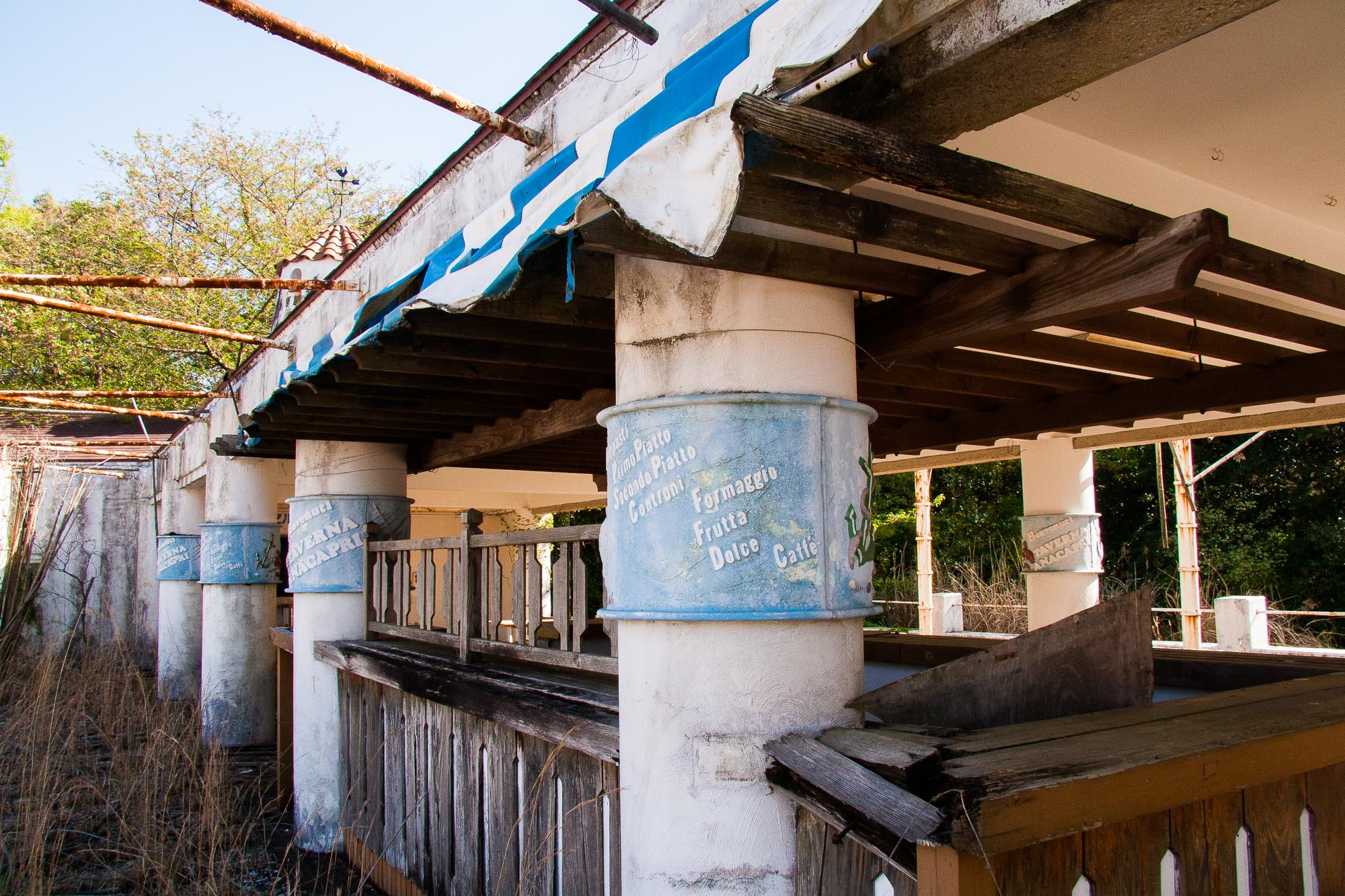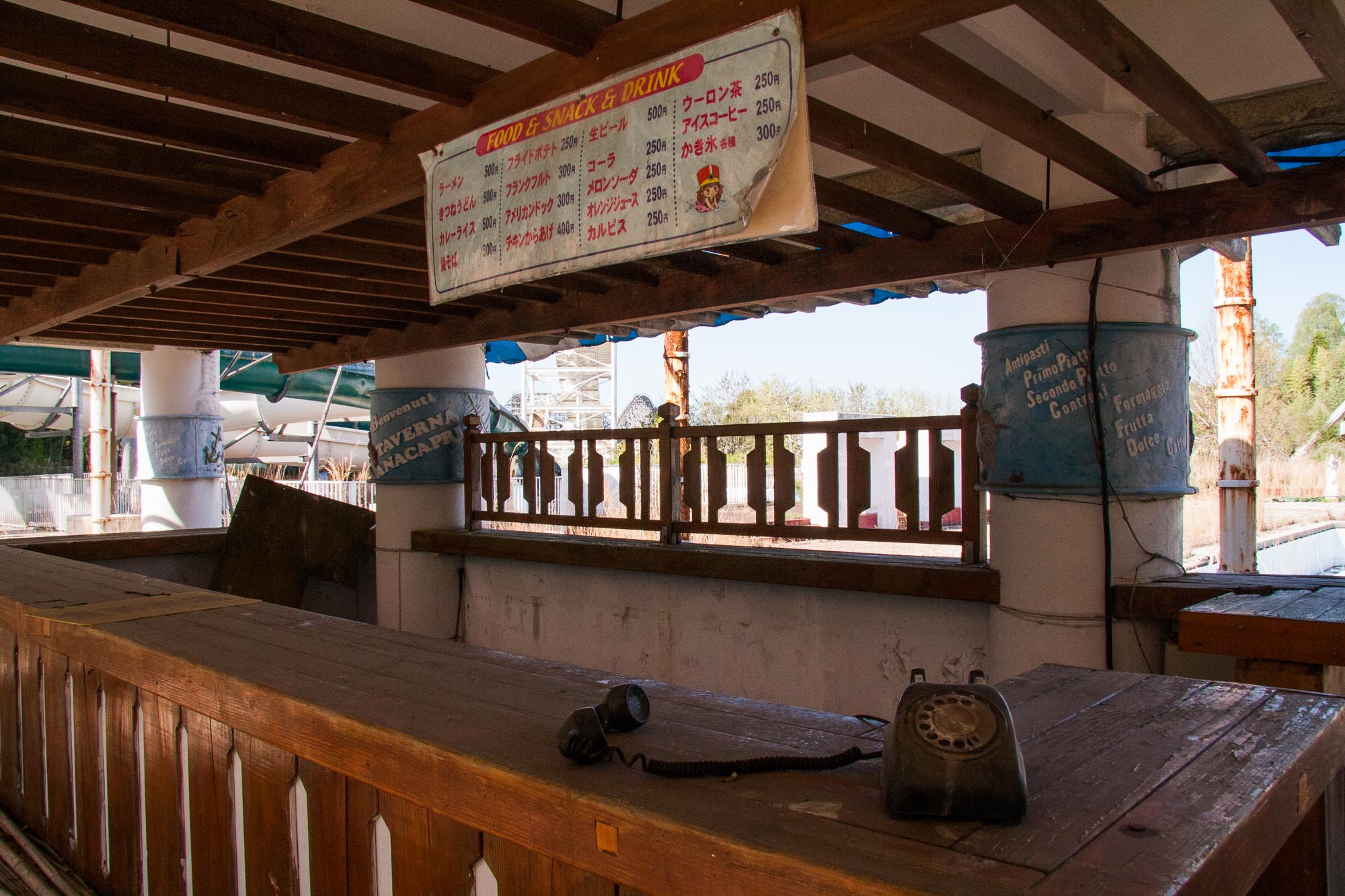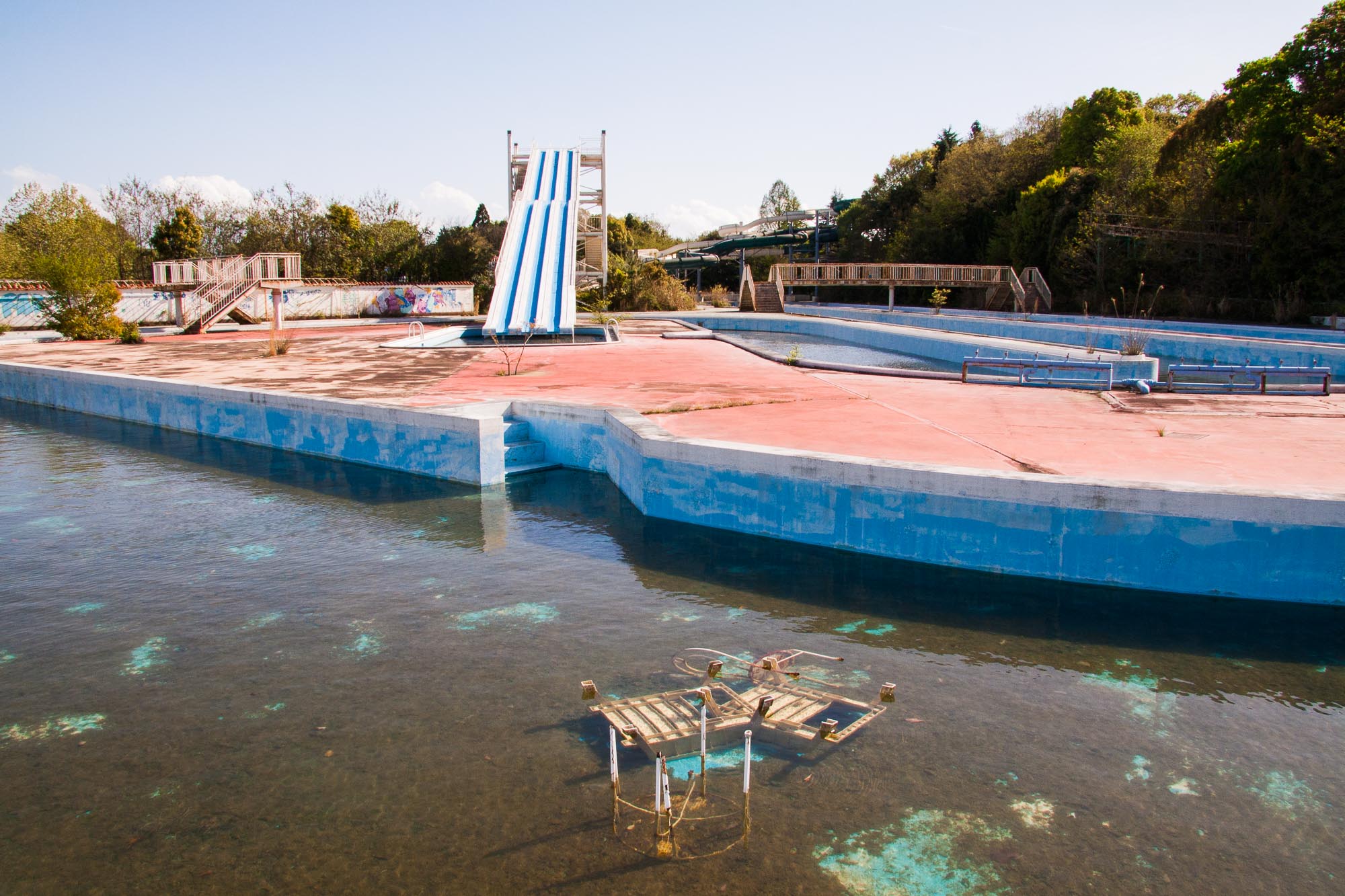 I imagined the scene from afar: Mark yanking my arms while my butt dangled out the other side like Pooh and the Honey Tree. This was not how I was going to go down. I wiggled with all my might onto my side and Mark pulled me up and out the rest of the way. We clambered up the hillside, jumped over a second, iron fence and followed the narrow path forged, presumably, by the many explorers who had come before us.
As I stopped to catch my breath on the other side of a small, open gate, my gaze fell upon a giant, blue, snake, spiralling, suspended, through mid air. We had successfully sneaked into the water park of Nara Dreamland.
Sneaking is a generous word; we were trespassing. And security at the abandoned theme park hasn't been kind to trespassers in the past.
Nara Dreamland (奈良ドリームランド) was built in 1961 by a company called Nippon Dream Kanko. Its president, Kunizo Matsuo, wanted to build a similar park to California's Disneyland that catered to the Japanese. After a meeting with Walt Disney himself, Matsuo claimed to have a franchise agreement with Disney and the project broke ground. But the American company later denied any affiliation with the new park, stating that there had been a disagreement over franchise fees.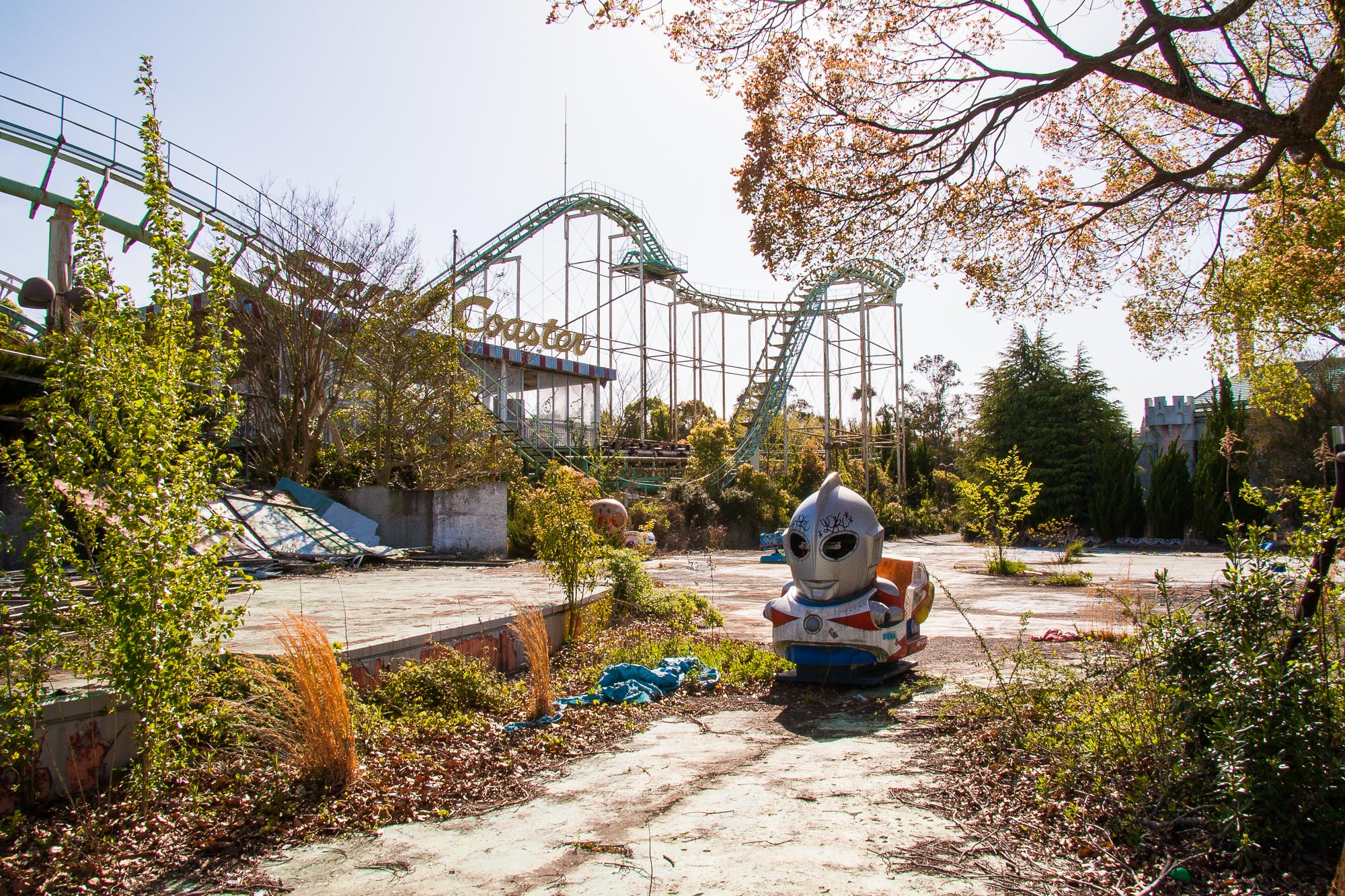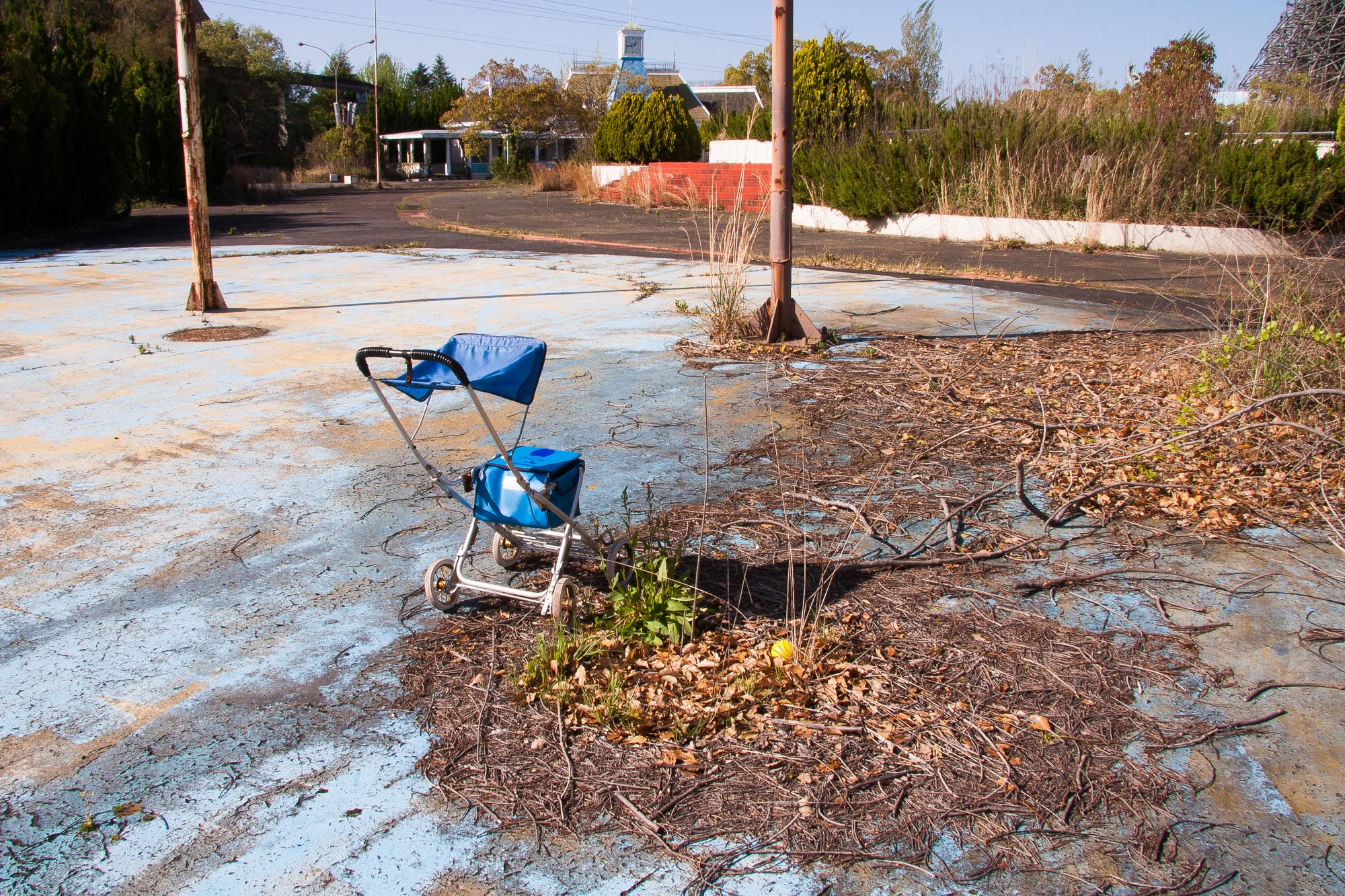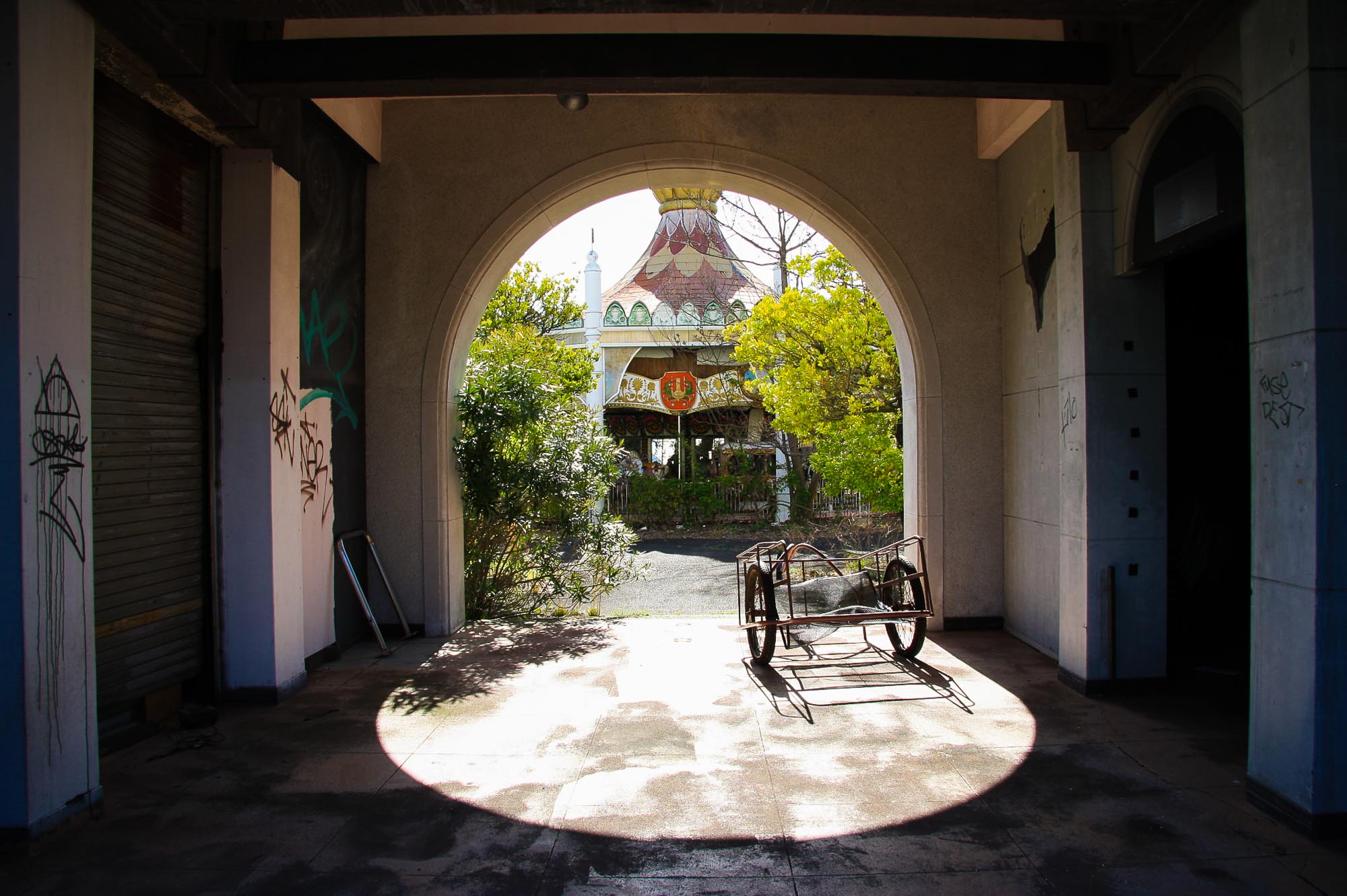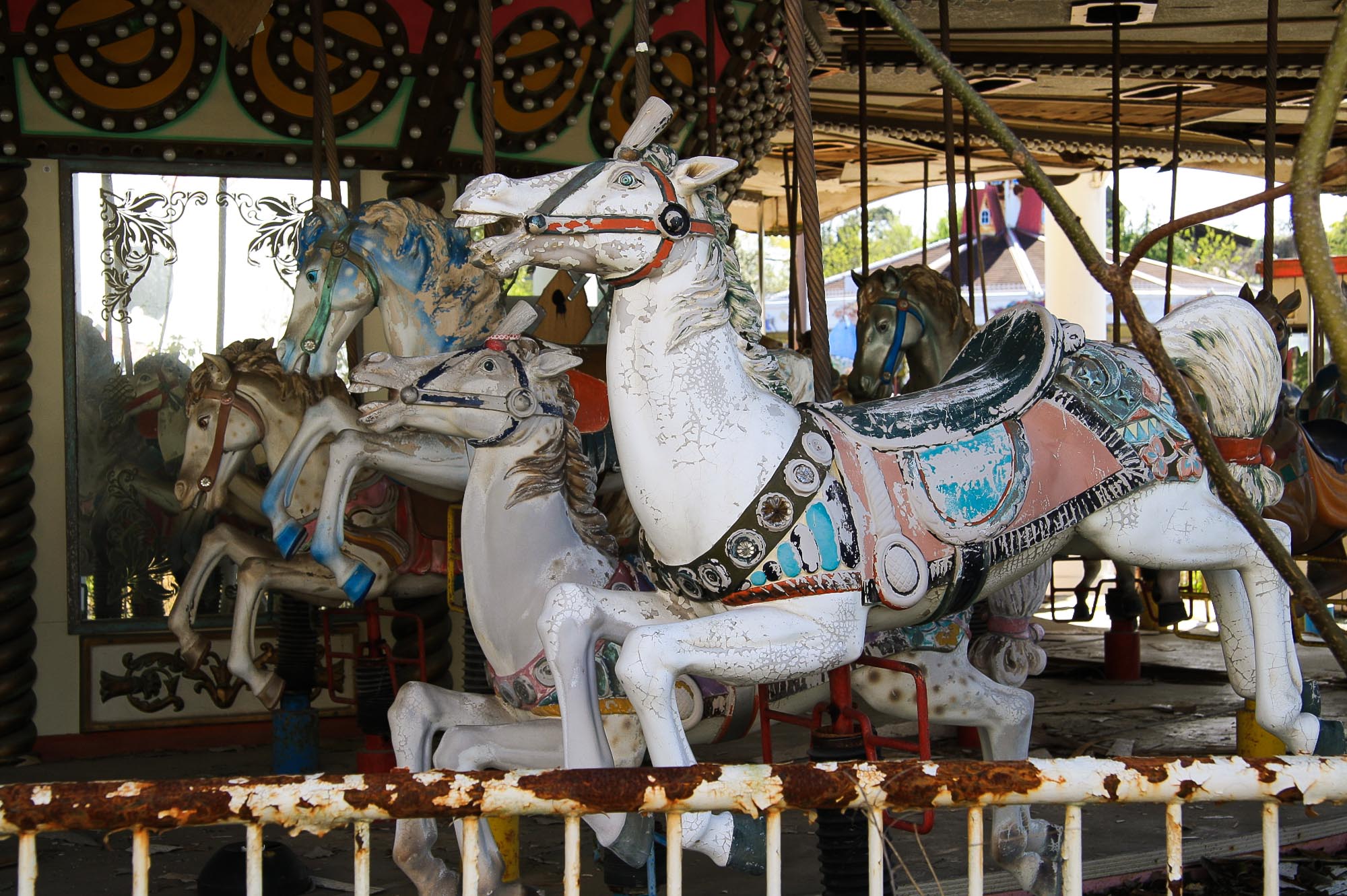 So what was to be Nara Disneyland became Nara Dreamland instead – a 32 hectare park with its own copycat versions of Main Street USA, Sleeping Beauty's Castle, Matterhorn Mountain, Adventureland, the Monorail, and other rides and attractions.
In its heyday, the park welcomed 1.6 million visitors a year, but these numbers slowly started to decline. This has been attributed to the opening of Tokyo Disneyland in 1983 and Osaka's Universal Studios Japan later in 2001, but as Mark also pointed out, "It's in the middle of nowhere – who would come here?"
Nara Dreamland was shut down permanently in 2006, when it was receiving as little as 400,000 visitors a year. But the theme park was never demolished; it has been standing vacant for 10 years, in much of the same state as it was when it was closed.
This has turned it into a popular attraction for haikyoists and vandals who come to photograph the decaying rides, or leave their mark on one of its empty streets. And it's not without risk – the blogosphere is awash with tales of security guards, barbed wire, sensors, hefty fines, and in the worst cases, prison.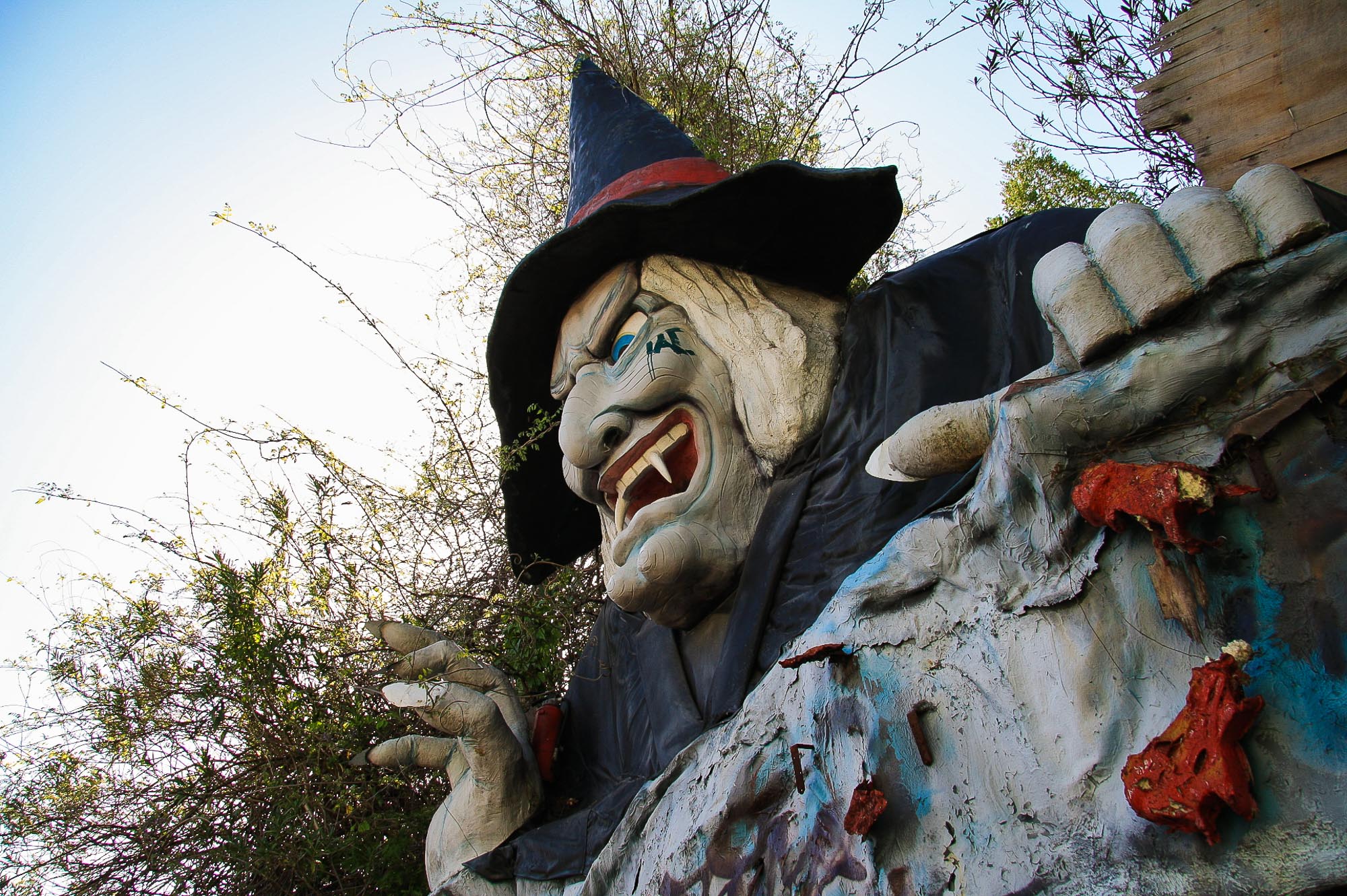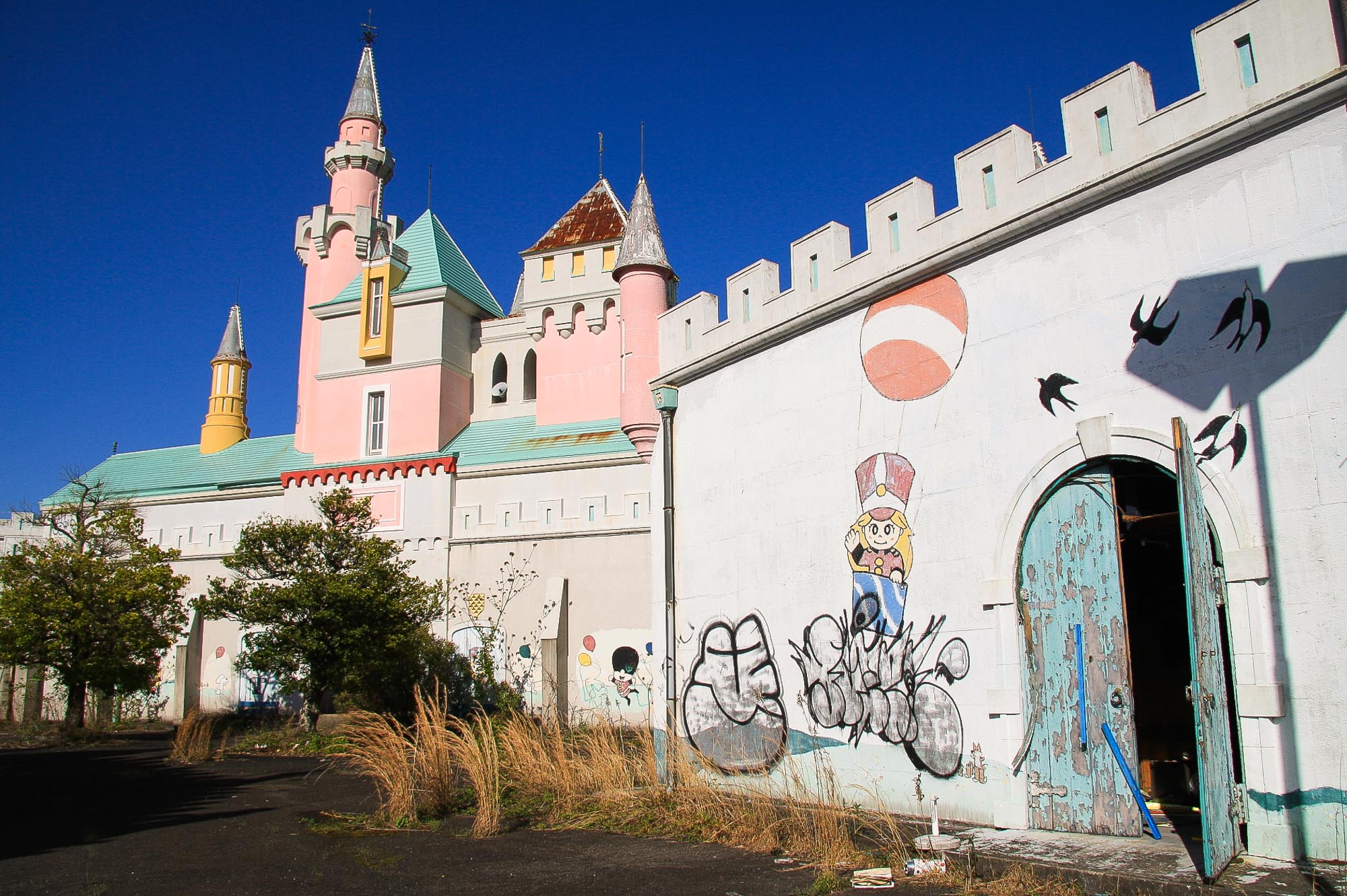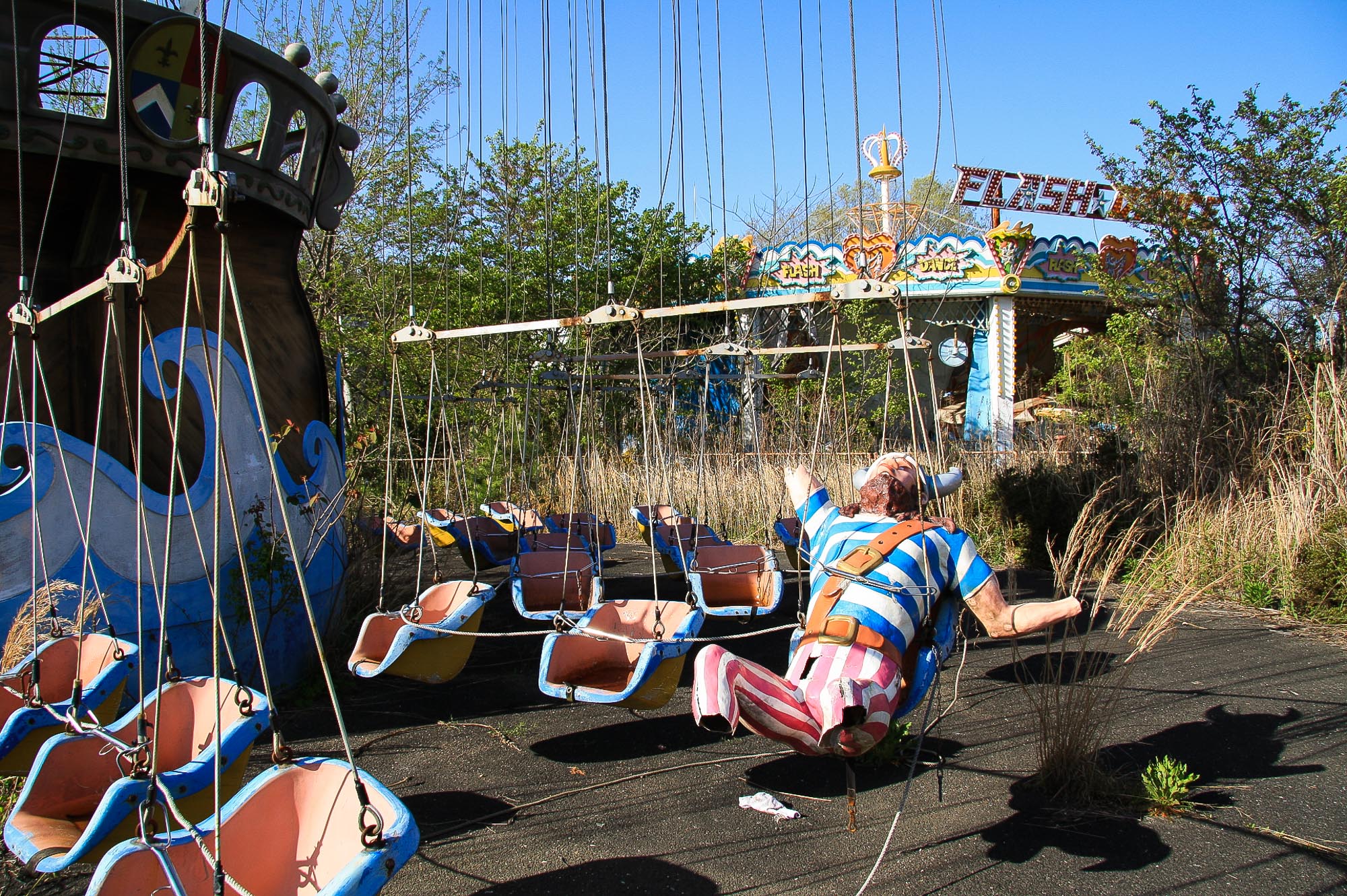 Recent developments, however, have opened up a small window of opportunity for less experienced explorers, like me.
After Nara Dreamland went into foreclosure in 2013, it was put up, unsuccessfully, for public auction. Strict zoning laws prevent the site from being used for residential, commercial, retail or hotel developments, making the property largely unattractive to investors.
But in November last year, a second auction was held and this time it was sold mysteriously to an Osaka-based real estate company – the only bidder who turned up. What SK Housing plans to do with the property, no one knows, but in the meantime they don't seem to be nearly as concerned with security as the previous owners.
Still, what we were doing was technically illegal, and there was no guarantee we wouldn't get caught.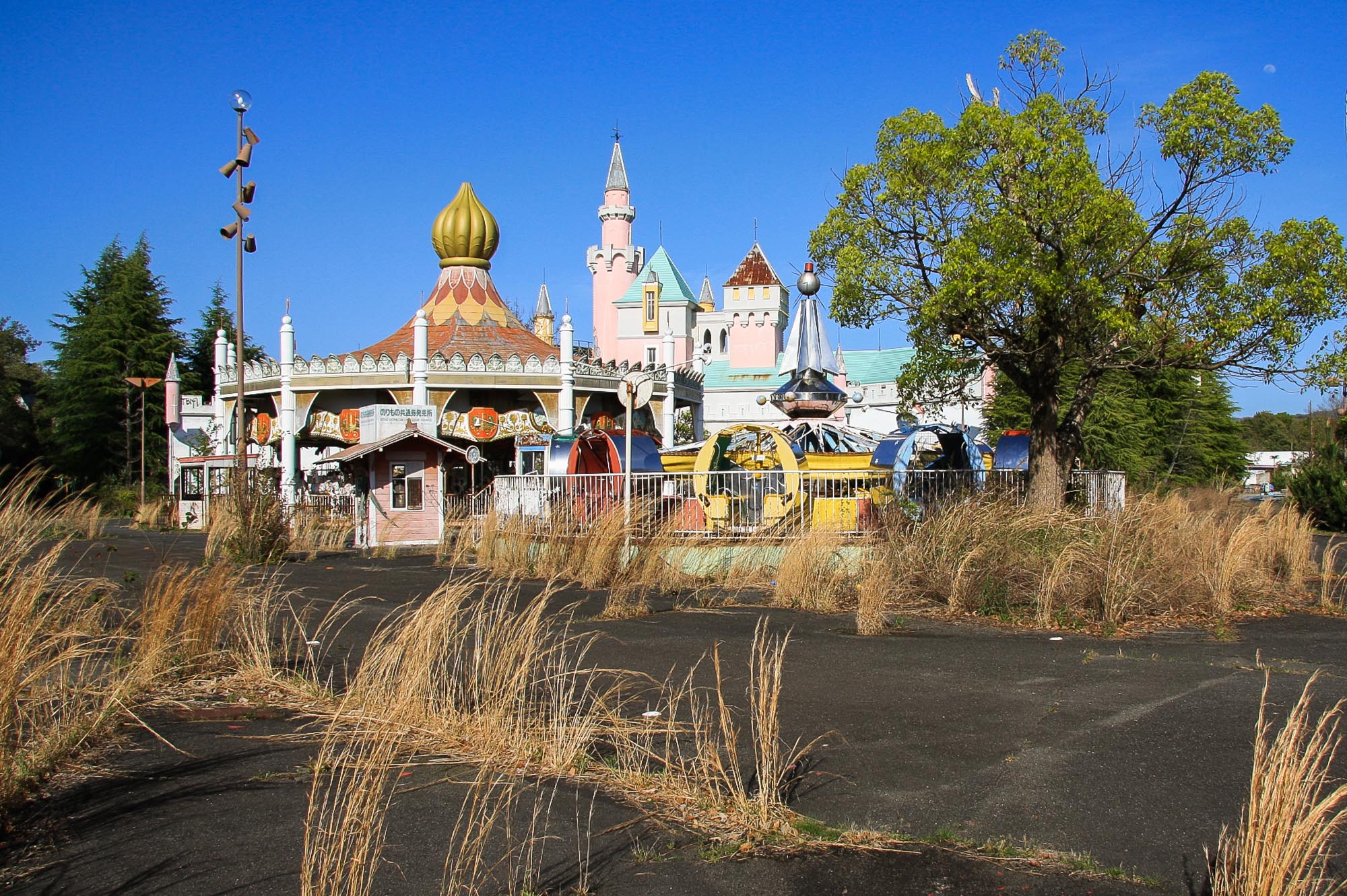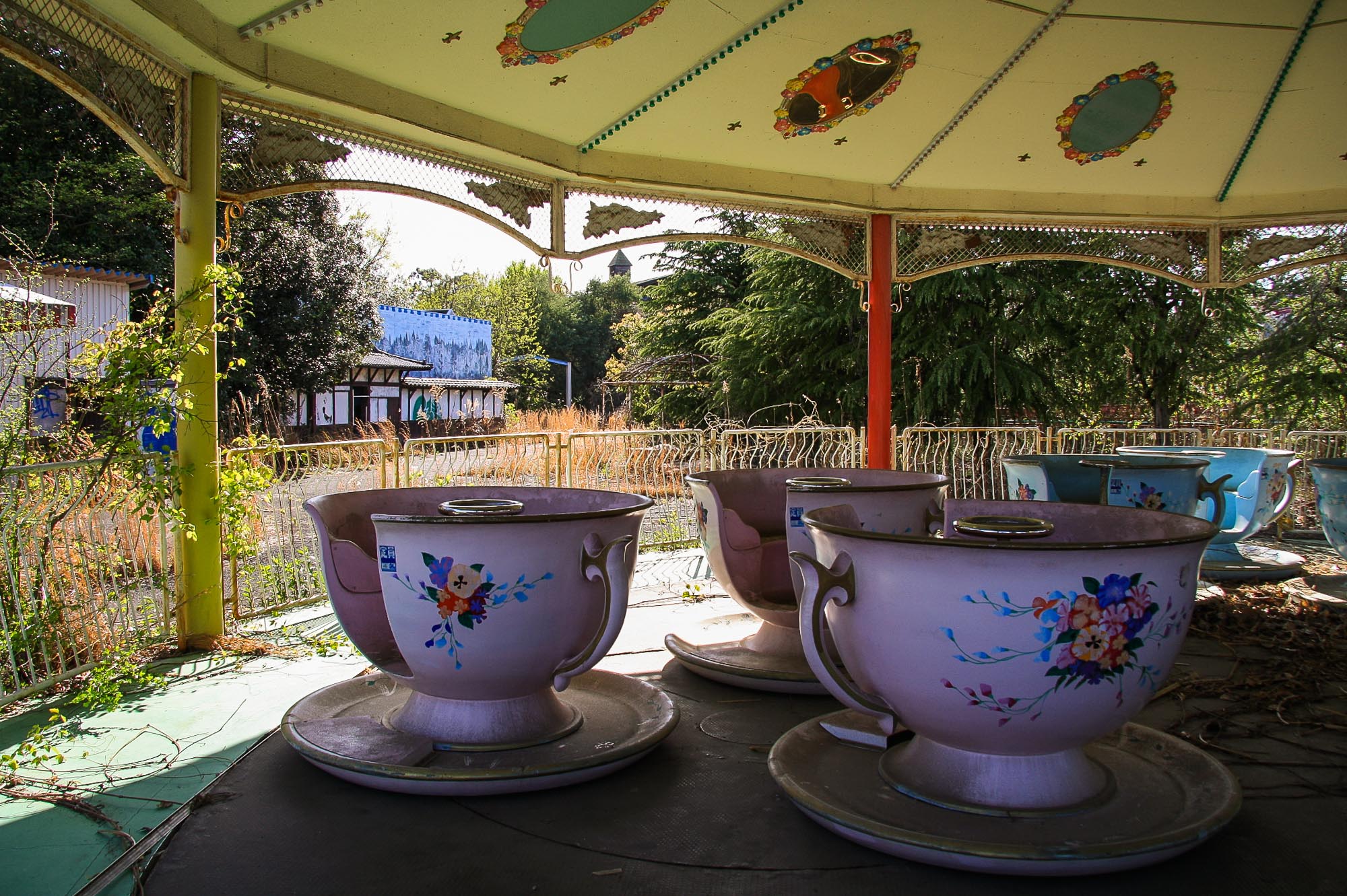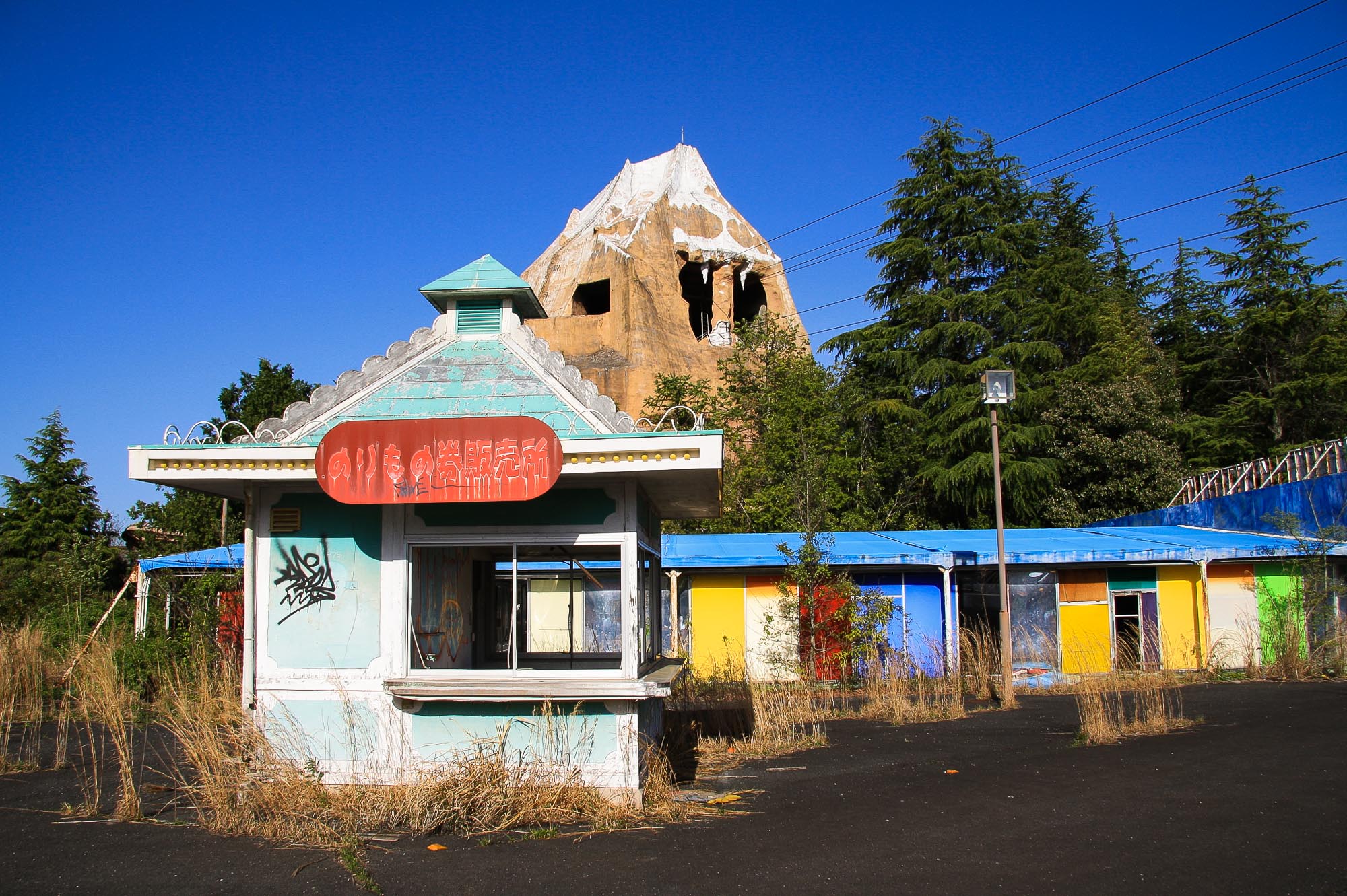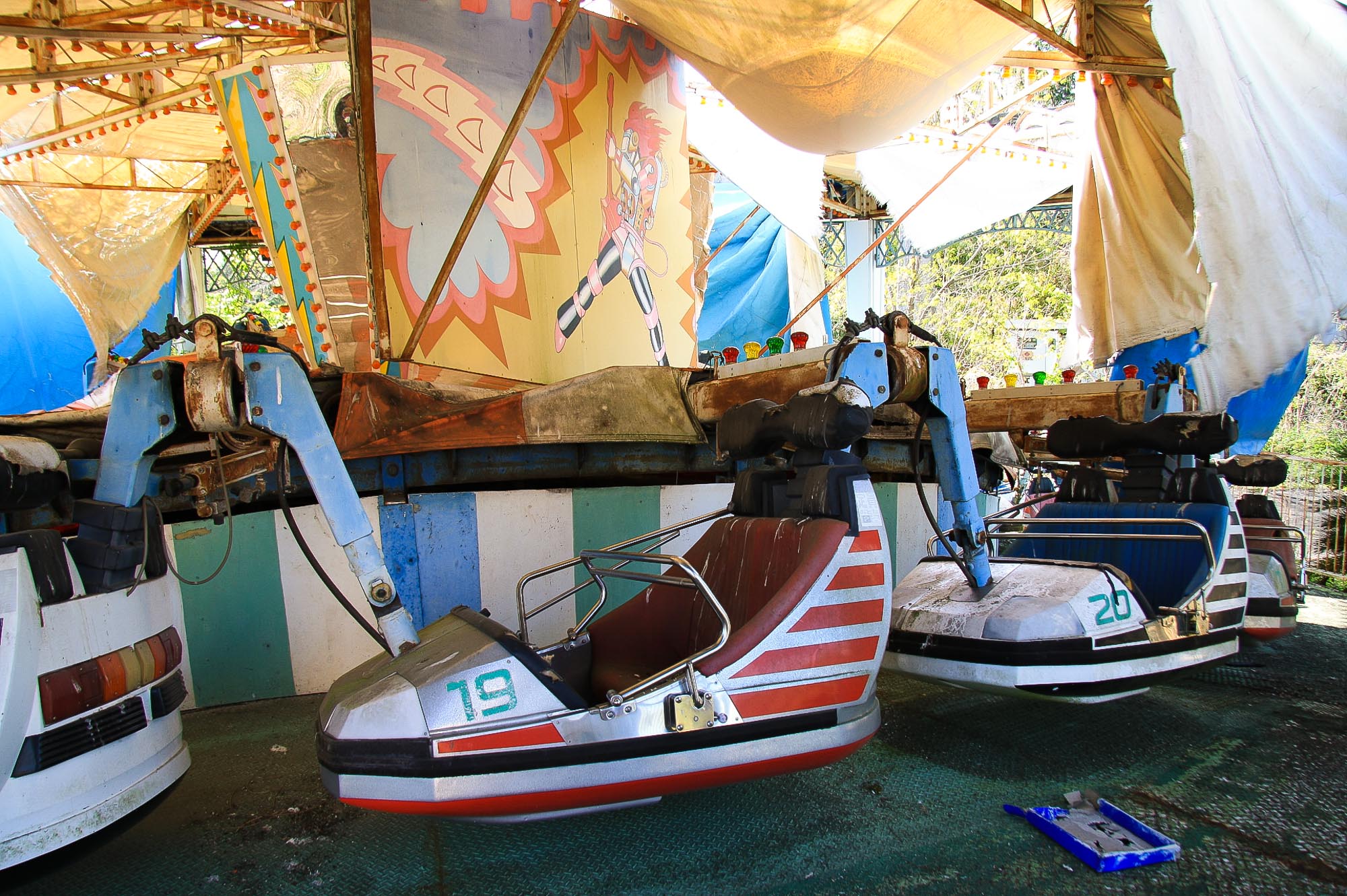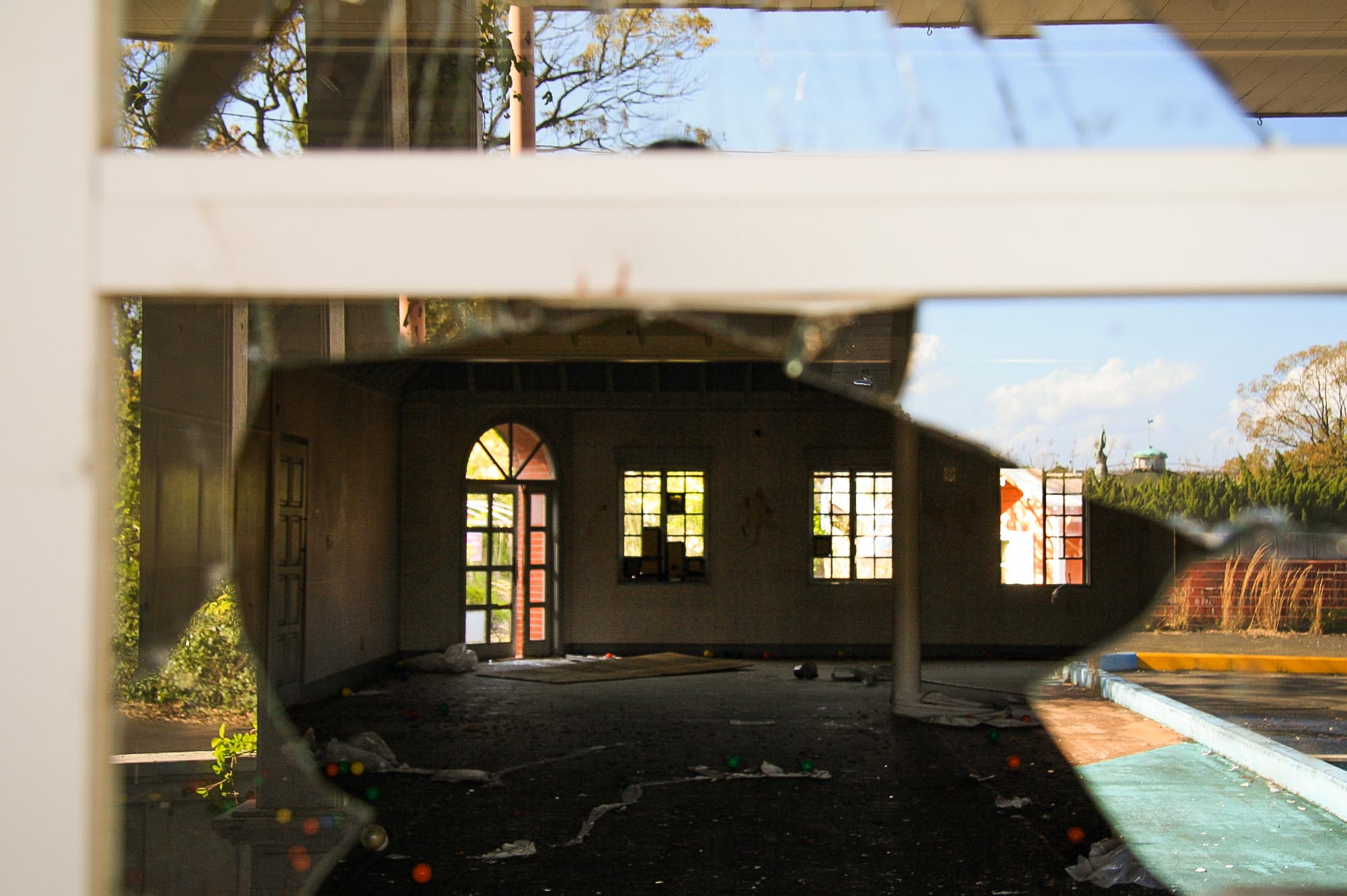 I could feel my stomach turn to knots as we circled around the now defunct slide into the water park's café. I reached into my bag and pulled out my camera. Would the shutter sound give us away?
The sight of an old telephone distracted me. And then I spotted what was left of the kitchen. My fear slowly dissolved into excitement. I had dreamed about doing this for years and now here I was, doing it.
Mark and I fell silent as we made our way through the pools and out of the water park. He later told me he could feel his heart beating the whole time.
When we reached the castle, we both froze, spotting two people in the distance. "Security?" I mouthed to Mark. He shook his head. "They're taking photos," he whispered.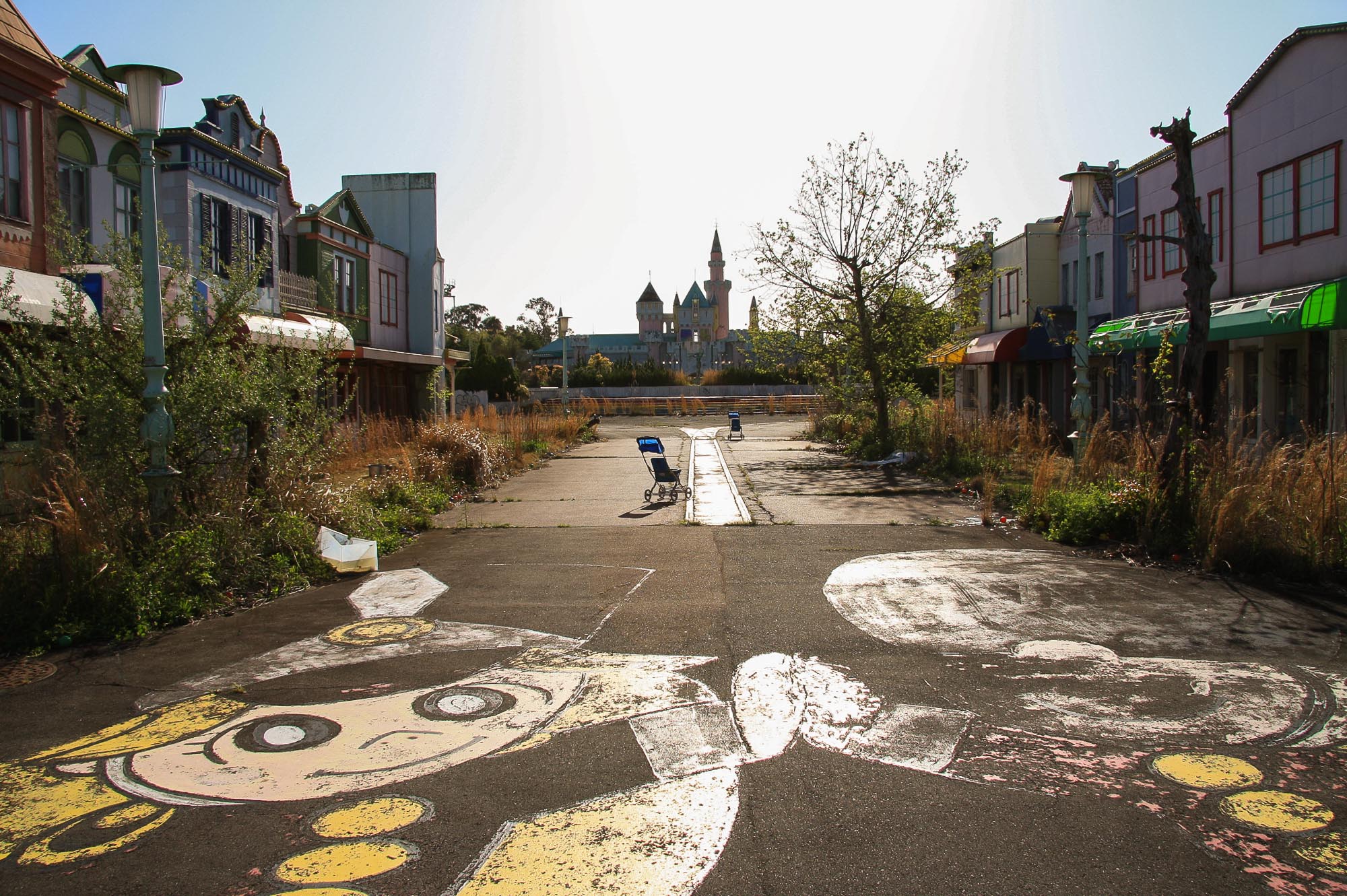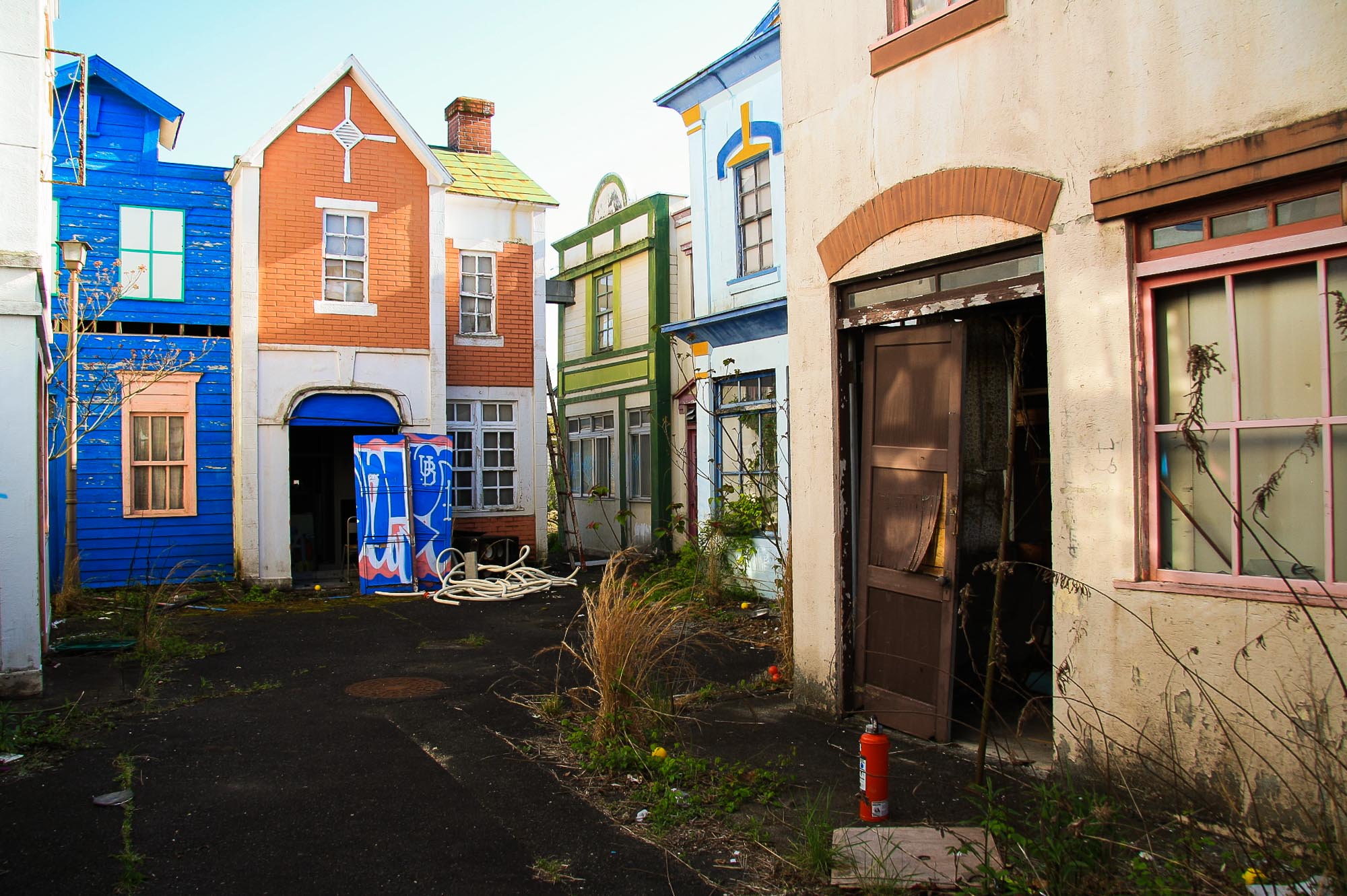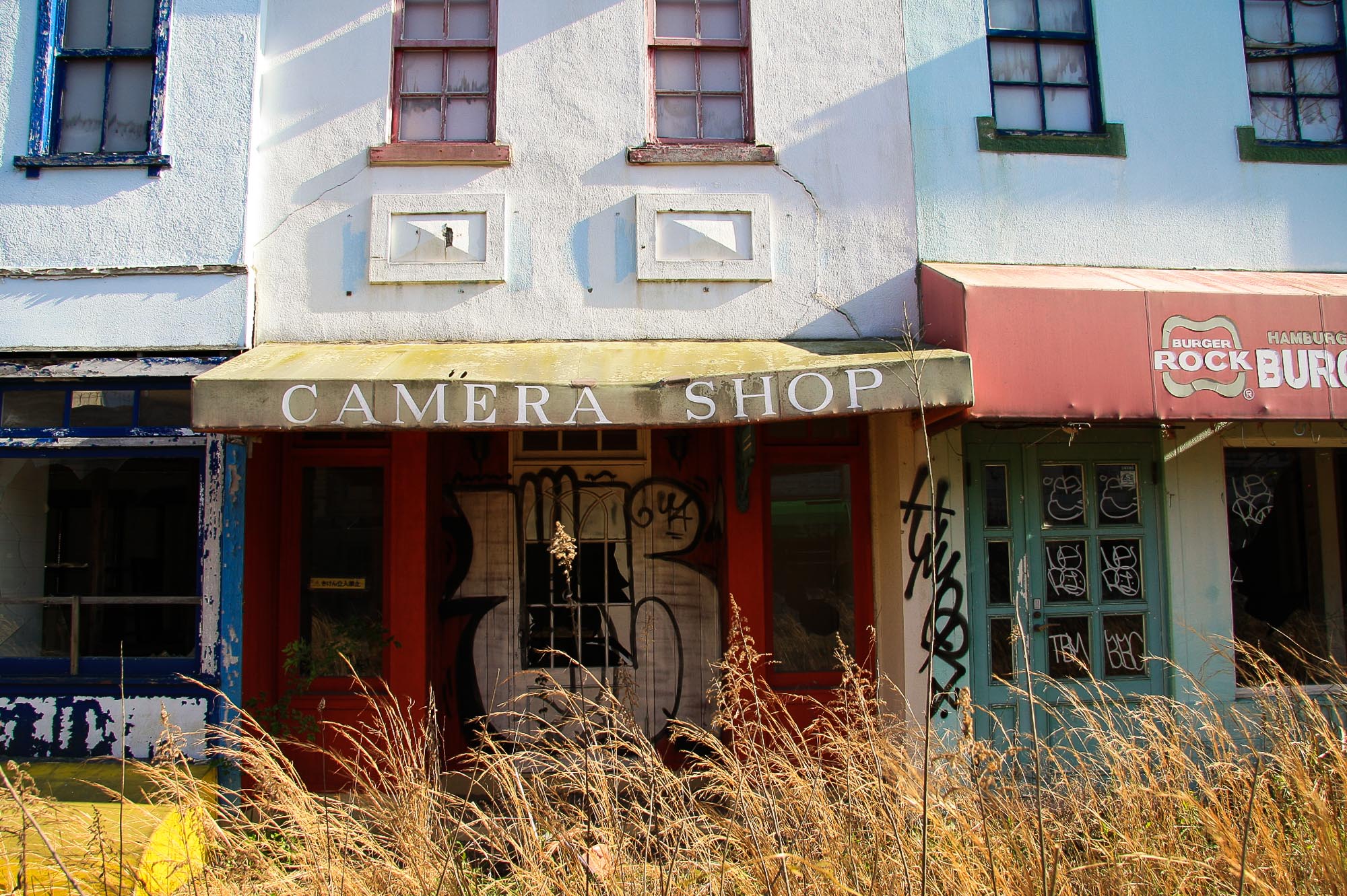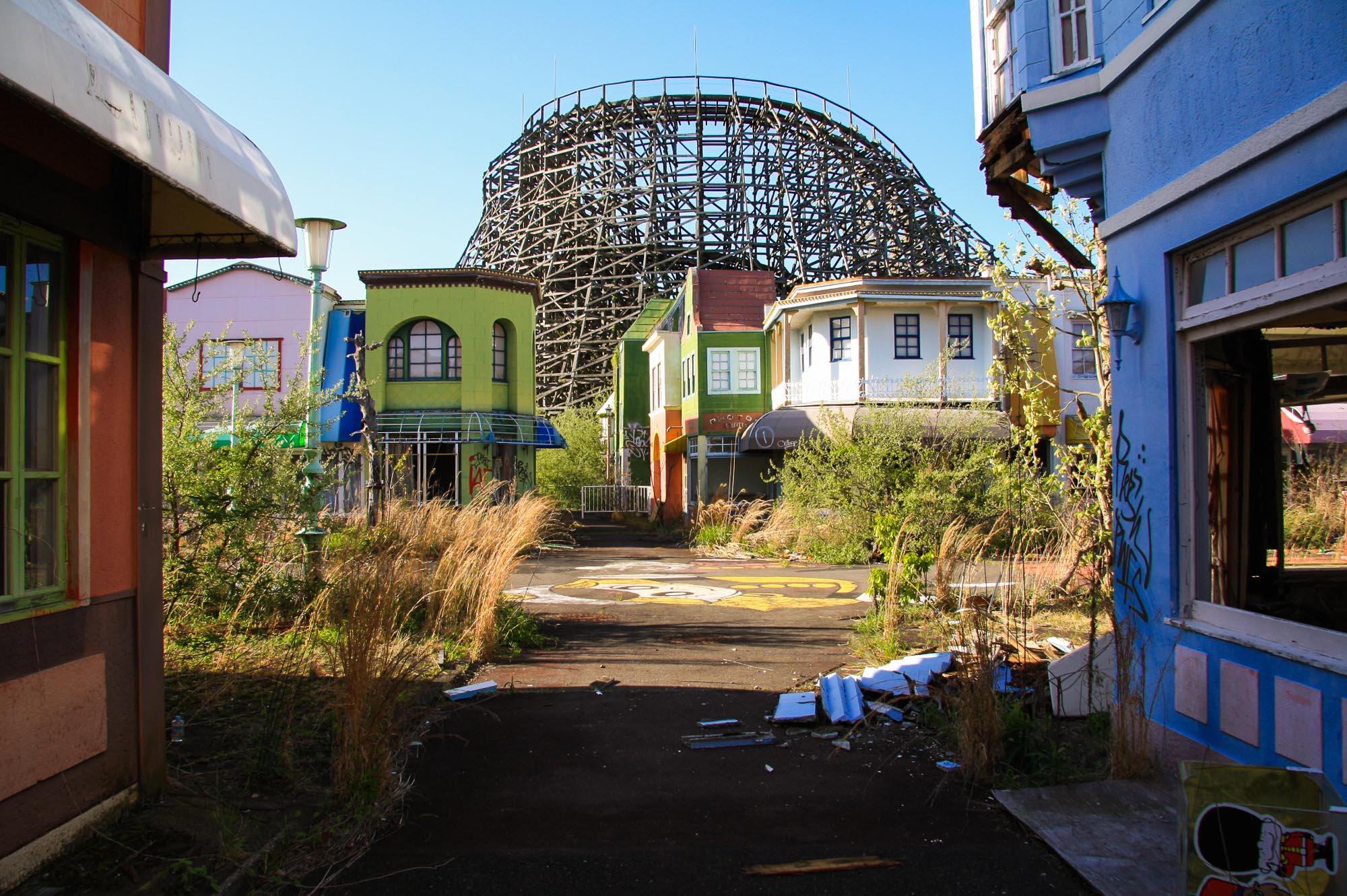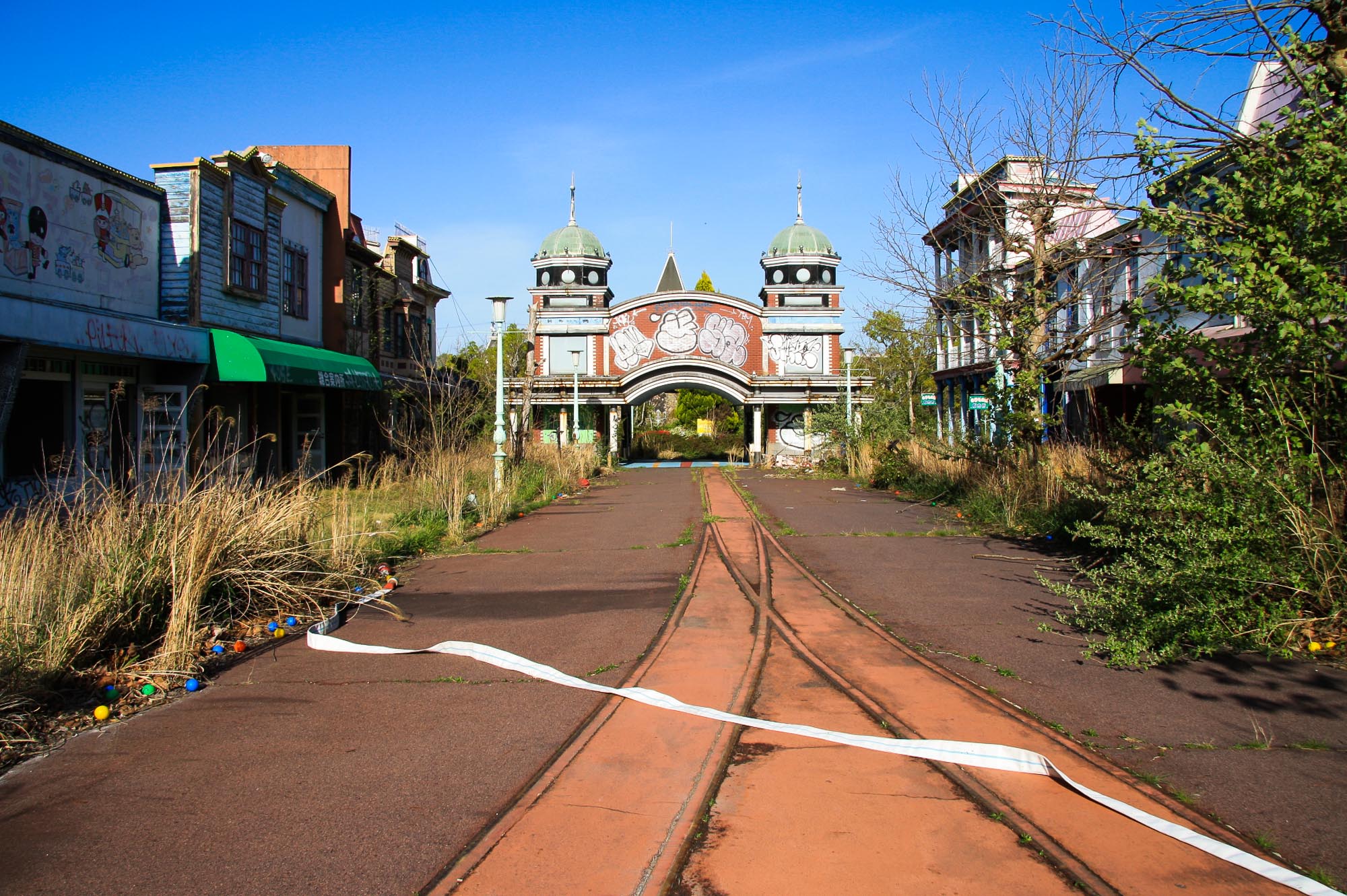 When one of them started to laugh, I felt my shoulders relax.
Nara Dreamland isn't nearly as creepy as I thought an abandoned theme park would be. The loud banging produced from the castle's giant, swinging doors every time the wind picked up was not great for my nerves, but the place doesn't have a bad energy about it. It's just kind of…sad.
The operating booths and ticket offices are still stocked with maps and brochures and stationary and tills. Coloured, plastic balls, having escaped from somewhere, are strewn almost everywhere. A fire truck with a smashed window guards the square in front of a restaurant. Shopping carts and office chairs have made their way out onto the streets. And on a bench next to the monorail, a '10 Years 100 Hits' dance music CD lays waiting to be played.
It's not so much that the park feels abandoned as it does forgotten.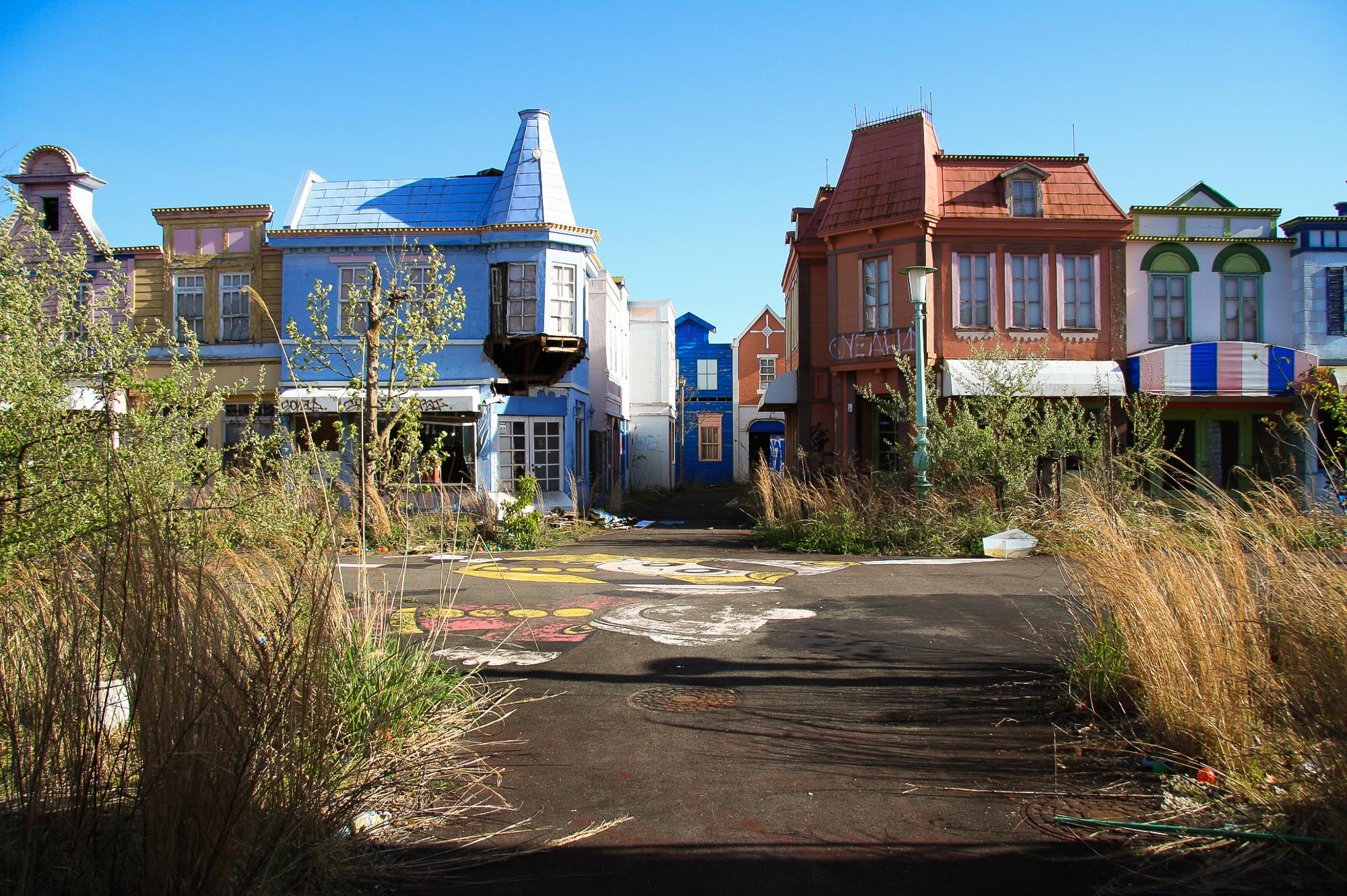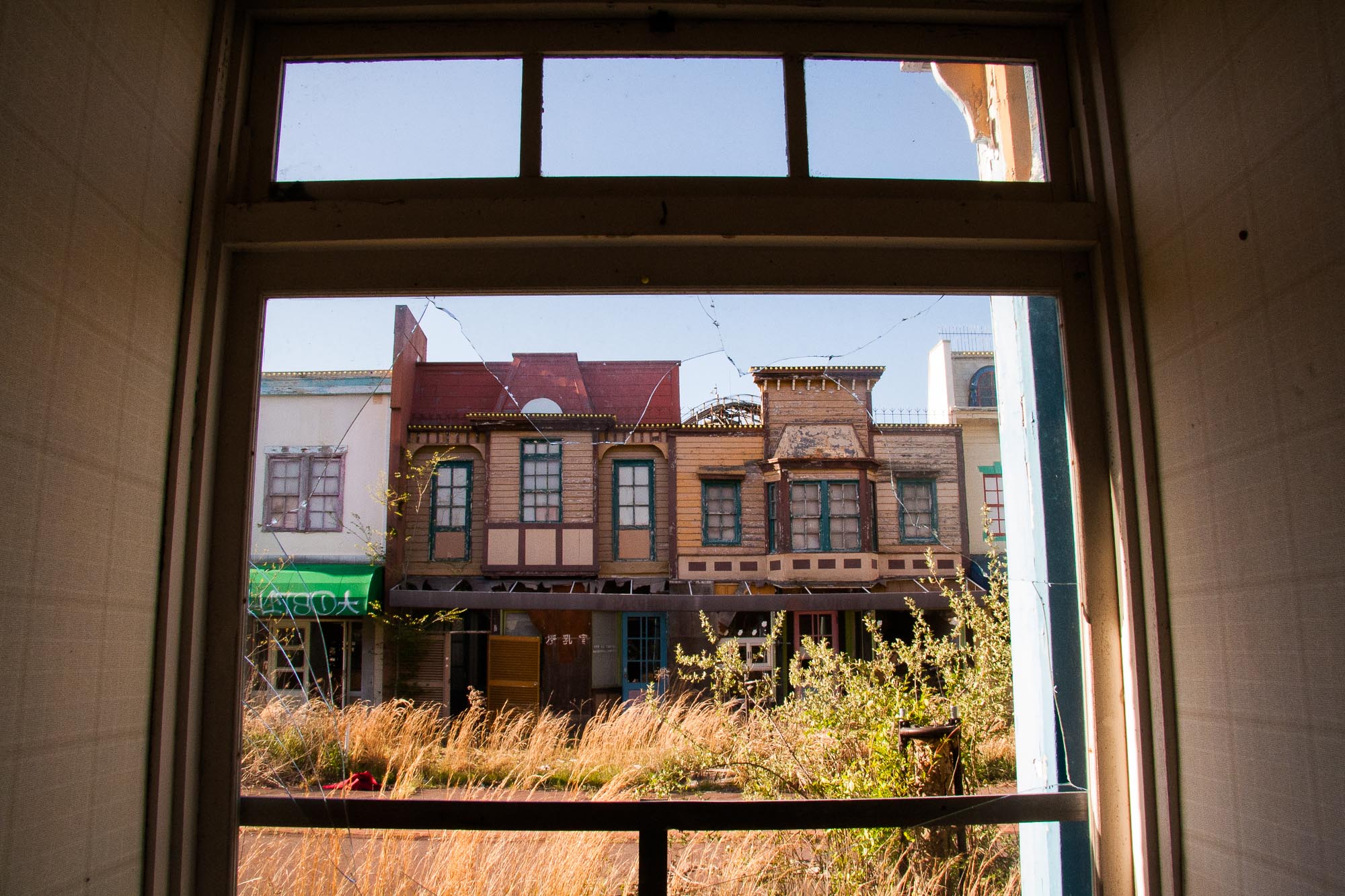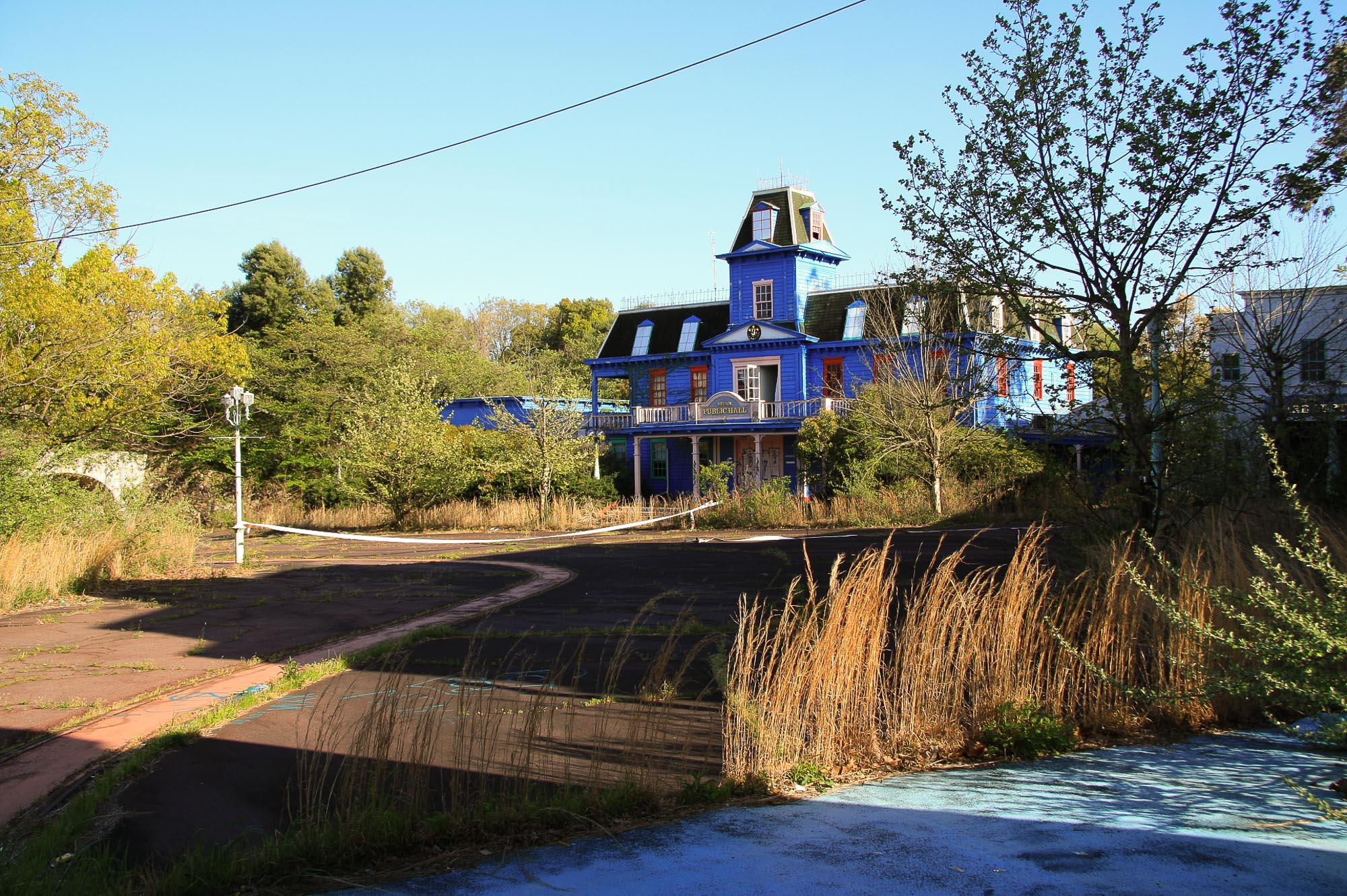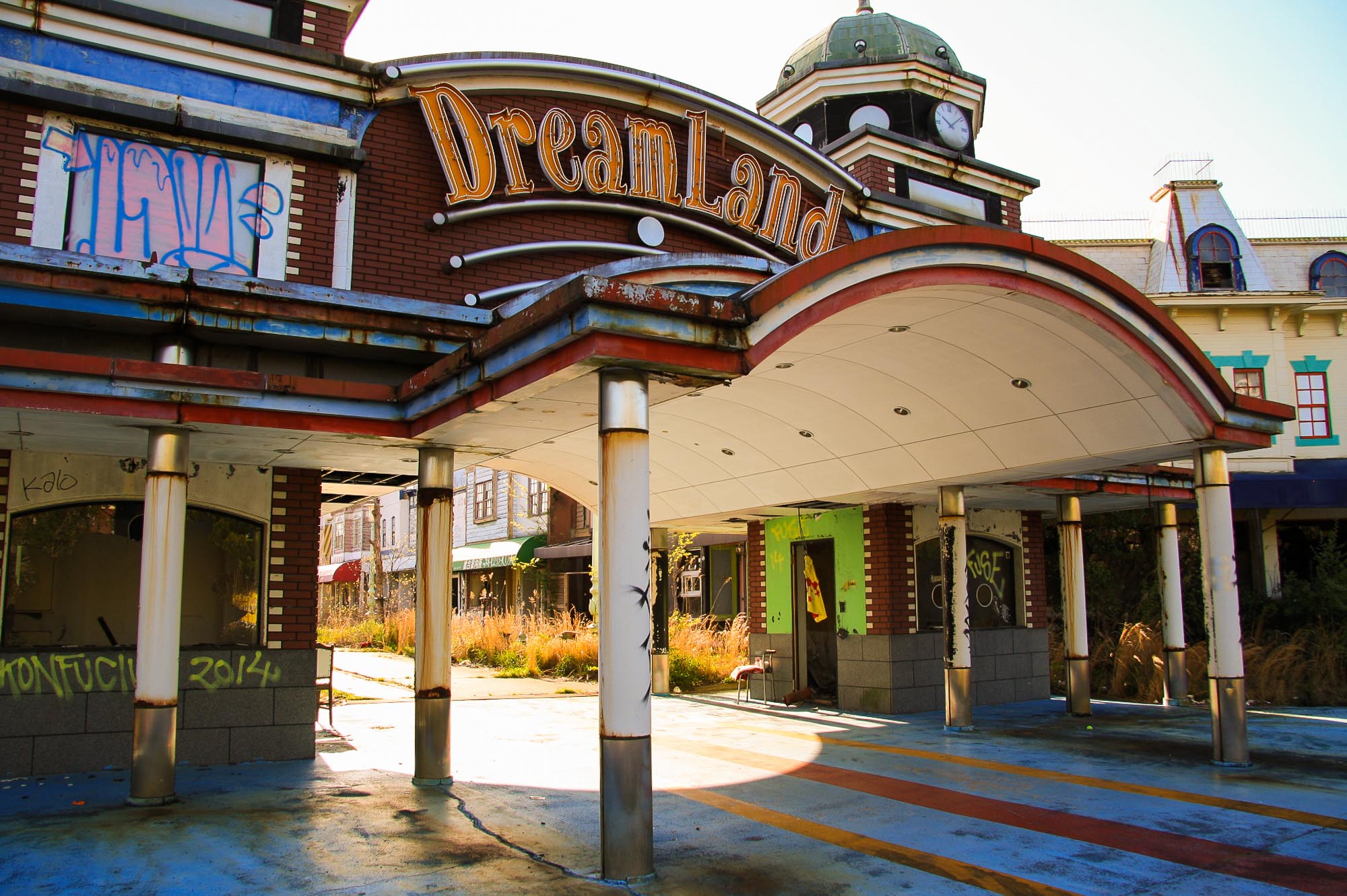 But not by everyone. As we made our way to Main Street, we bumped into another group of people who were pushing each other around on carts, giggling and taking no notice of us or the other couple we had seen earlier who were now also near the park's main entrance.
Their blatant disregard for how much noise they were making made me nervous. I breathed a sigh of relief when they turned the corner and disappeared. Later, we spotted them on top of the Matterhorn-type mountain. "Smart to sit where everyone can see you," Mark smirked.
Maybe for some people it's not about the blank canvases or the photo ops – Nara Dreamland is a place to be alone, away from the real world, where you can live out dystopian fantasies or simply ones from childhood in which you freely roam a place after closing hours.
As the sun dropped lower into the sky, I felt my throat turn to sandpaper. We had been walking around for close to 3 hours, and dehydration was starting to take over.
"Should we get going?"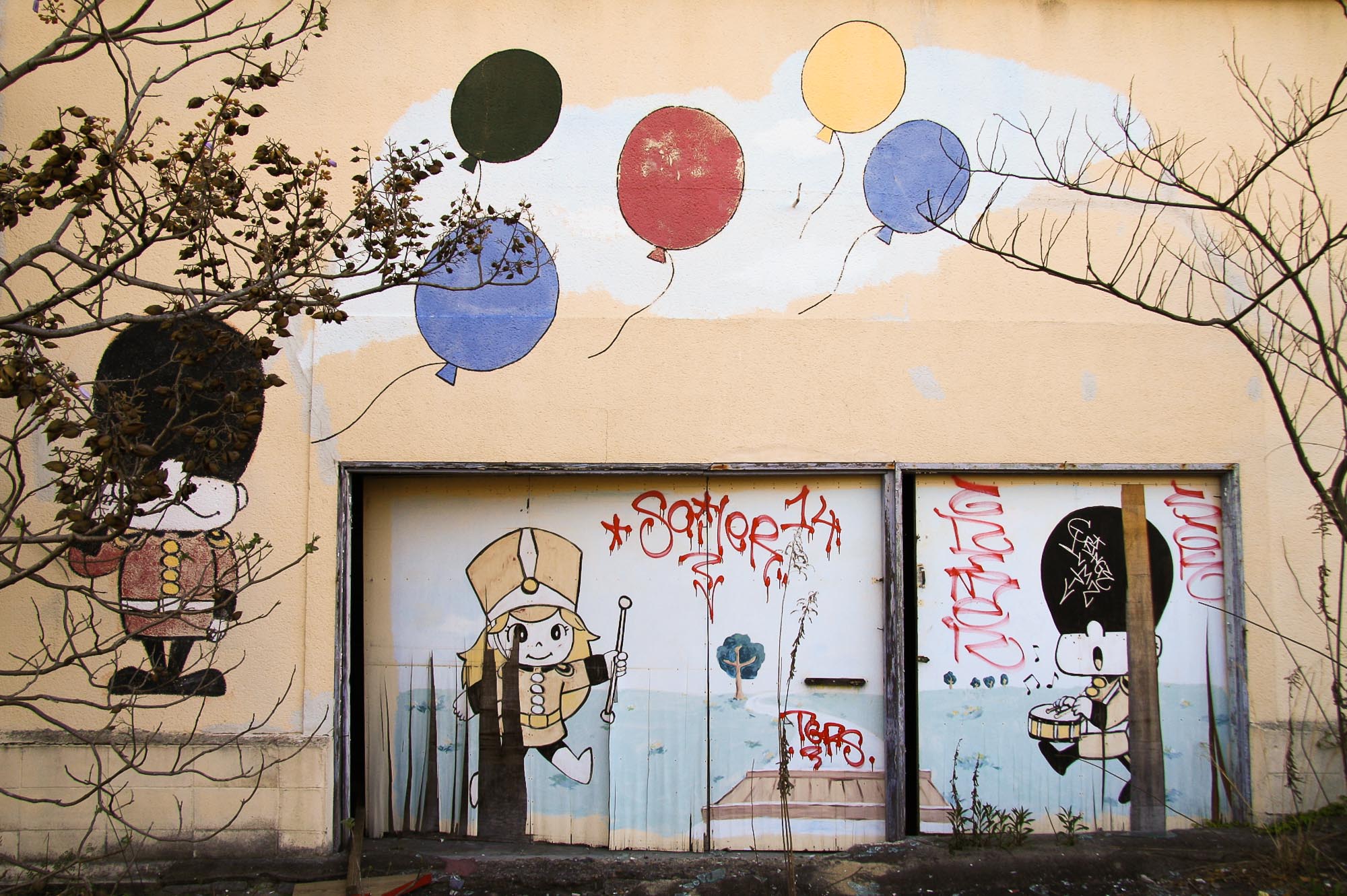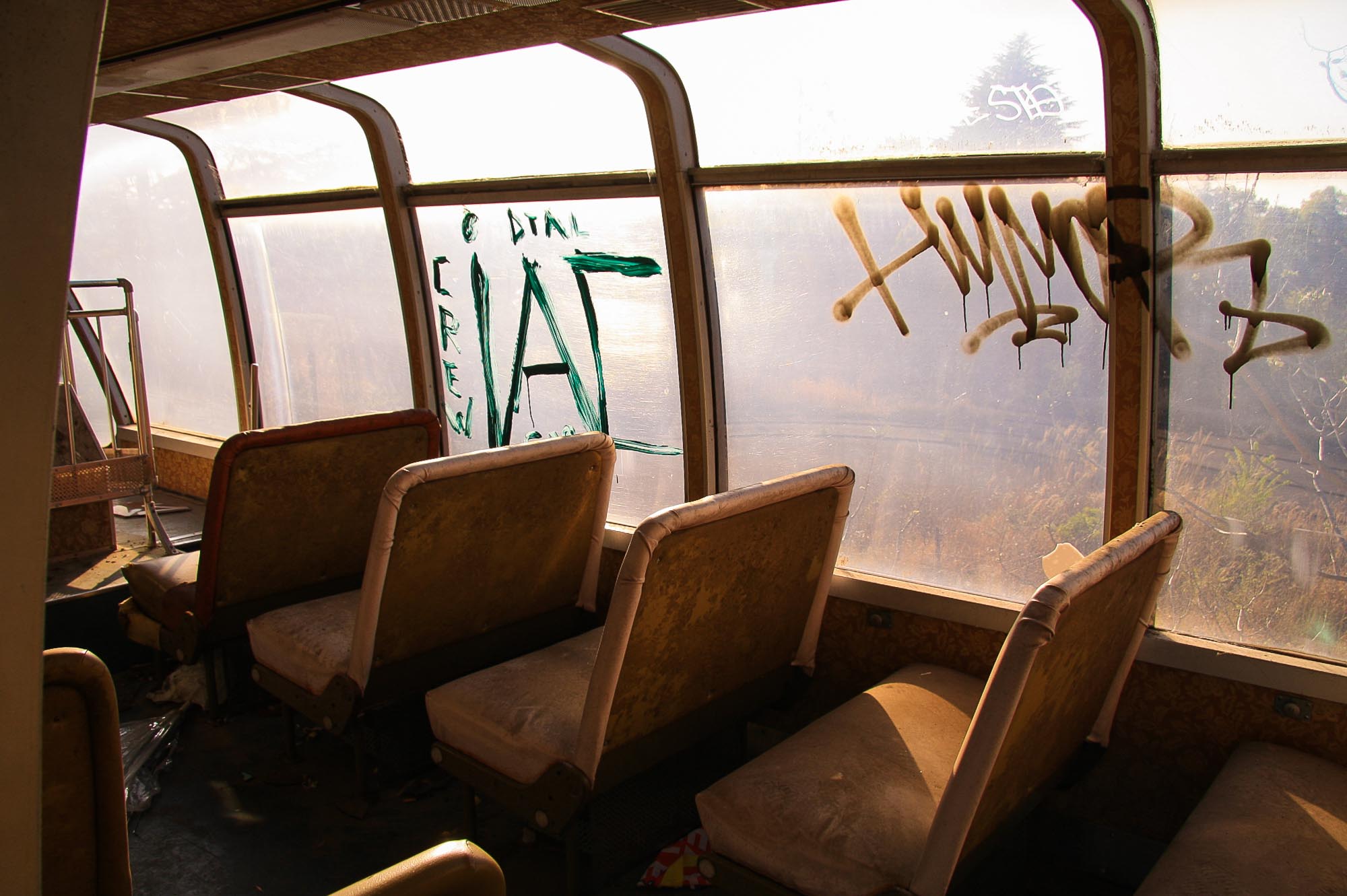 We made one last loop, around the wooden roller-coaster, past the castle and through the water park. Back through the gate, over the iron railing, and through the fence.
It was only as we were walking down the hill towards the station that I saw the missing iron baluster from a rusting gate further along the fence. "Oh my fuck, we could have totally gone through there!"
Mark smiled. "Oh well, now we know for next time."
—