Bougie in Busan, Part 1: Gukje Market
"Get the vision, get the vision, get the vision, come -," I executed the last of The Kills' new album with a tug of my earphones when we touched down on the tarmac, breathing a small, happy sigh of relief. We had finally made it to South Korea. Or had we? The 55 minute flight from Fukuoka to Busan is something of a mind fuck; it takes that long to fly to Osaka and then you're still in Japan. I blushed at the hangul winking at us through the window as we skated towards the gangway. We were definitely not in Kansas anymore.
This only became more apparent as we made our way though immigration, and then customs. "Everyone's so tall!" I observed out loud to Madelyn. She nodded, smiling. It was my first trip to an Asian country that's not Japan, and I couldn't help but compare. "Wait till you see the trash!" Sure enough, empty coffee cups and soda cans were spilling out of the tops of every rubbish bin in the arrivals hall.
It was surprisingly refreshing to be somewhere where there was a bit of disorder. It reminded me of home.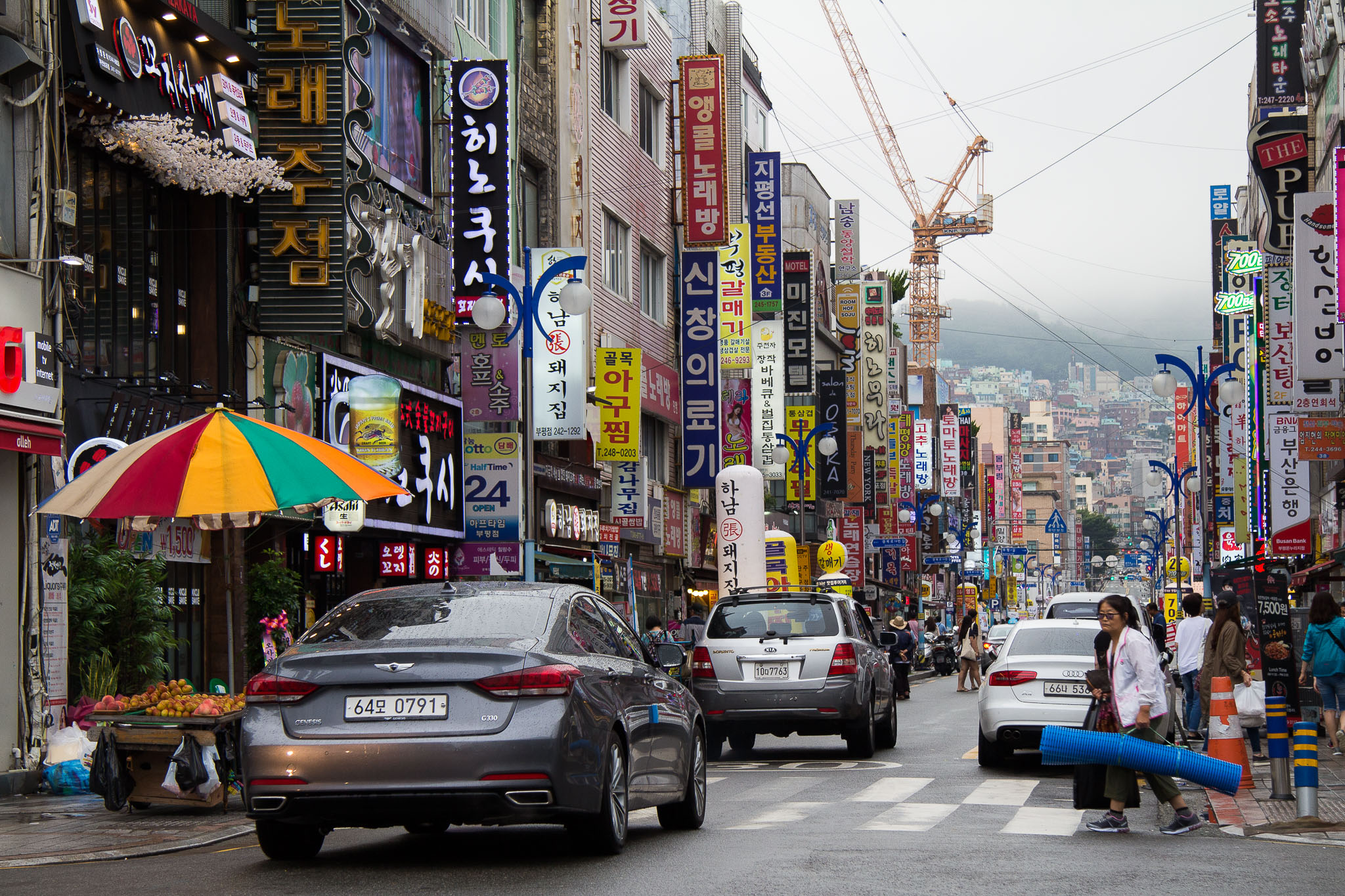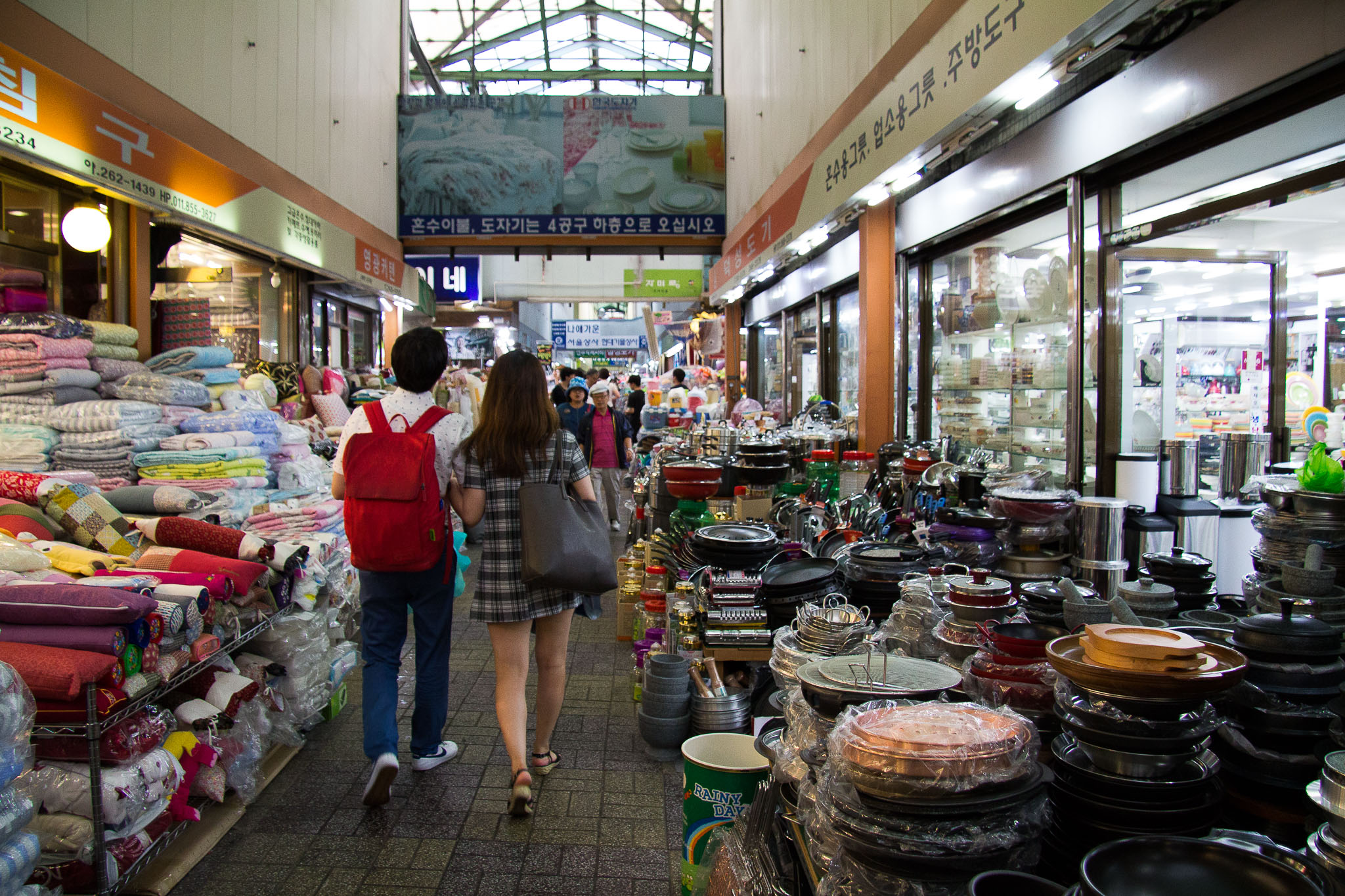 Our 3-day getaway would be a much-needed break for the both of us; Madelyn wanted to splurge on one last trip before she heads back to Canada at the end of the month, and I needed to come up for air. The stresses of living in a foreign country for three years have their way of creeping up on you. Busan was a natural choice – close enough to Japan for a short holiday and light enough on our yen to be able to spoil ourselves a little.
We had decided to taxi the hour's drive from Gimhae International Airport to our Airbnb on Gwangalli Beach, which, if my research was sound, would only set us back about ₩30,000 (approximately 3,000円, or $30). I leaned back into the leather chair of the Hyundai van and stared out into the gray.
Busan is gorgeously weird. The port city, located on the south-eastern-most tip of the Korean peninsula, sprawls beneath 18 mountain peaks, spilling down into narrow valleys between the Nakdong and Suyeong Rivers, and over the edge of its six beaches. Overlooking it all are the perfectly spaced tower apartment blocks that monopolize the city's skyline. It's unlike anything I've ever seen.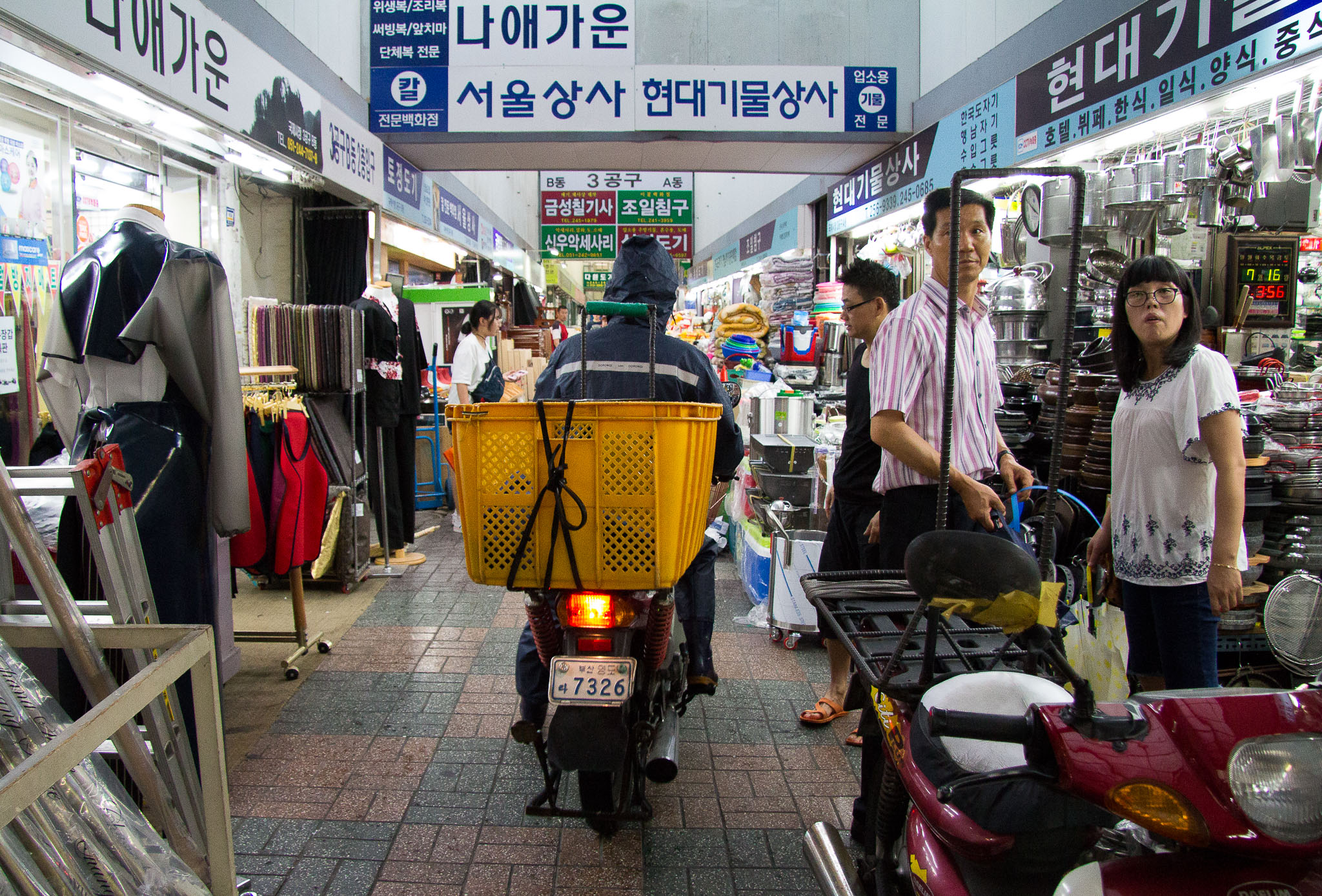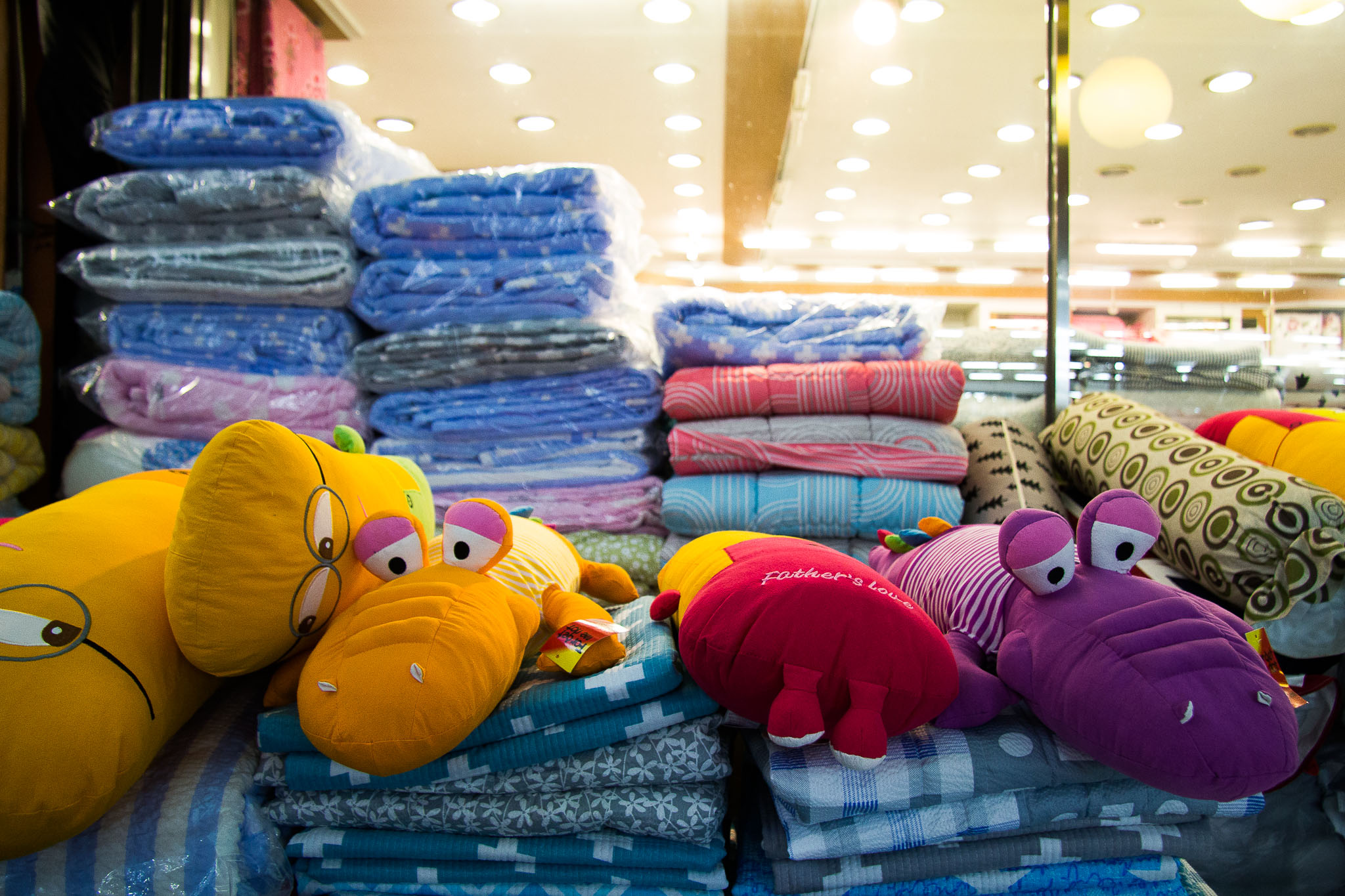 "I feel like if I saw a spaceship come over that hill right now I wouldn't even be surprised," I said to Madelyn. The inside of the taxi was just as futuristic looking – a dashboard full of lights and dials, and a warning pulsating from the GPS for every time the driver ignored the speed limit.
When we finally reached the apartment building of our AirBnb and paid the taxi driver (it came to just about what we had anticipated), we dropped off our bags and headed down the block for a quick bite to eat. Over brunch, we decided that since the taxis were so cheap, we'd head to Nampodong that way as well.
Busan's central commercial and shopping area in the Jung District is home to Busan Tower and Yongdusan Park, and host to the Busan International Film Festival. It also boasts a variety of retail stores, restaurants and one of South Korea's biggest traditional markets.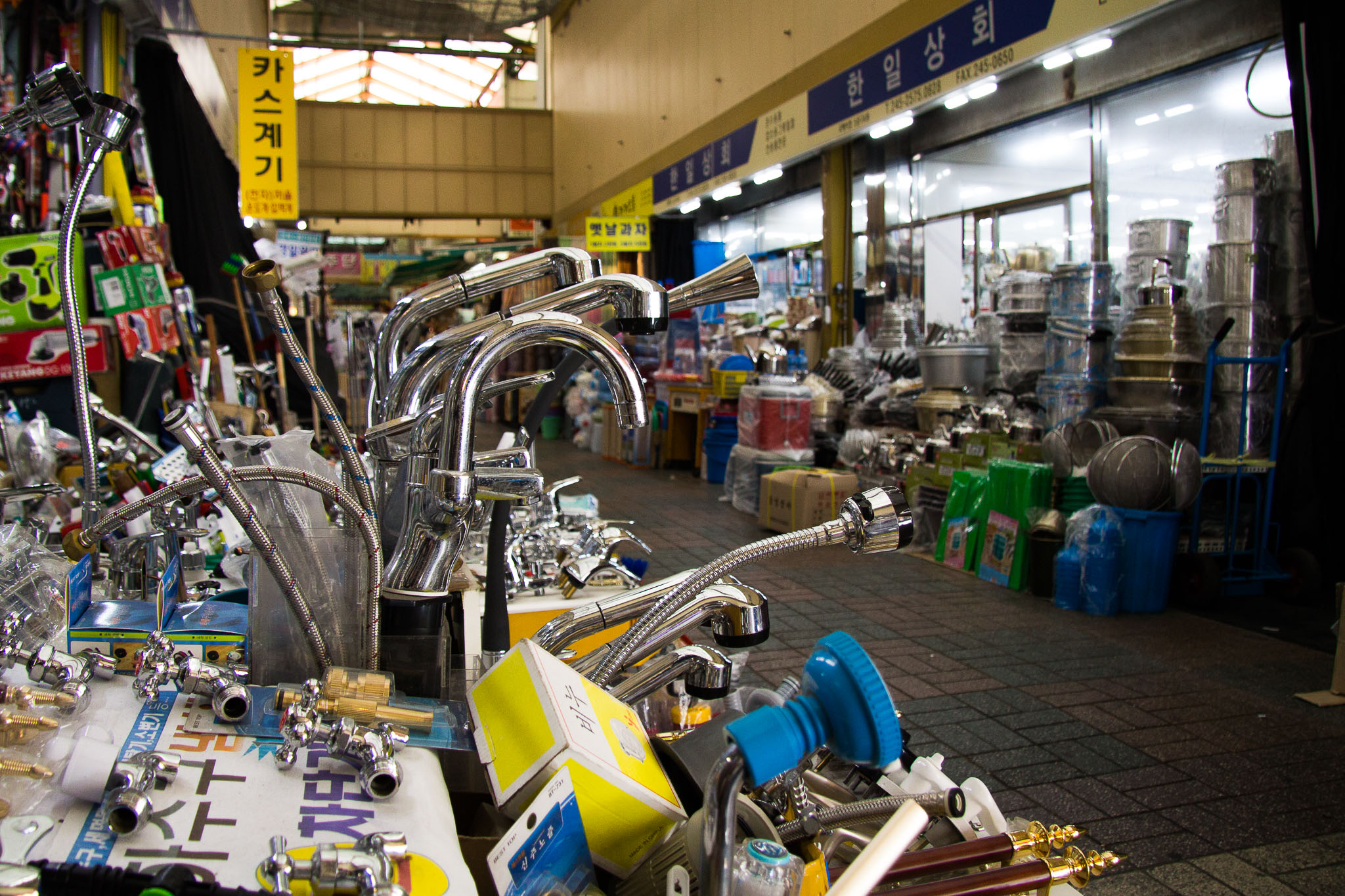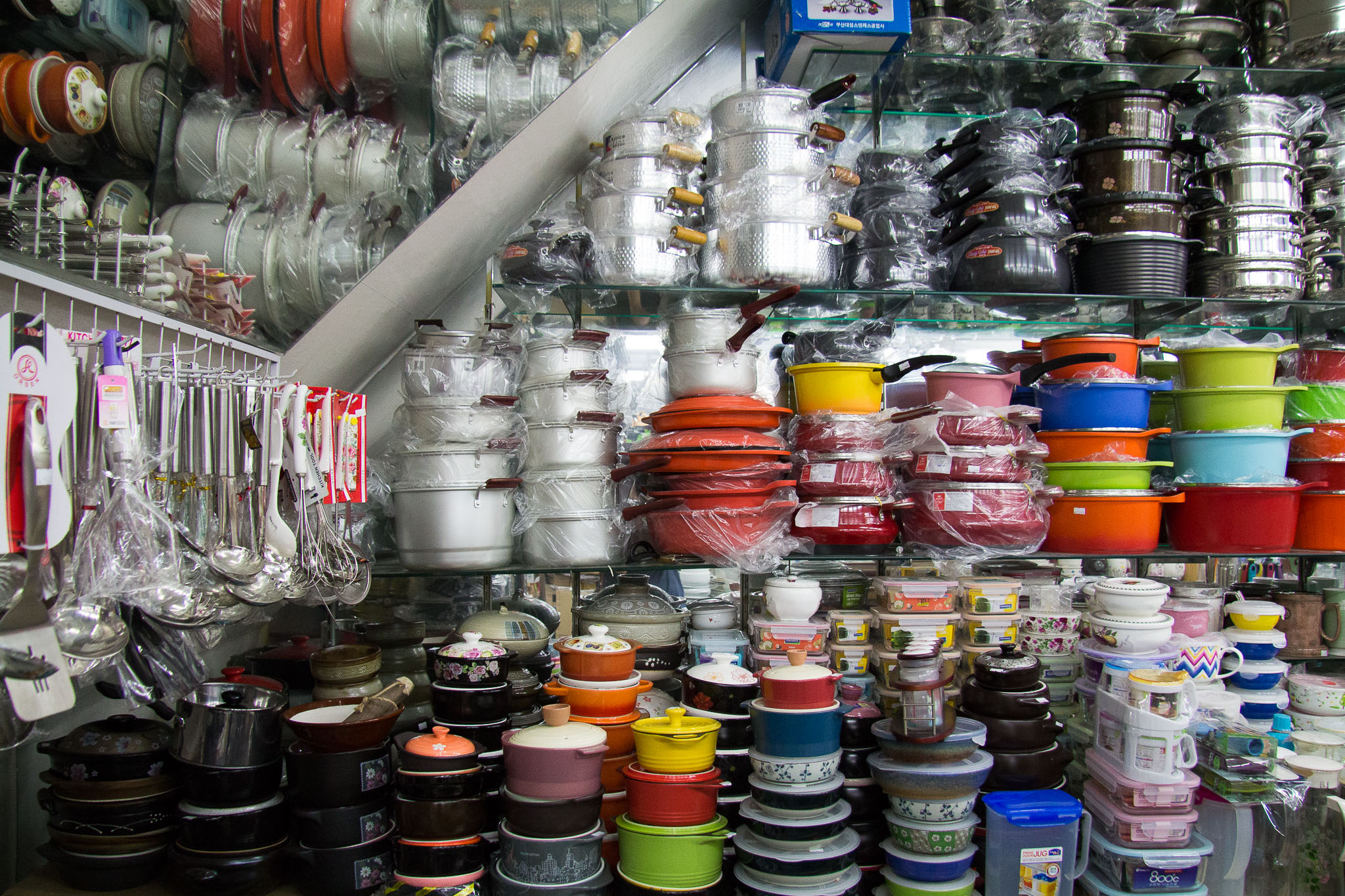 Gukje Market, also known as Nampodong International Market, began during the Korean War as a place for refugees to make a living. It has since grown from its humble beginnings into a large-scale attraction that is popular with both locals and tourists.
Likened to Seoul's Namdaemun Market, Gukje's narrow alleyways are crowded with stalls selling everything from electronics and machinery to linen and kitchen appliances, all at wholesale prices. Connected to the smaller Bupyeong market nearby, it's the perfect place to hunt for bargains.
Since 2014, Gukje has also enjoyed popularity with fans of the movie Gukjesijang, in which the main character, a refugee of North Korea, escapes to Busan and is taken in by his aunt who runs a stall in the market.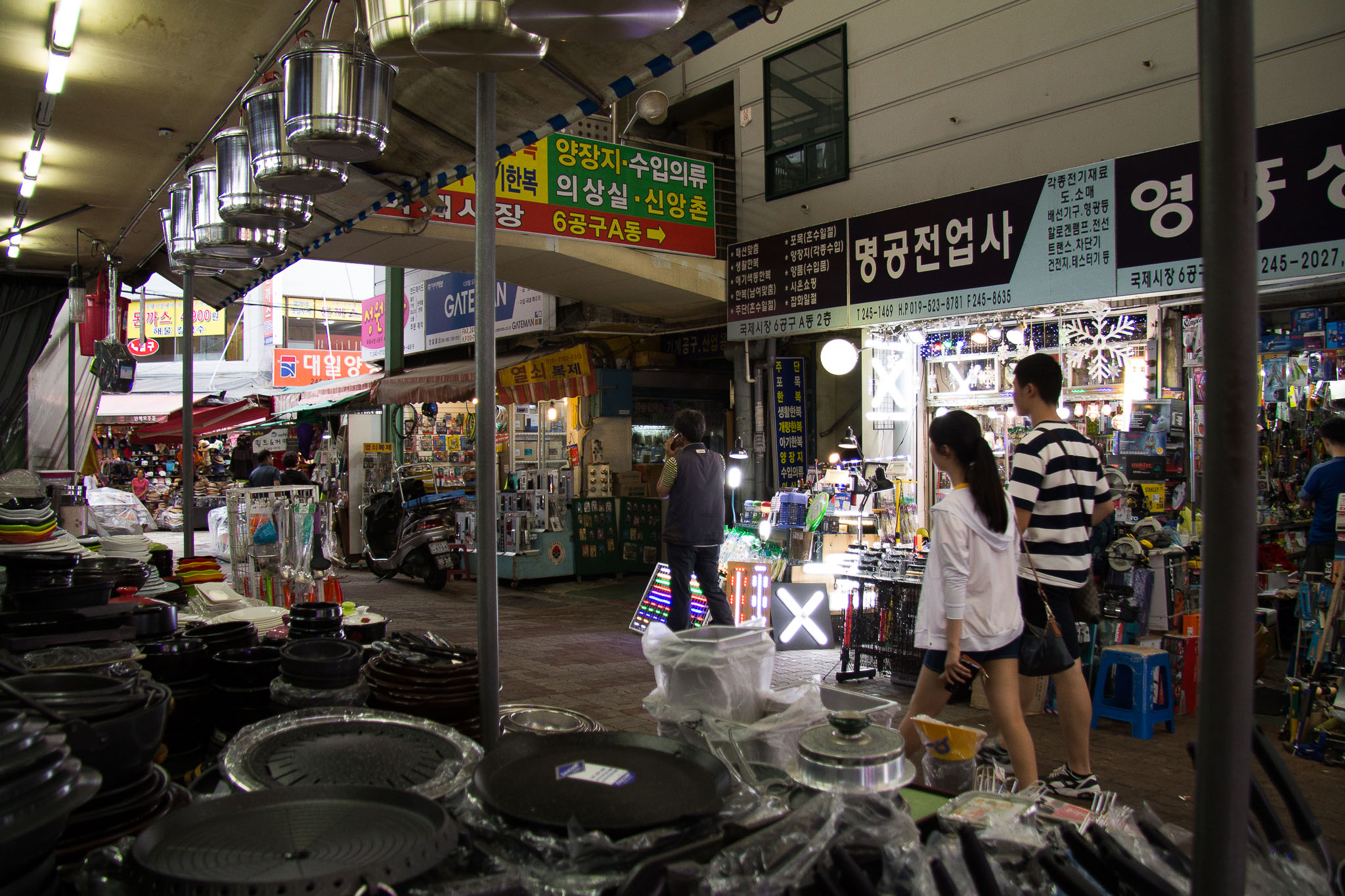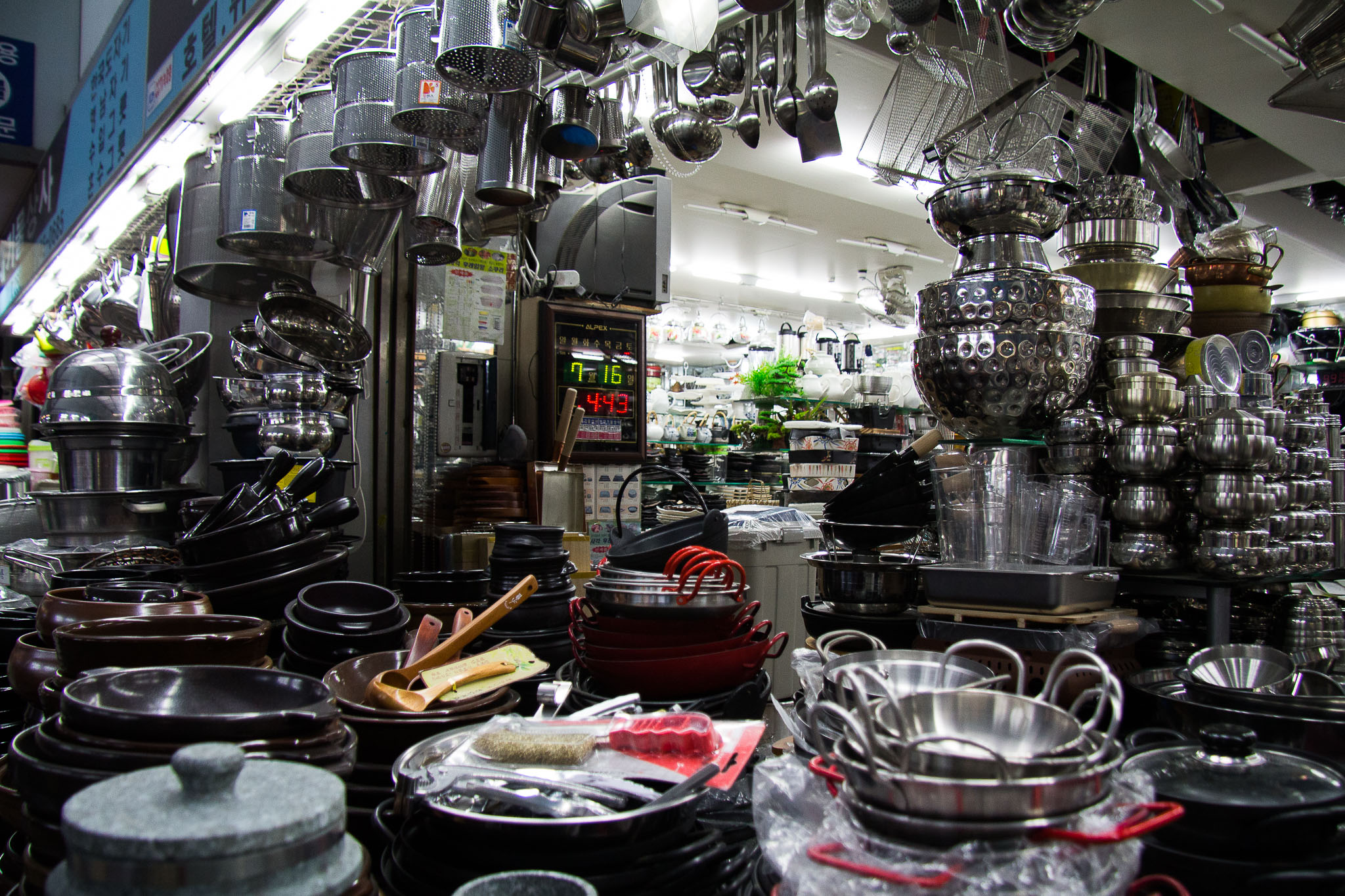 A special tour introducing the film's shooting locations in and around Gukje Market runs for free every Saturday and Sunday at 1pm. Weekday tours are also available for groups of 10 or more.
We had our taxi driver drop us off at Busan Tower and navigated the rest of the way from there. After the clouds opened up, we popped into a shoe store to pick up some umbrellas that were on sale and ended up ducking into Nampo Station when the rain really started to come down hard.
We confirmed directions with the friendly staff at the station's information center and then cut through the Nampodong Underground Shopping Center. At exit 5, we emerged above ground again, just 300 meters away from the market's entrance, relieved to find it fully covered.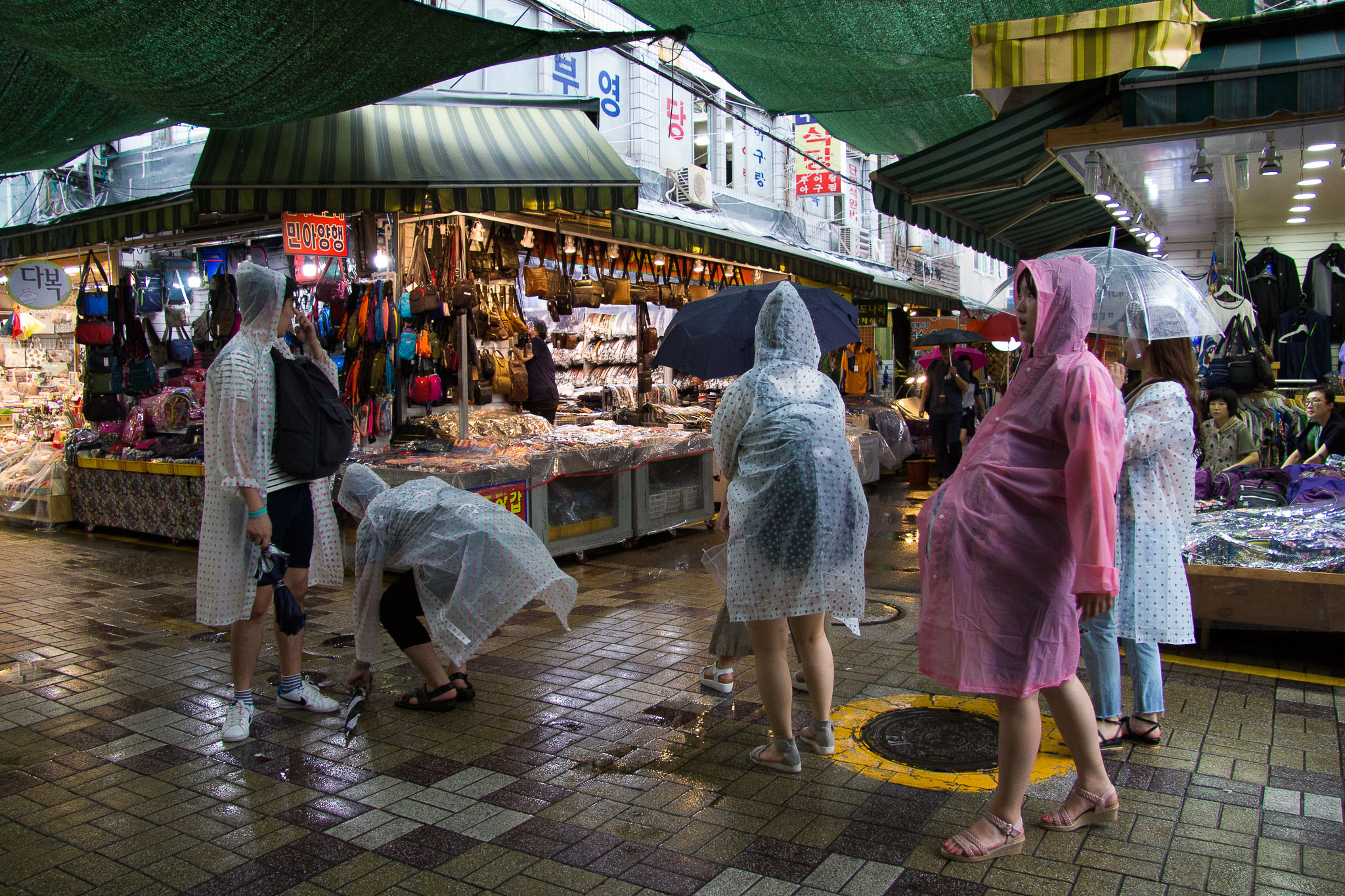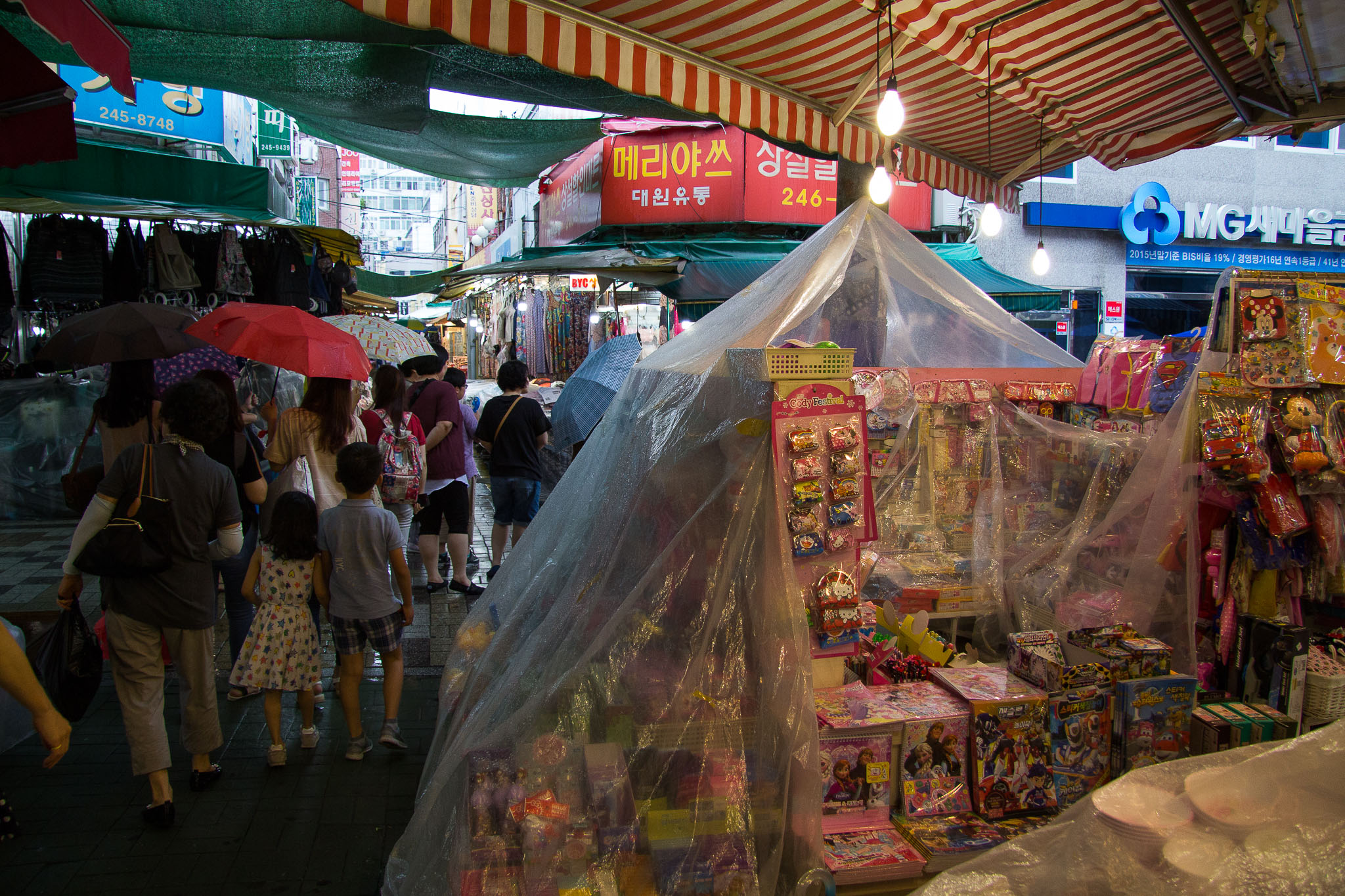 Madelyn was in search of a Korean dolsot and some spoons, while I was content to just browse for trinkets.
A collection of lacquered jewellery boxes caught my eye. Inlaid with cranes and pine trees, each box turned out to be two boxes clasped together. When you undo the clasp, the twin boxes swing open to reveal a set of velveteen drawers on each side.
In the end, I settled on a norigae pendant and set of handcrafted cards depicting traditional hanbok.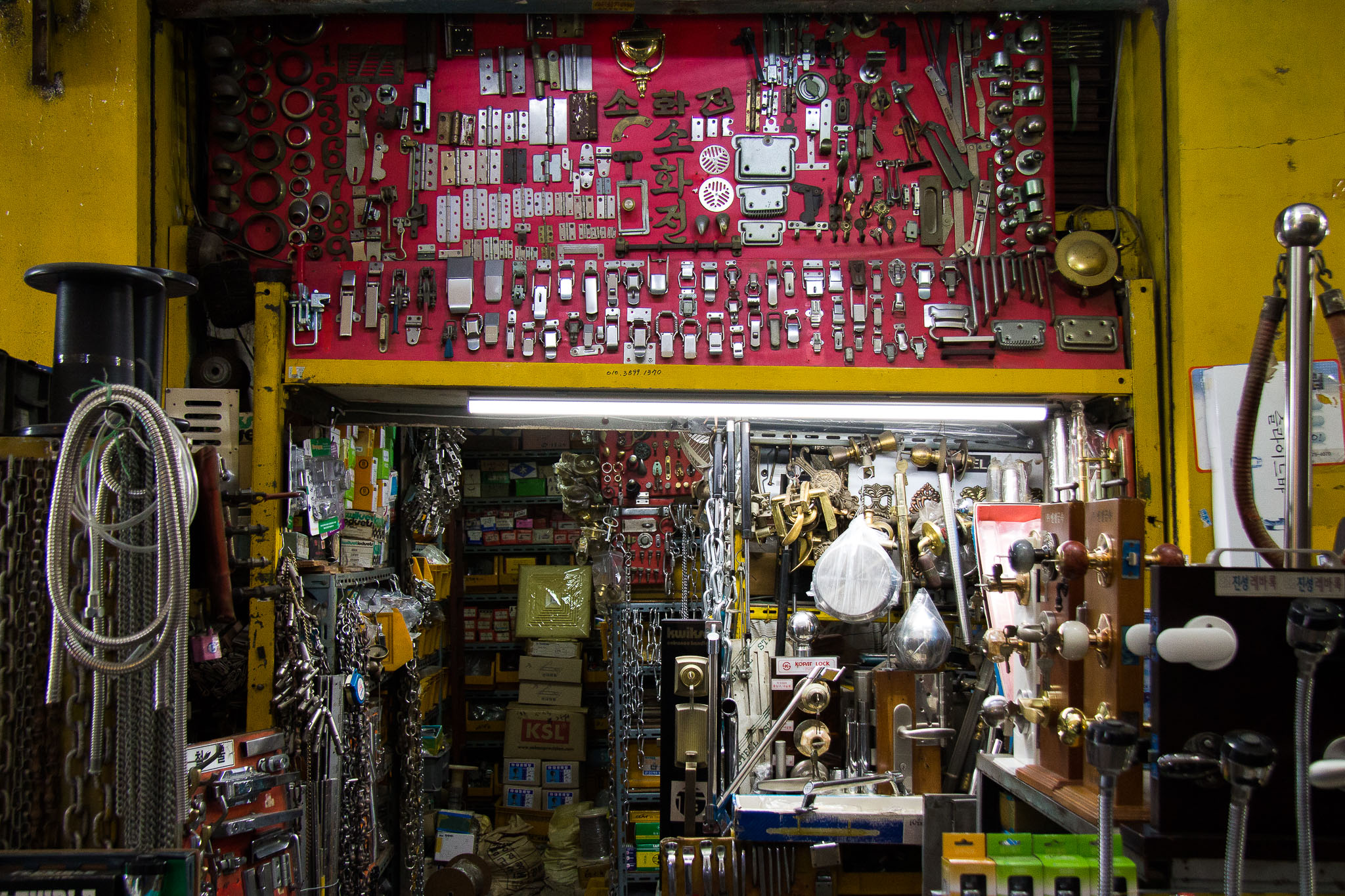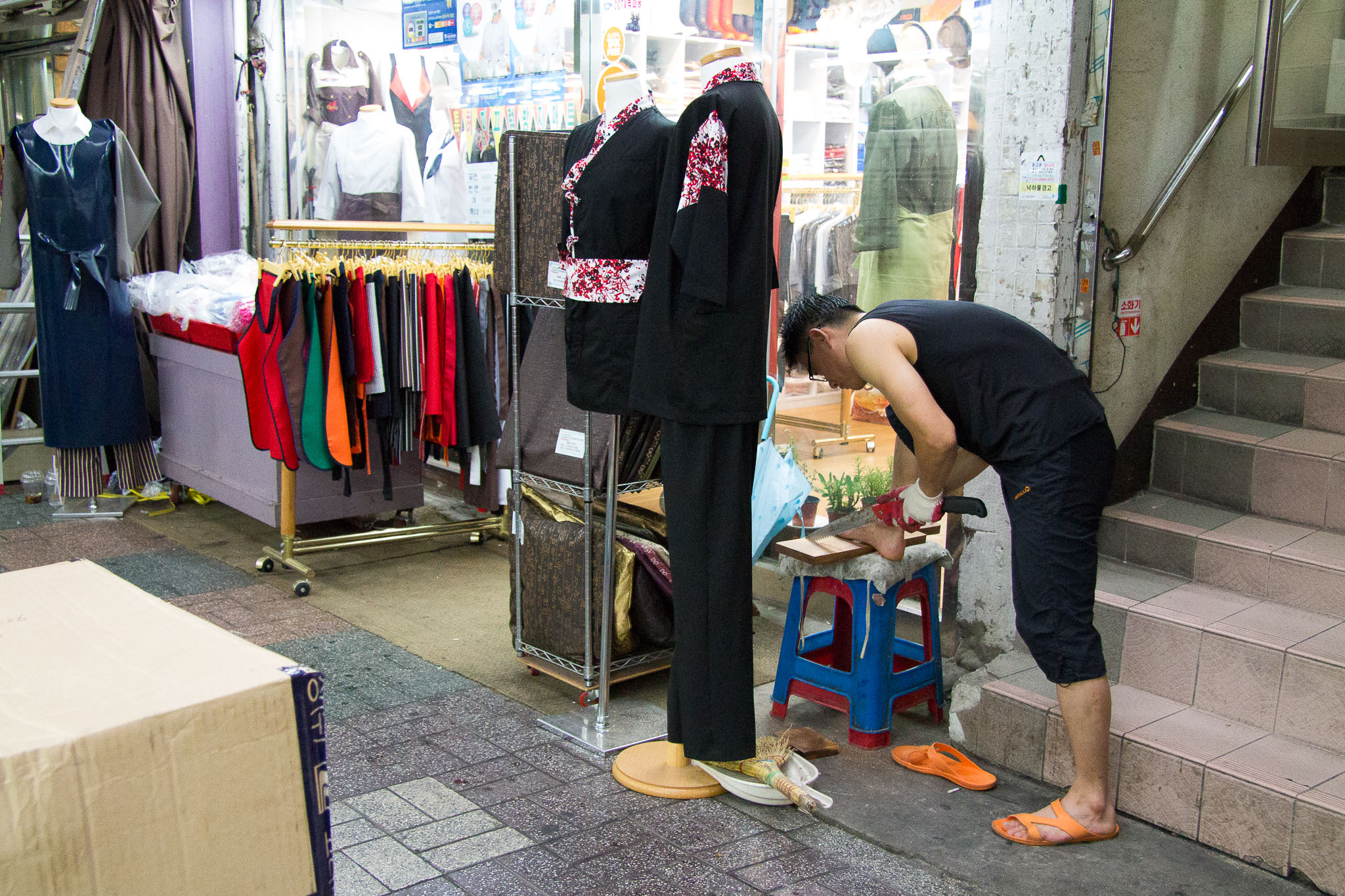 The market has everything you could possibly want or need: bathroom and lighting fixtures, clothing and accessories, jewellery, bags, stationary, crafts, linen and towels, eyeglasses, electronics, woodwork, umbrellas, fans, and crockery and cutlery.
The prices are incredibly reasonable, and even then haggling is expected. For souvenirs and gifts, it's definitely the place to beat; I saw the same twin jewellery boxes which were on sale for ₩40,000 at the market, for double and triple the price elsewhere in Busan.
A block away from the market is the Gwangbokdong Food Street which offers a variety of delicious Korean, Japanese and Chinese street foods at ridiculously cheap prices. If street food isn't your thing, there are about 20 restaurants in the area too.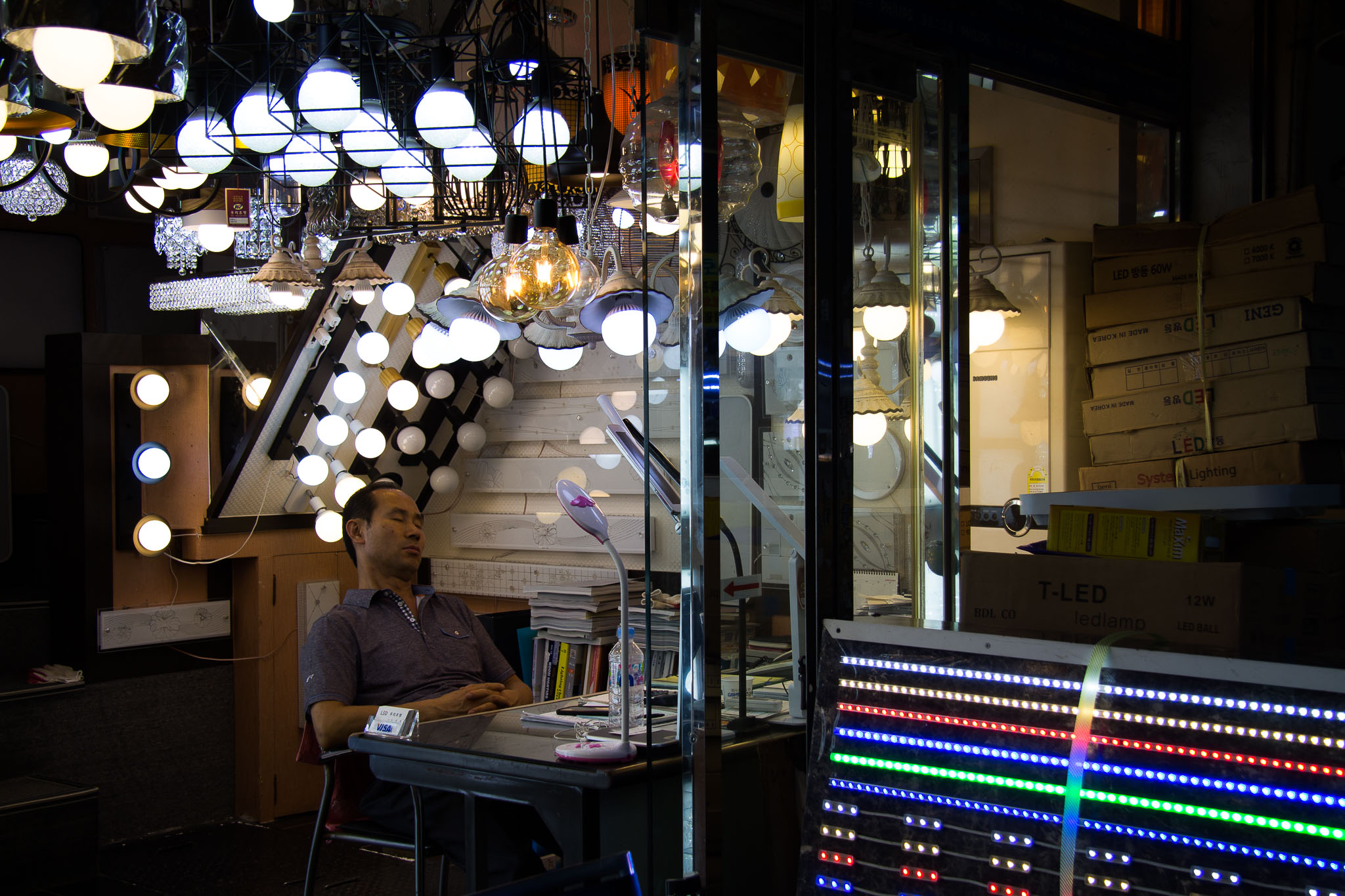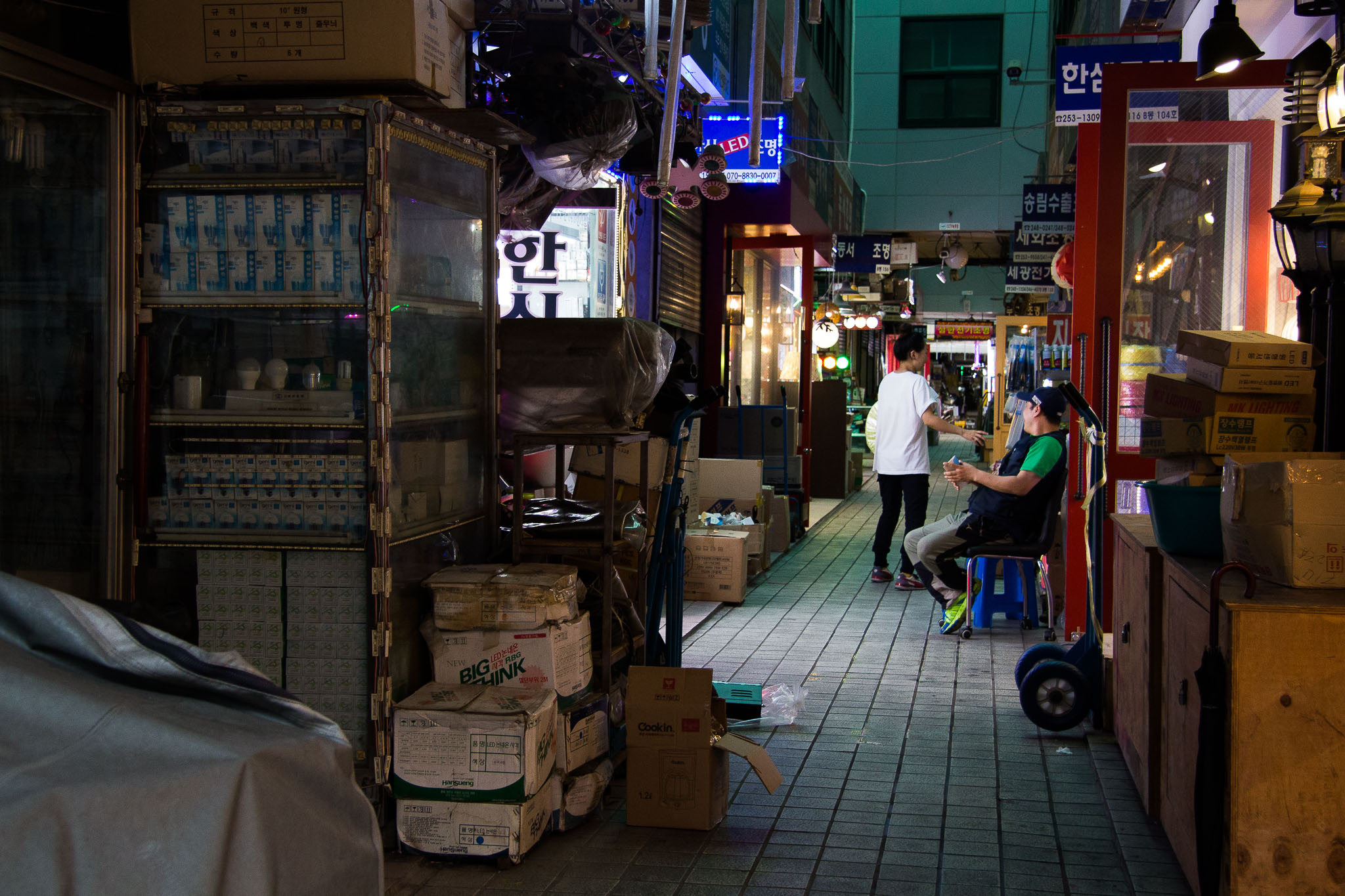 Still satisfied from our brunch earlier in the day, we grabbed a coffee at a Starbucks overlooking the street instead, enjoying the action from the counter at the window.
We popped into ArtBox next, a Korean brand store and every stationery lover's dream. The quirky shop offers an impressive selection of novelty items, cosmetics, notebooks, stickers, lamps, umbrellas, bags, stuffed animals, postcards and travel accessories.
By the time we started making our way back to Busan Tower, I could feel the hum of the energy that dusk in a city brings. We were both exhausted, but too excited to head back to our apartment, and so we pushed on.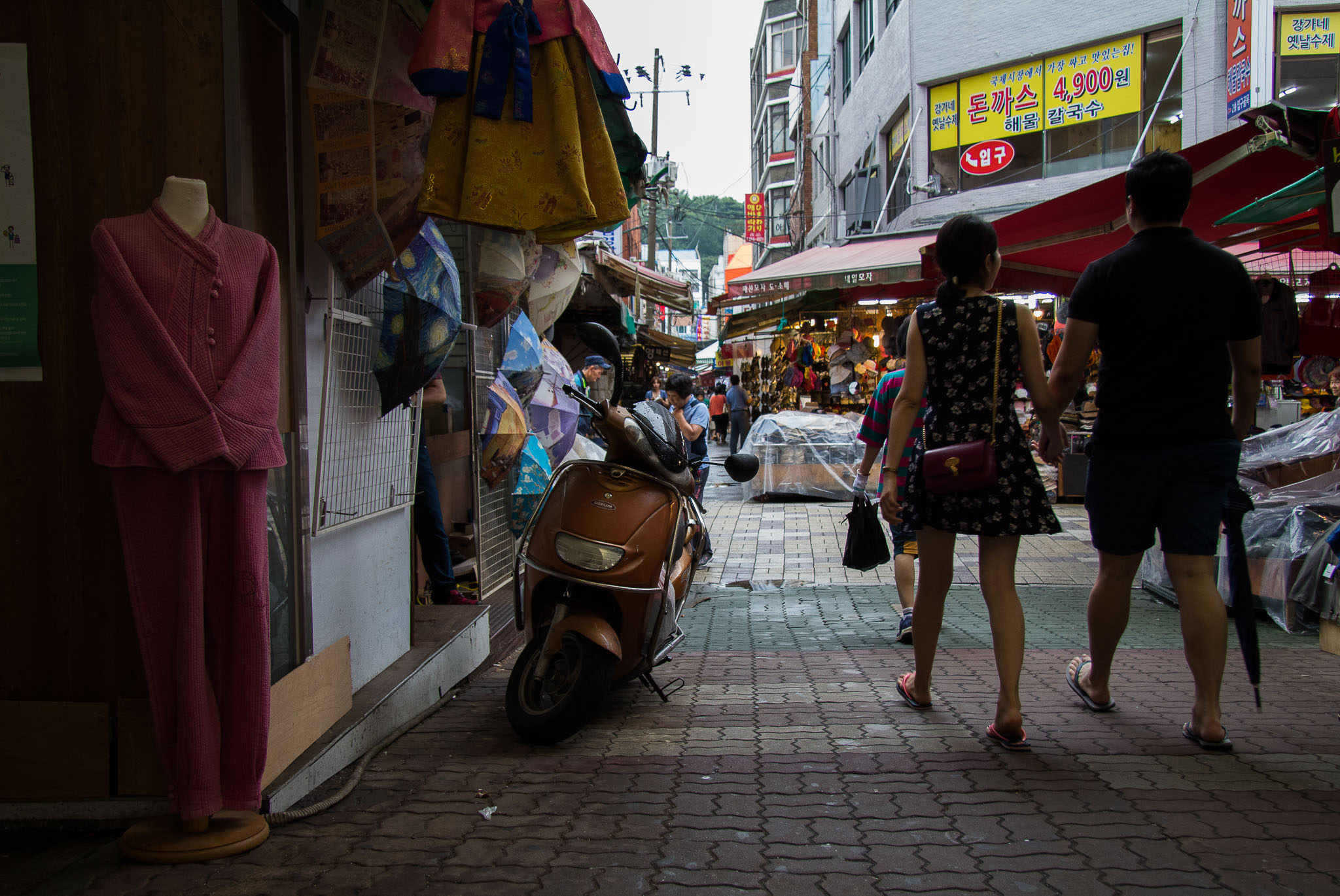 Related posts