Bougie in Busan, Part 4: Gwangalli Beach
As I waited for Madelyn to finish freshening up, I watched night descend on Gwangalli Beach from the window of our Airbnb. Directly below, talking moths swarmed around the glow of giant red and yellow umbrellas.  To the left, neon signs advertising the many bars and restaurants that line the strip buzzed to life, one by one in a domino line, toppling into Gwangandaegyo.
The largest ocean bridge in Korea, Gwangan stretches 7.4 km over the East Sea from Suyeong-gu to Haeundae-gu. Its colourful lights began to flicker, from pink to purple to blue, their paint bleeding into the black water and streaking with the tide as it raced to shore.
The energy rising from the street was palpable; it was calling me to the ground.
"You ready to go?"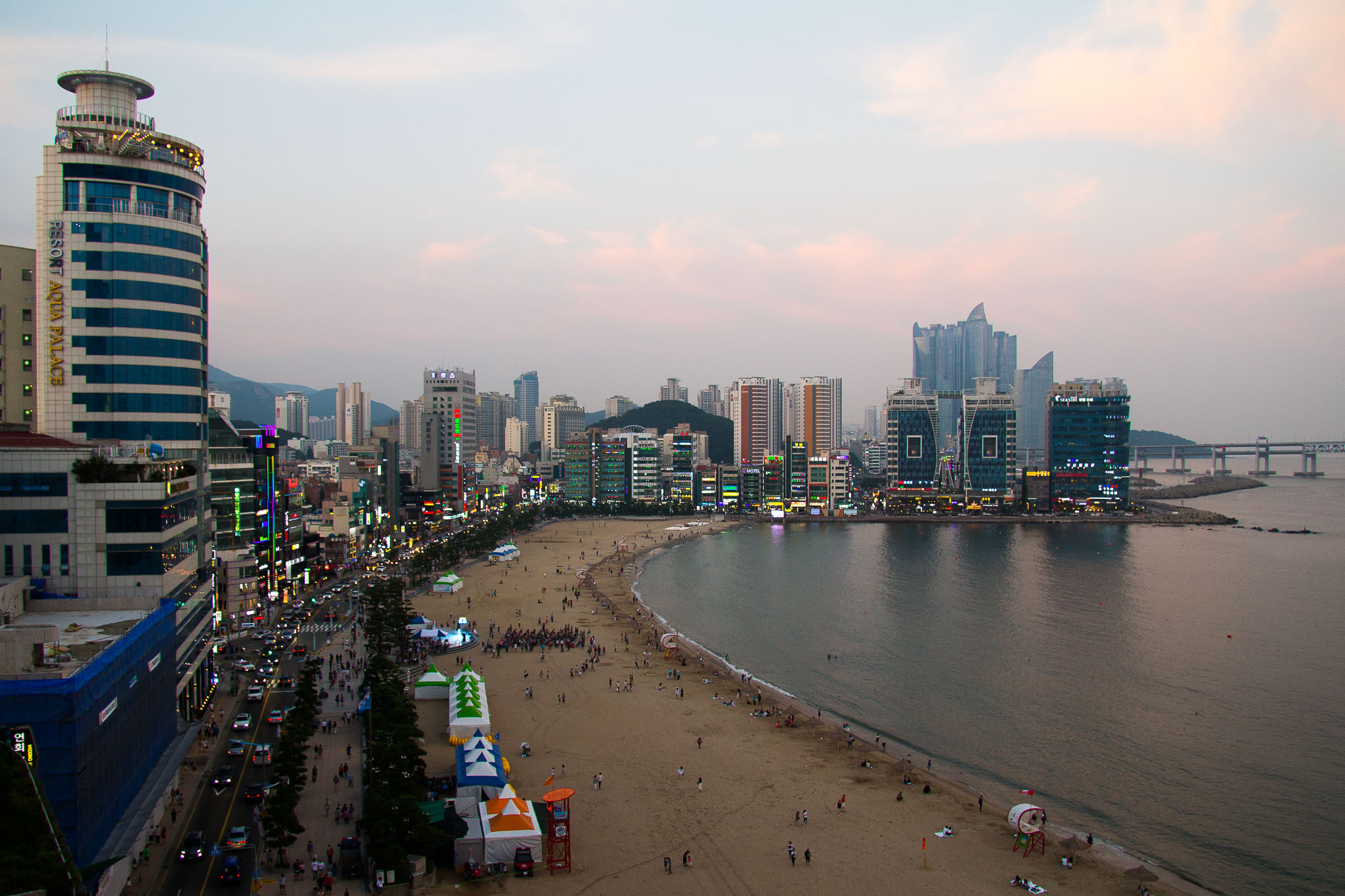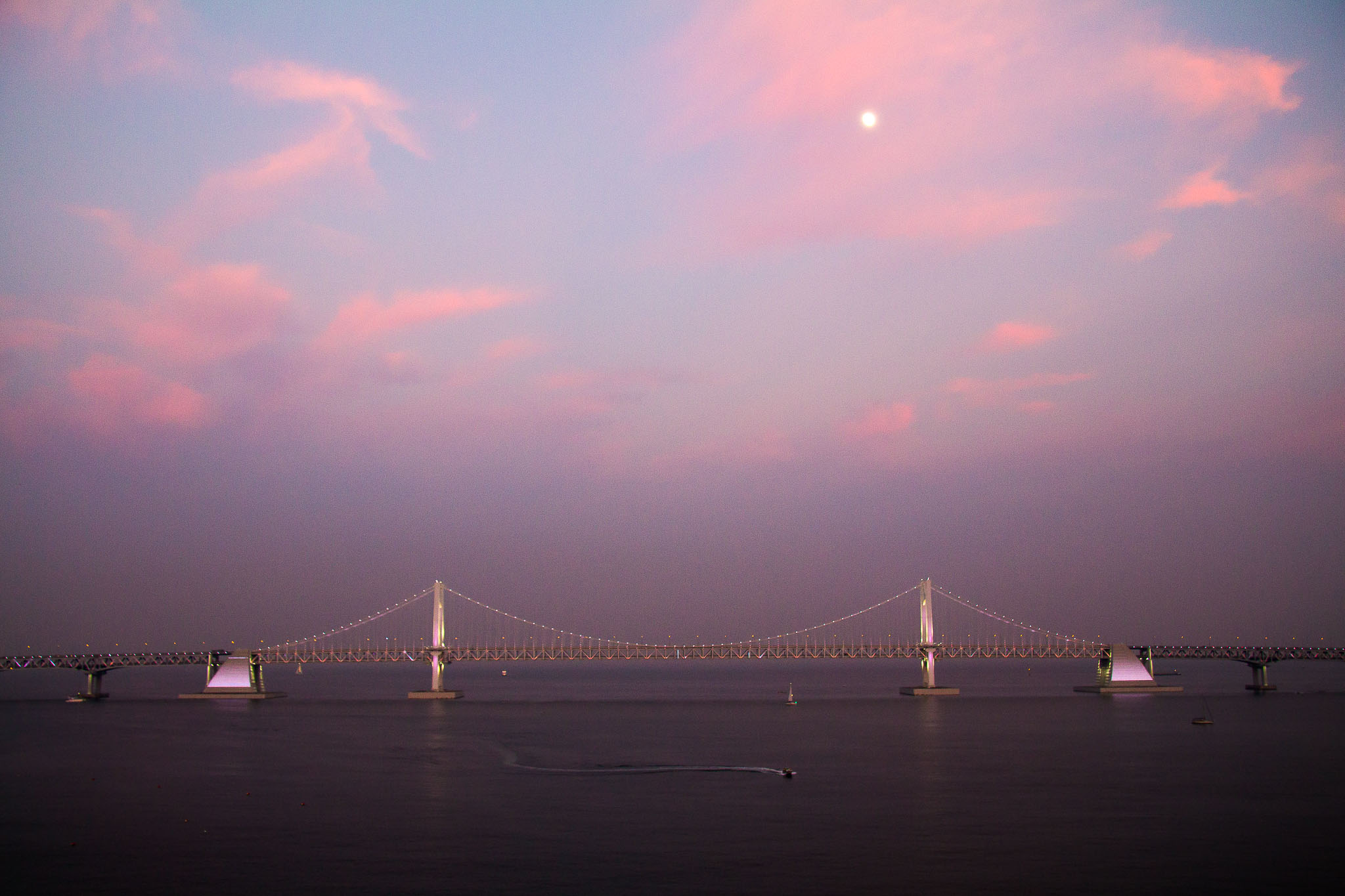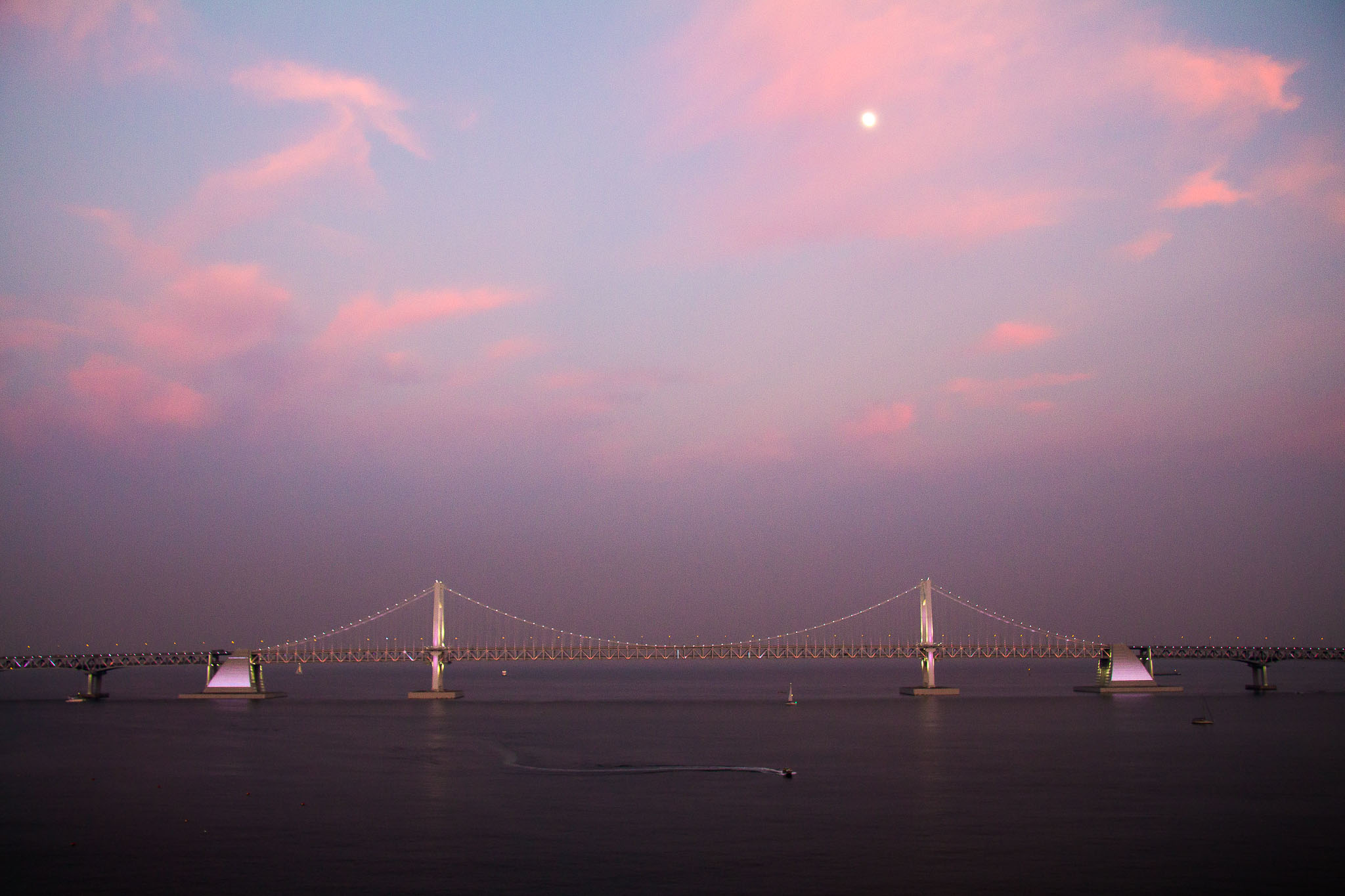 As we came out of the apartment building, traffic officers were setting up the roadblocks for the night. On certain days during the summer, the street running alongside Gwangalli Beach is closed for an unofficial party.
The night before, we had enjoyed live music and street performers from our patio table at one of the restaurants on the strip. Now, as we walked in the opposite direction, we spotted a night market and tables set up for playing Jenga.
Skateboarders weaved in and around artists sketching portraits and magicians performing tricks. One man with a remote-controlled toy truck that doubled as a set of speakers was dueling with a smaller, gold car, much to the distress of the few dogs nearby.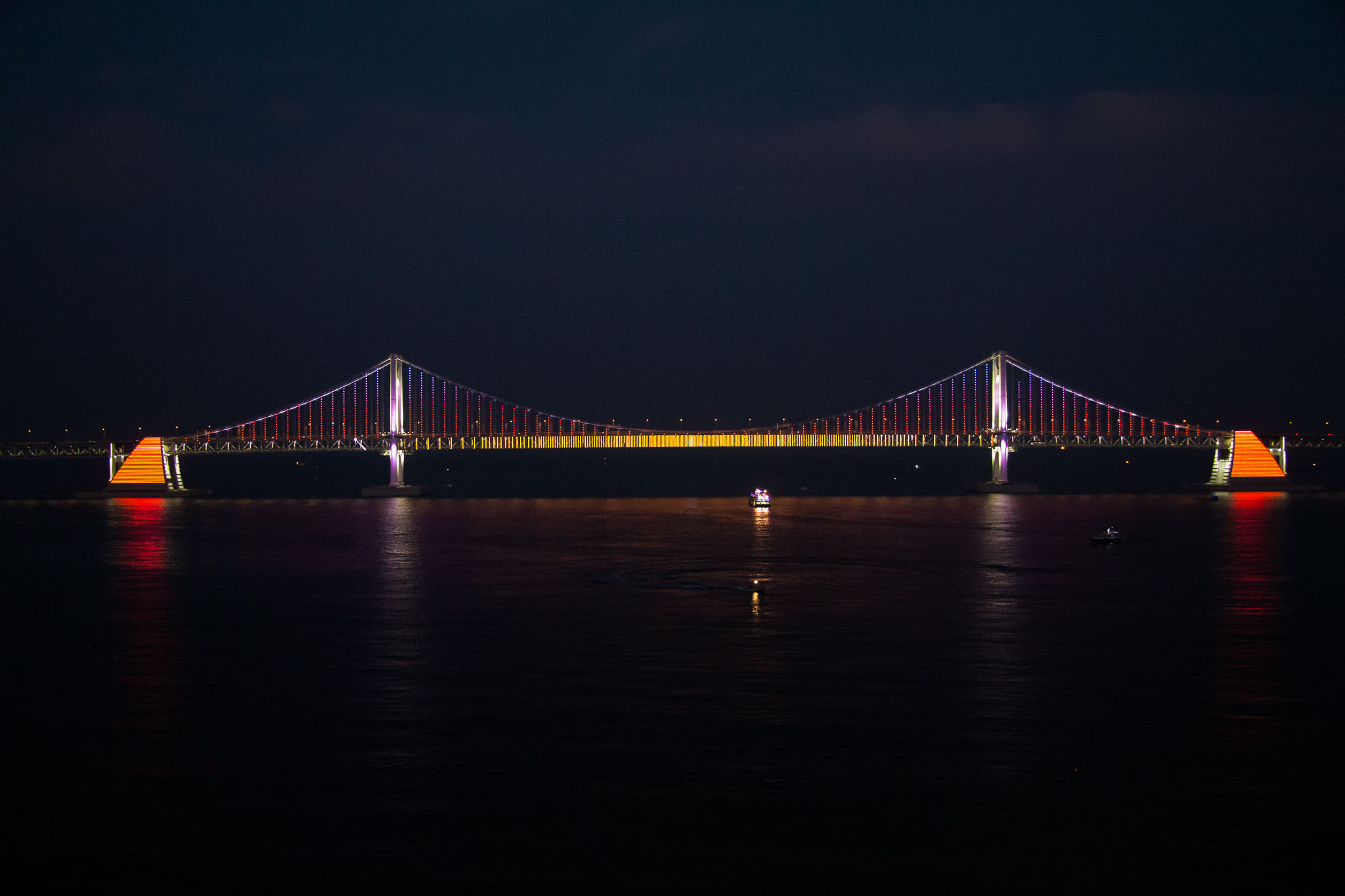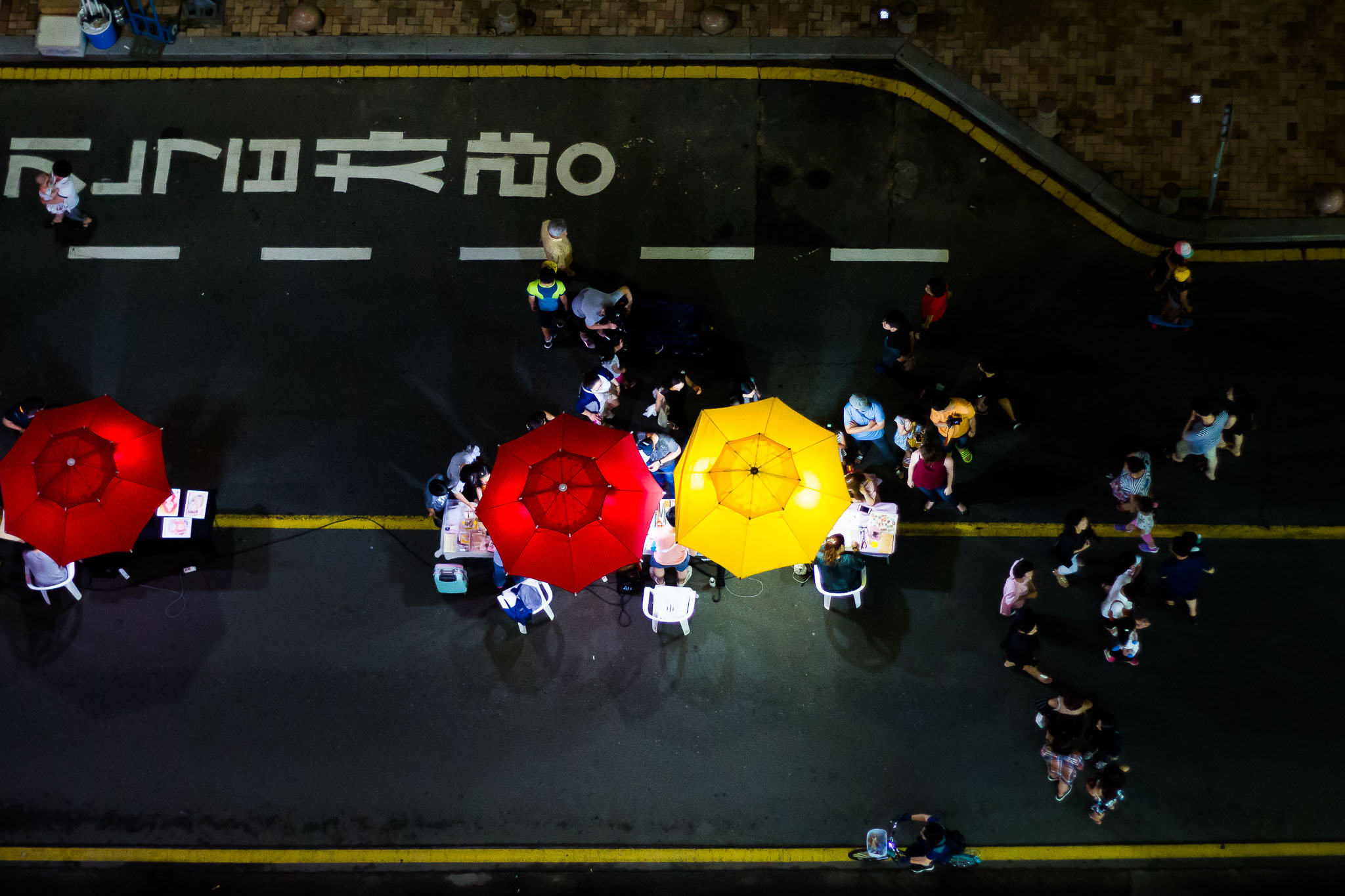 The strip seemed to be especially popular with canine owners, many of whom let their well-trained pets roam free.
On the beach, a singer belted out lyrics in Hangul on a small stage, while groups of friends let fireworks off nearby.
During the day, the 1.4 km long stretch of white sand is popular with volleyball players and sunbathers. The pristine waters of the beach, the result of a special cleaning program, make it popular with swimmers, jet skiers and windsurfers too.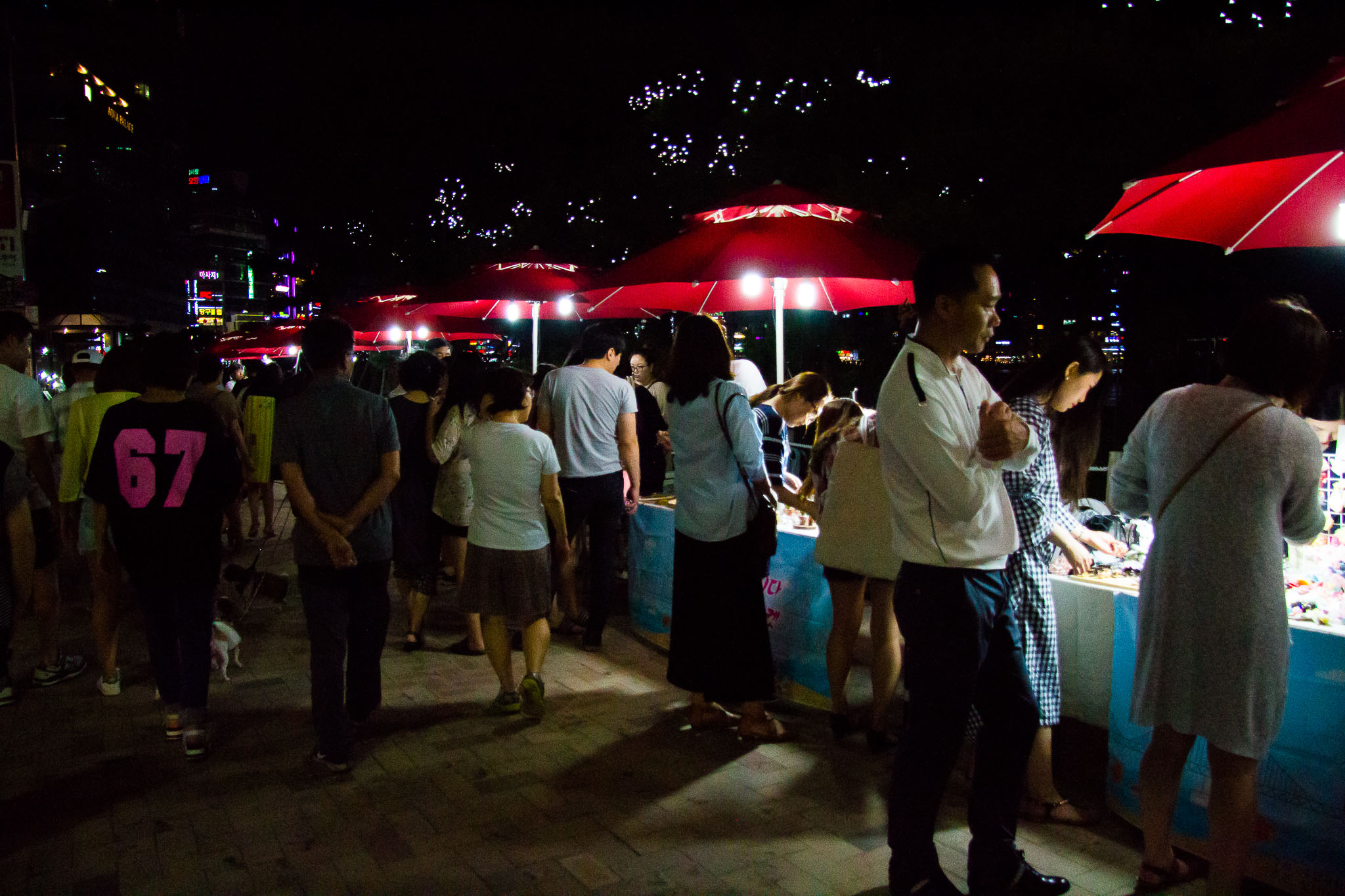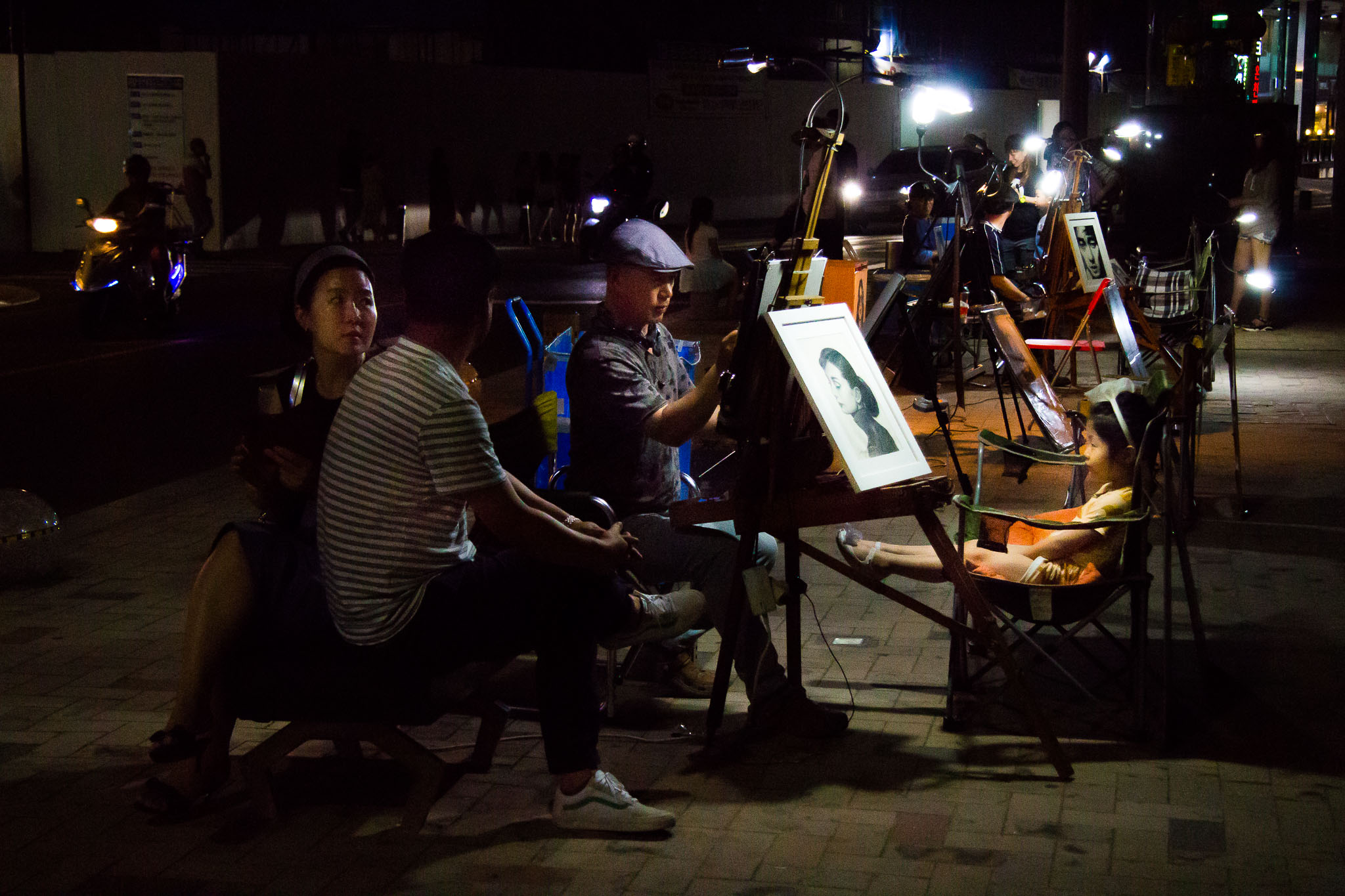 But at night, its chaos turns romantic, literally illustrated by the four, giant, red, neon letters that guard one part of the pavement: L; O; V; E.
It was kind of odd to see so many couples, and also so many couples engaging in PDA; here in the countryside of Japan the sight of two people just holding hands is a rarity.
But who could blame them, really? Gwangalli Beach has all the makings of a Before Sunrise-esque tale. I bet you'd even find a man willing to write you a poem about milkshake.
I had a man whisper sweet nothings to me instead; at least that's what his offer of a giant, turtle-shaped dalgona sounded like to me. We'd found some sugar after all, just less of the colloquial kind.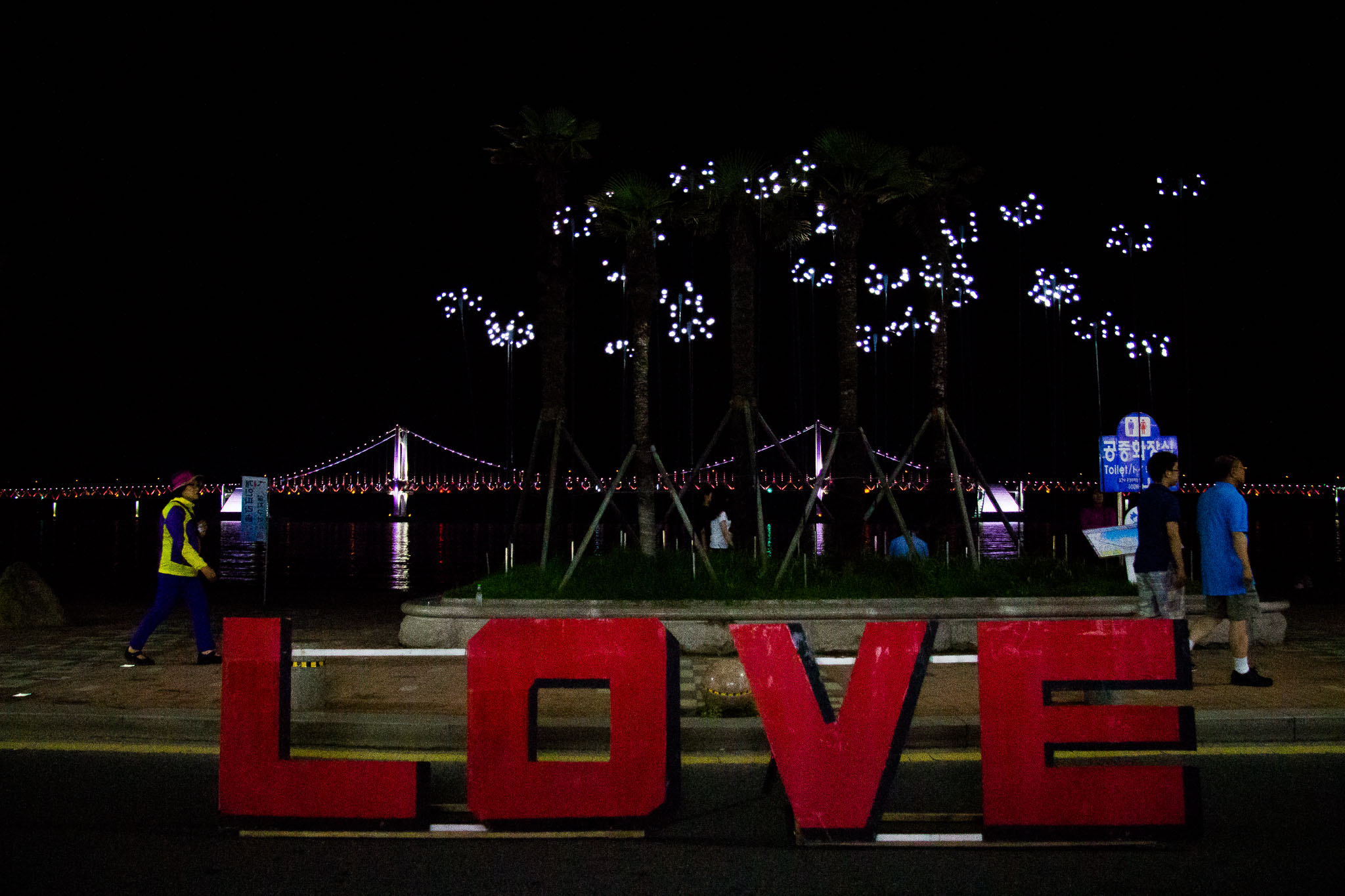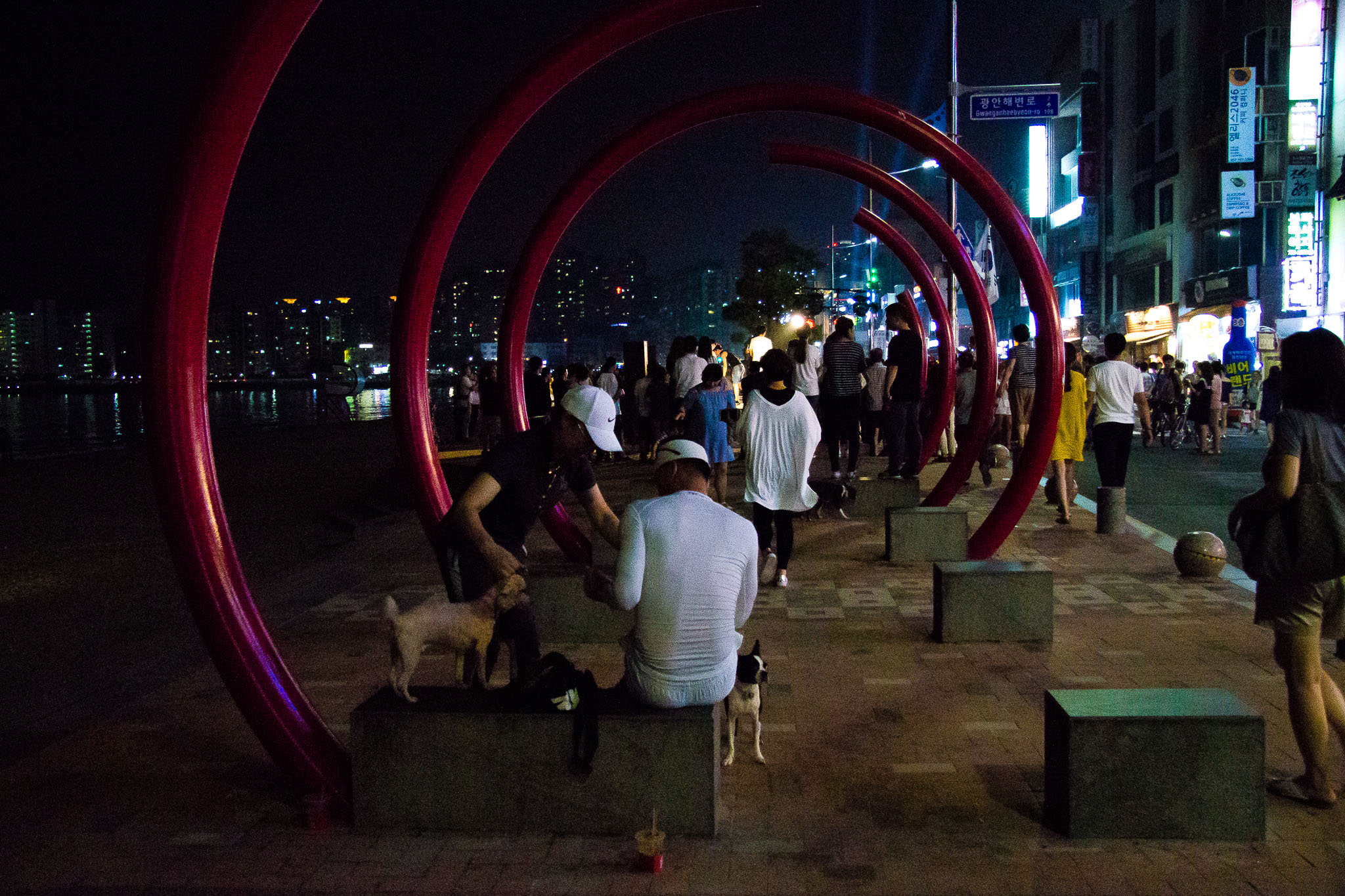 And then the sugar found us; we were pulled into an impromptu dance party by a group of boys spilling out from a pub who had caught us giggling at them gyrating to songs of their own concoction.
As I let one of them spin me around, I felt a blanket of melancholy wrap around me. It was our last night in Busan and I wasn't ready to go back.
I mean, if South Korea once gave any fucks, they surely shipped them off and dumped them in Japan. "Maybe I should have moved here instead", I wondered to myself. It was always my plan, and then, somewhere along the way, my plan changed.
Japan has been good to me, no doubt, but there was something about being in Busan that was speaking to my soul: for the first time in three years, I didn't feel like a bull in a china shop.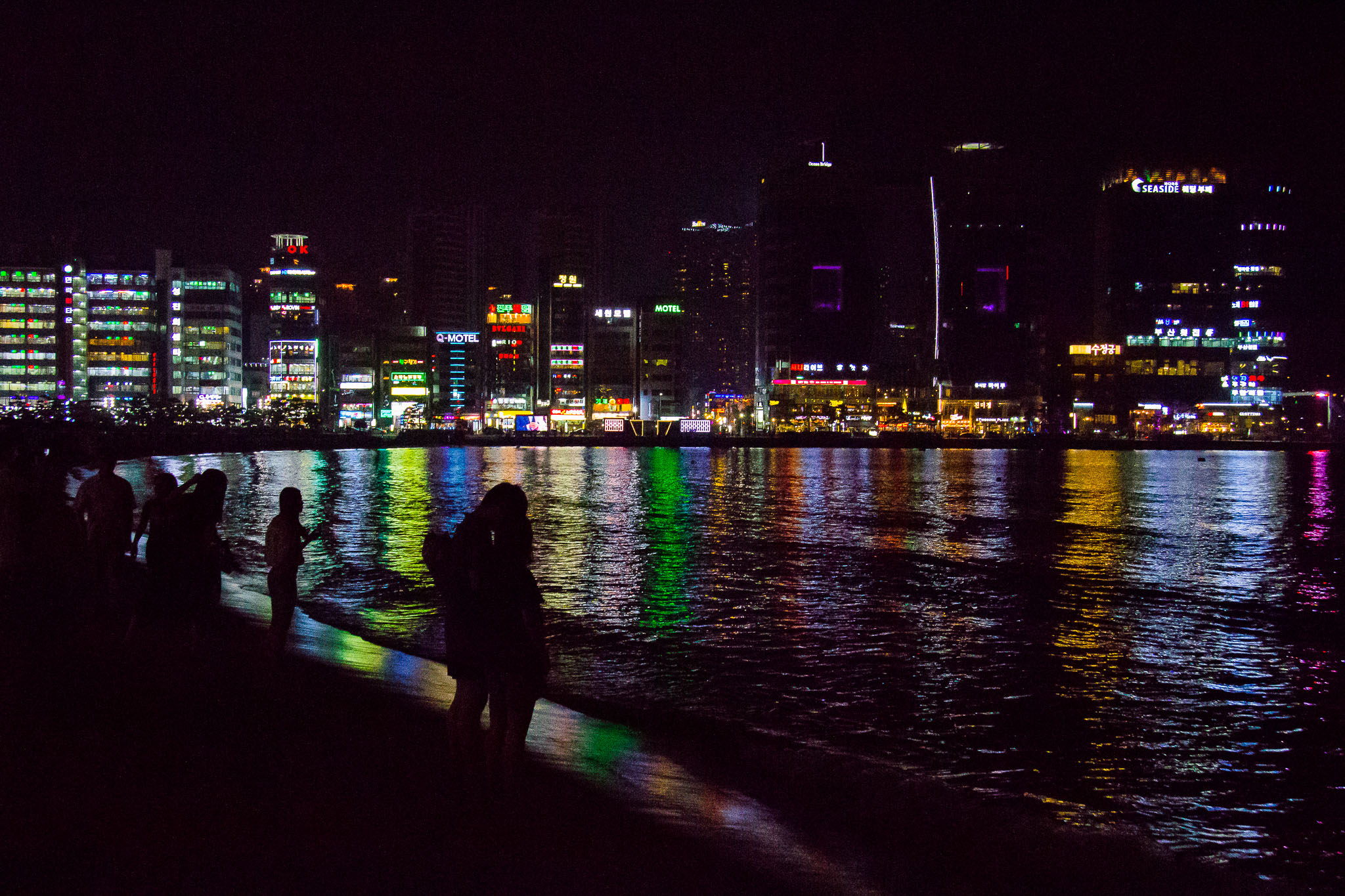 Related posts