It was supposed to be a jam-packed weekend: John was coming down for a visit, Monday was a holiday and there were three festivals to enjoy. Instead, Typhoon Vongfong came barrelling straight towards Miyazaki, wrecking all of our plans.
So when Saturday morning woke us up with a slither of sun, it was all the motivation we needed to jump in the car and head to Kobayashi.
Every year in October, about 100 million cosmos flowers bloom across the Ikoma Plateau. For two weekends during this time, a night festival is held where the cosmos are illuminated by lanterns and coloured lights. Visitors can enjoy sampling local produce, listening to music and watching fireworks displays.
The drive down was worth it in itself; we were treated to views of rolling rice paddies and farmland, and the Kirishima Mountain Range in the distance.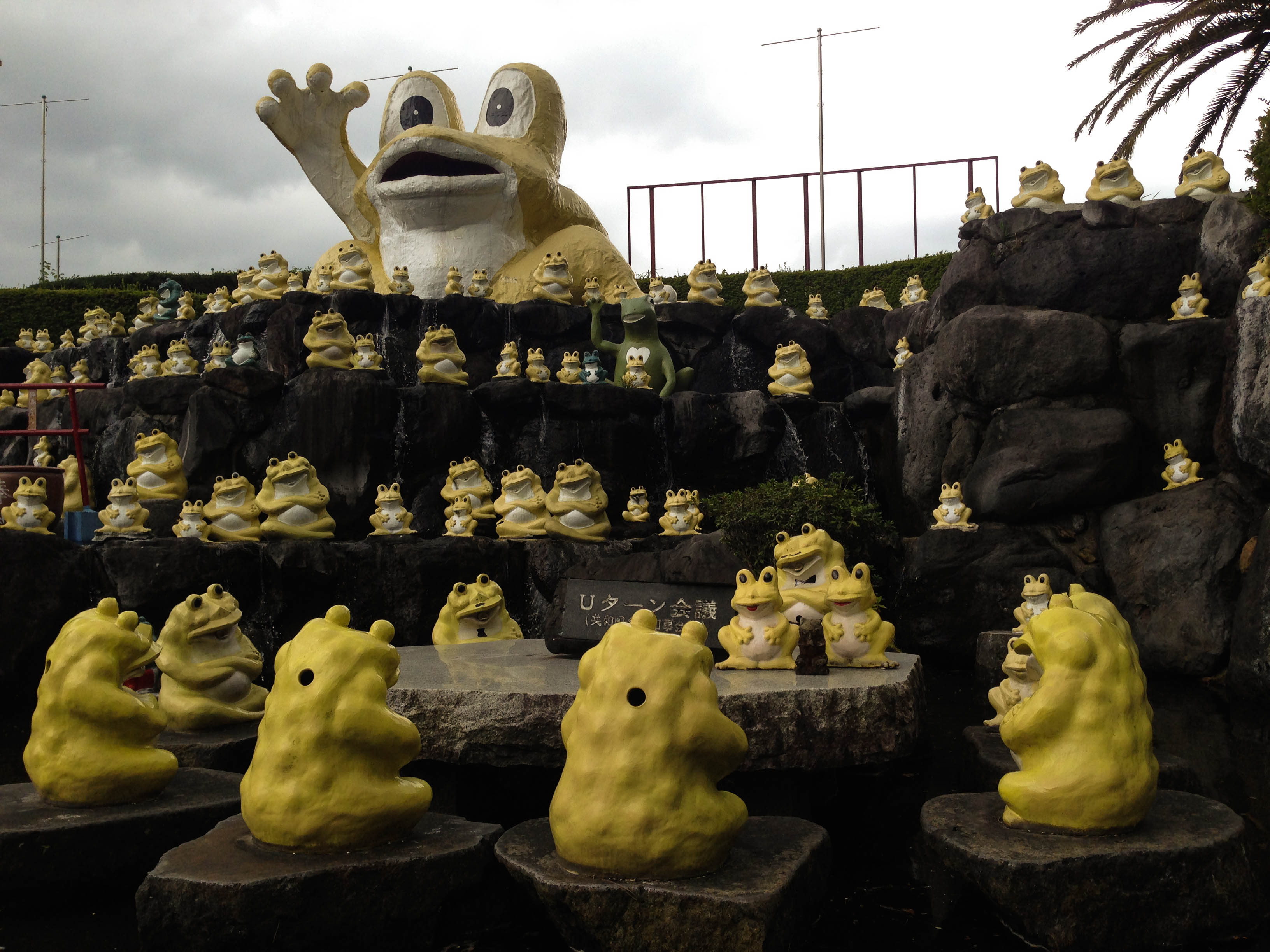 The area is also full of curious things. At the entrance to an amusement park called Nojirikopia, stands a giant frog monument.
In Japanese, although written in different kanji, the word for 'frog' (蛙; kaeru) also means 'to return'  (帰る; kaeru). Frogs are thus considered a lucky charm for travellers to ensure a safe return from their journey. They are also good luck symbols for wealth, youth and good fortune. The wider the frog's mouth is, it is said, the luckier it will be.
A few kilometers before the Ikoma Plateau, we drove past a garden full of statues that stood next to what looked like a restaurant.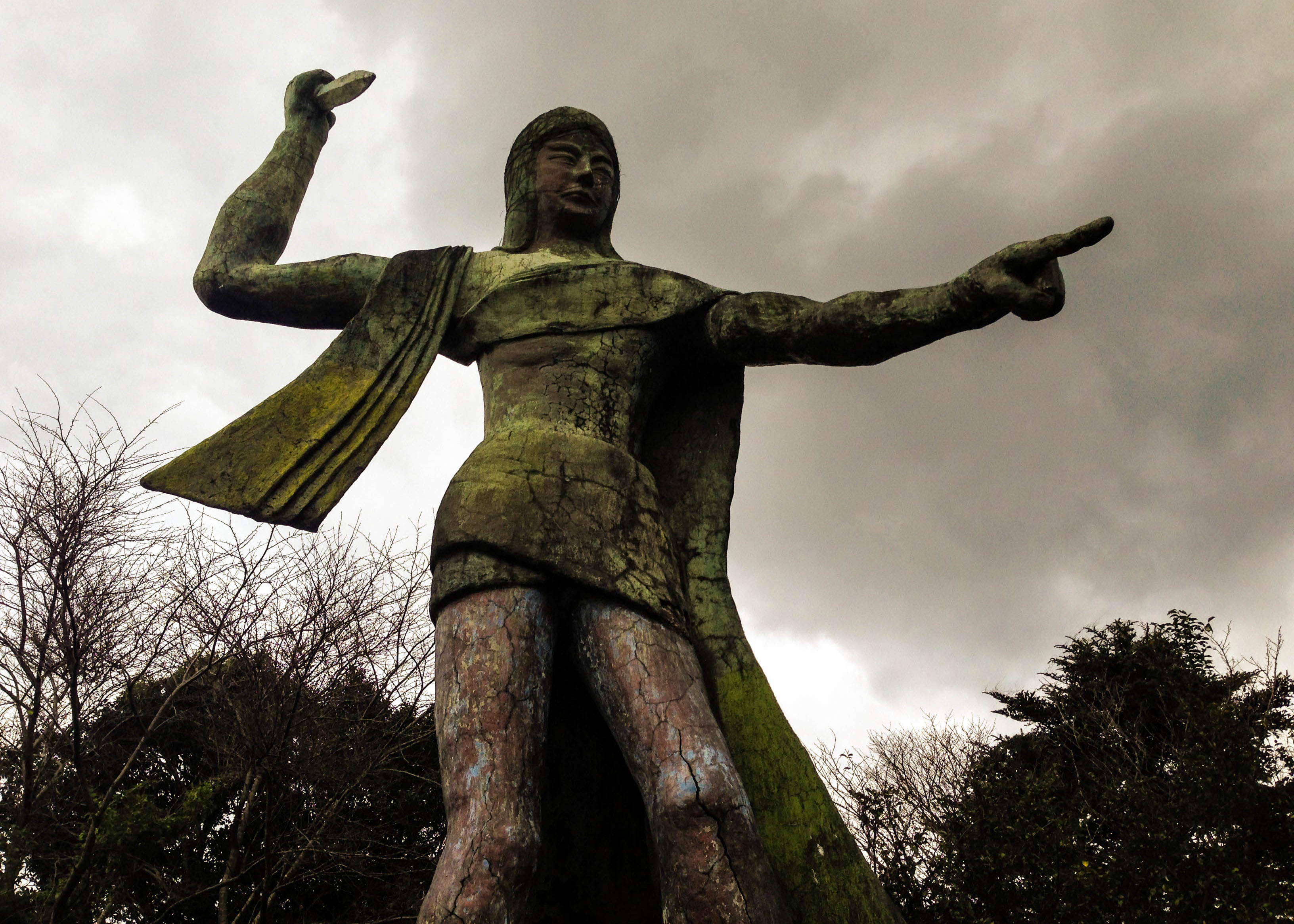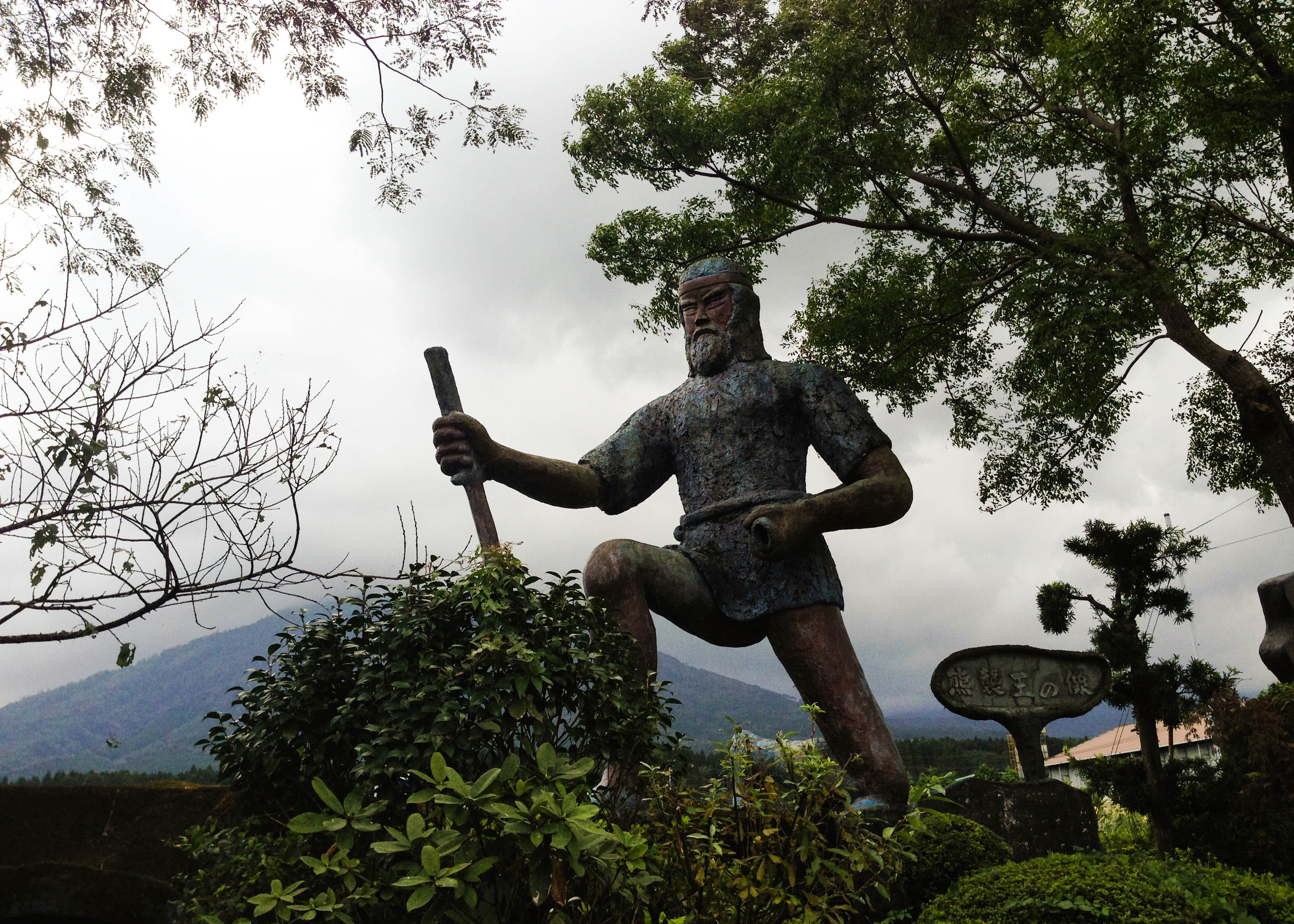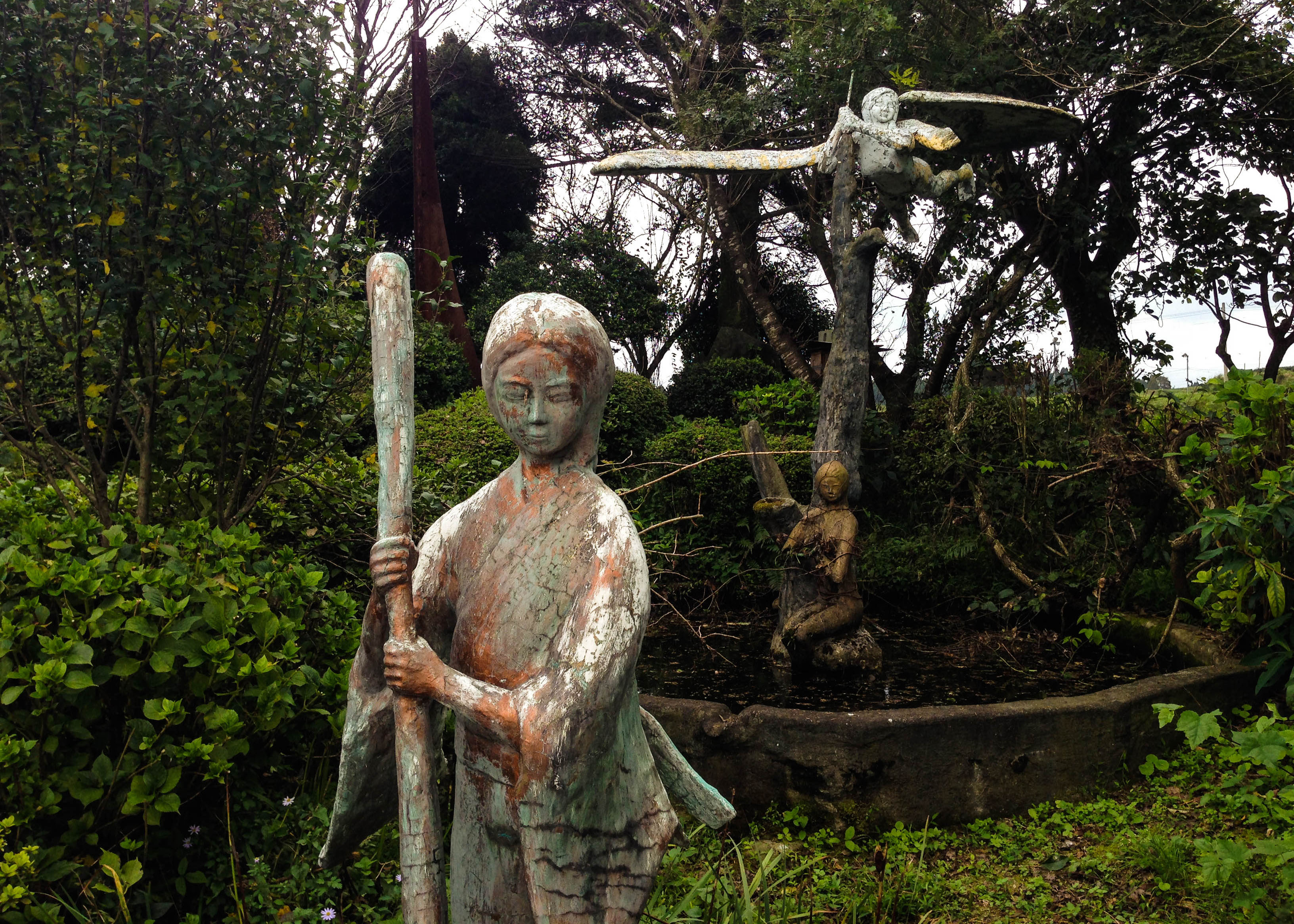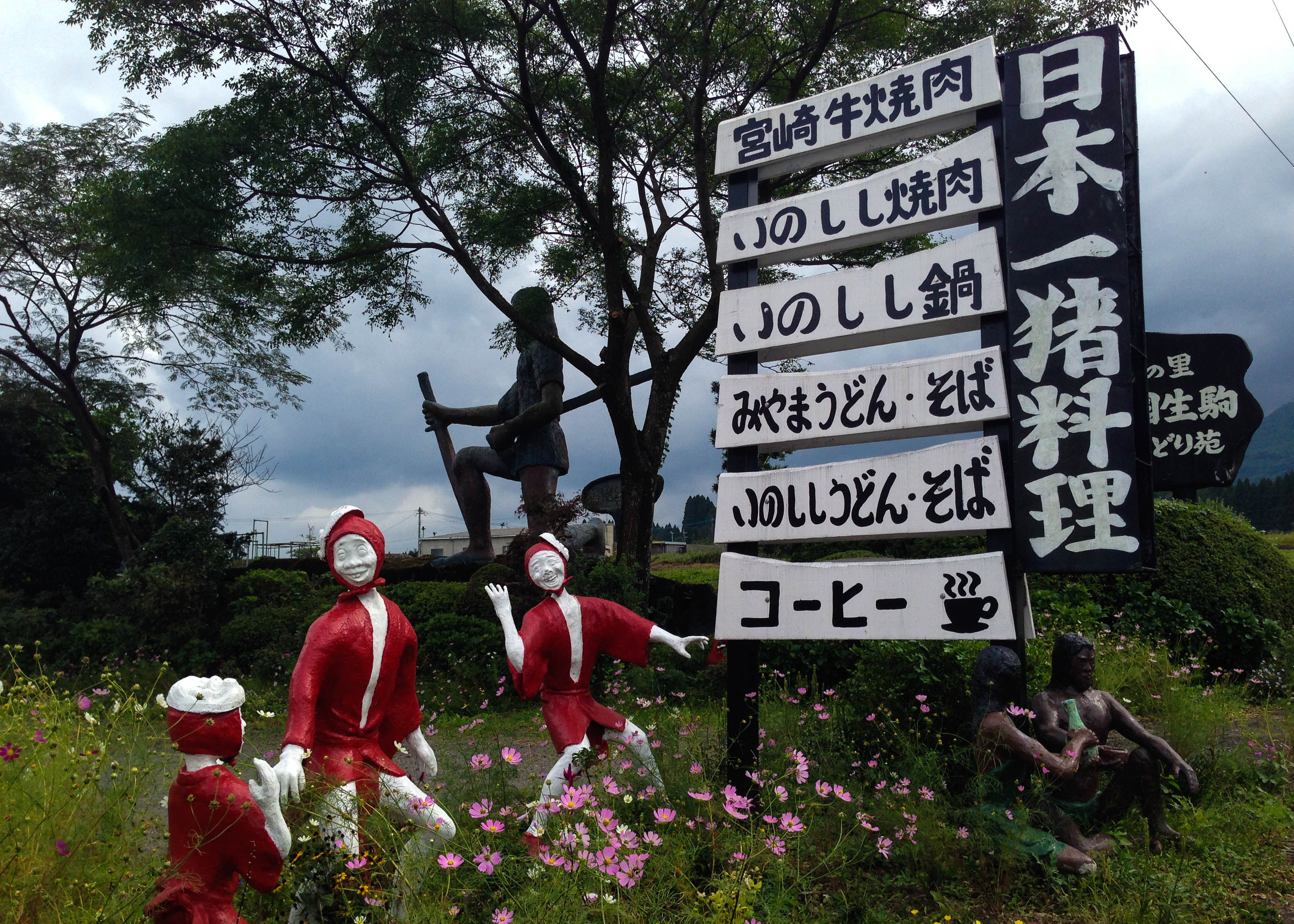 By the time we got to the Plateau, the wind had really picked up. Only a few stalls were open and all the equipment for the night festival stage was off to one side.
But the fields of orange and pink cosmos was worth it. Only a few families had braved the weather so we could enjoy the flowers without hordes of people around.
I'm glad we went when we did – I don't think many of the cosmos will have survived the rain and wind.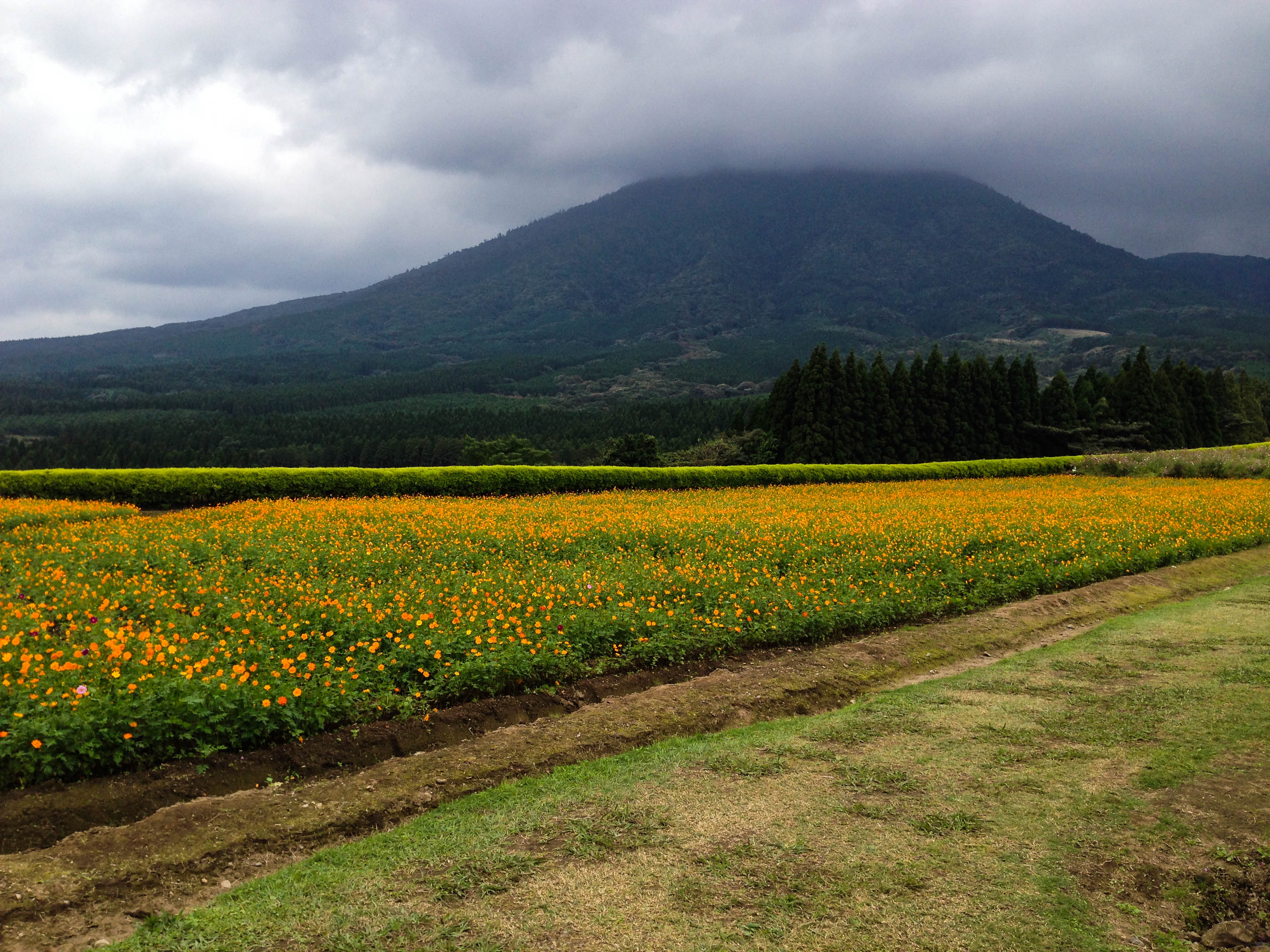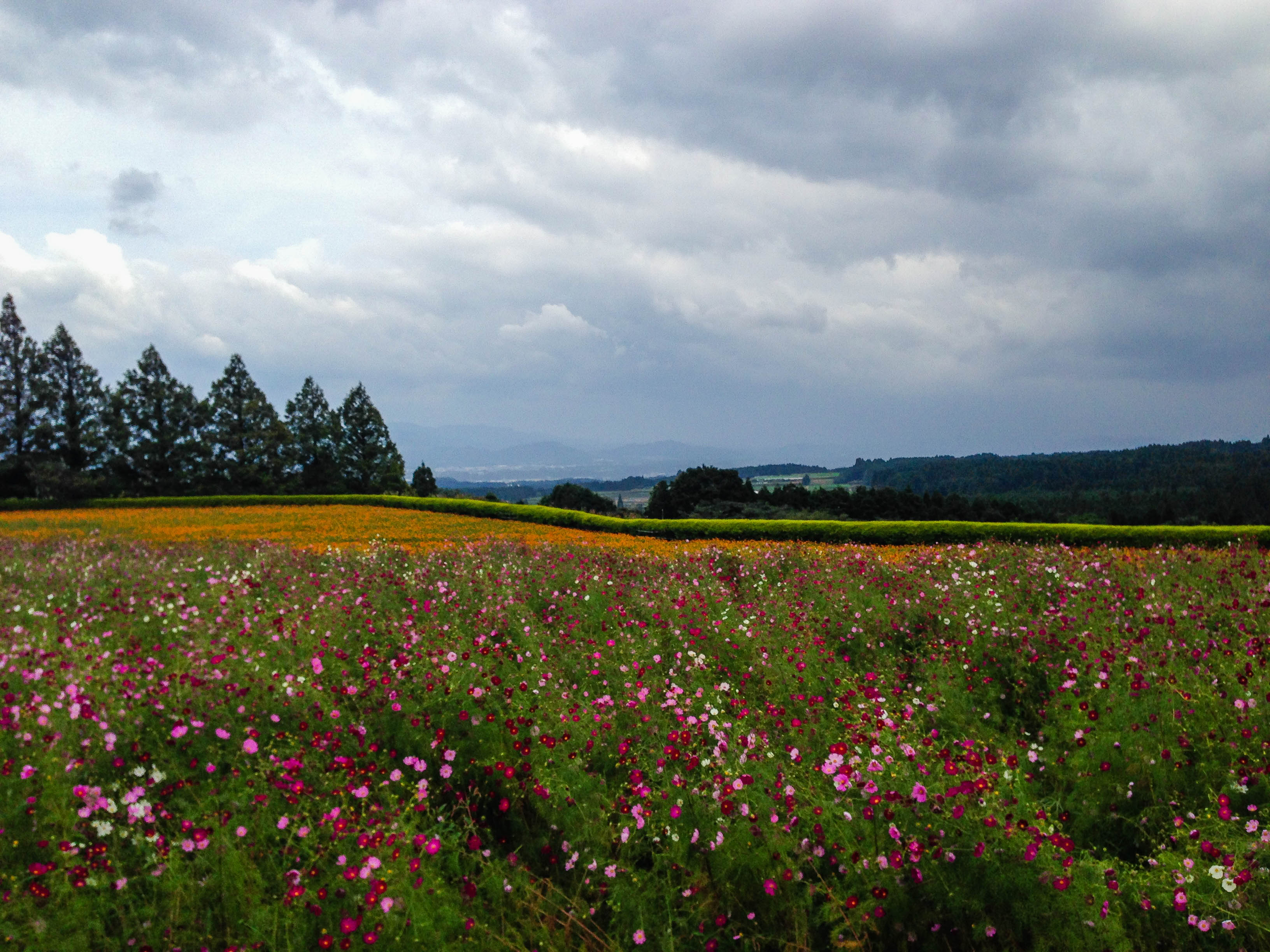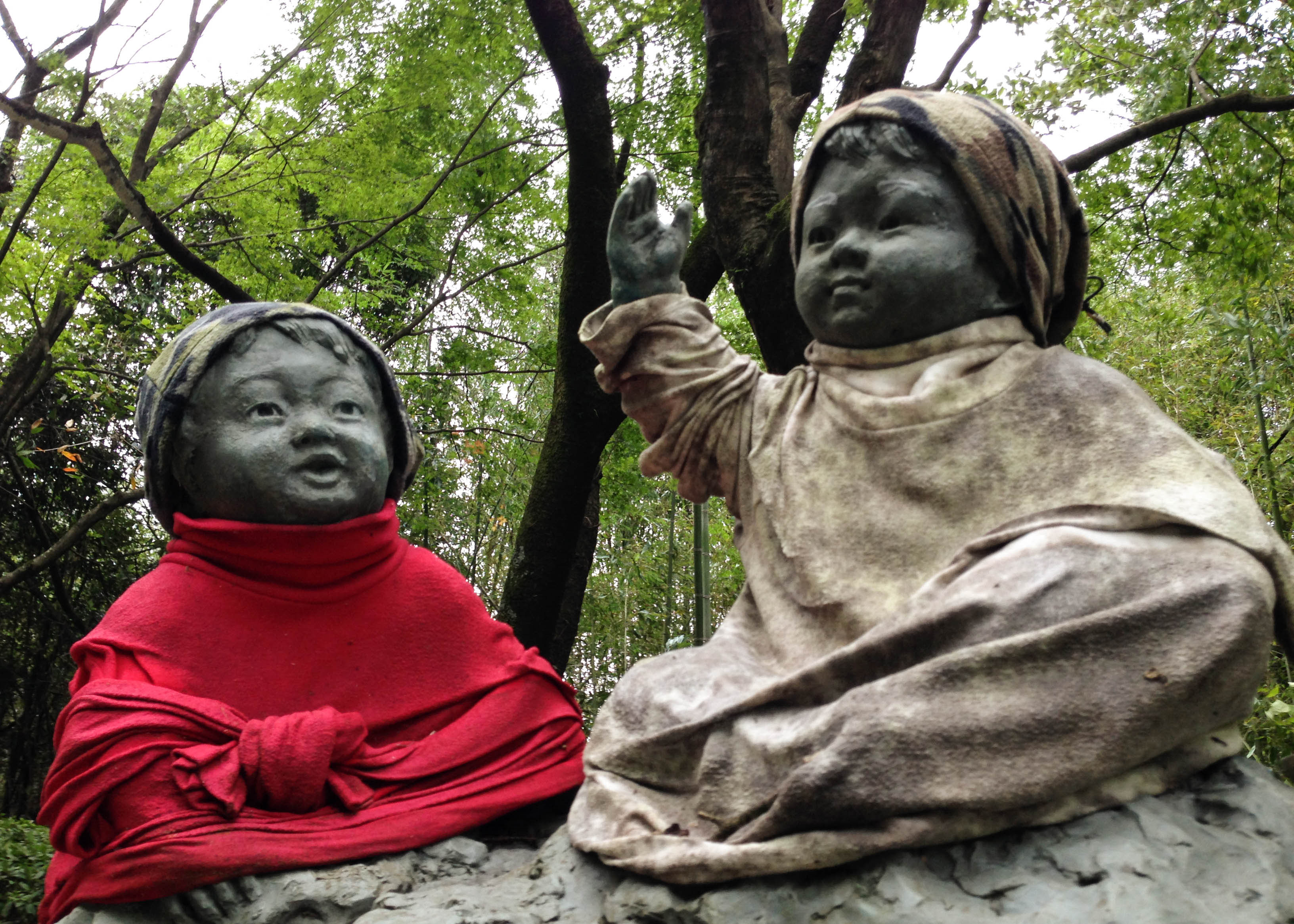 We took a quick look around the gift shop and then headed back into town in search of food. A lot of things were closed and we got distracted exploring more of the weird things that seemed to be everywhere in this small city.
Along the road, we saw a very important looking building that was all closed up and desolate. There was also a really massive, scary bird that seemed to be guarding it – when we got too close it started squawking and circling us. I kid you not.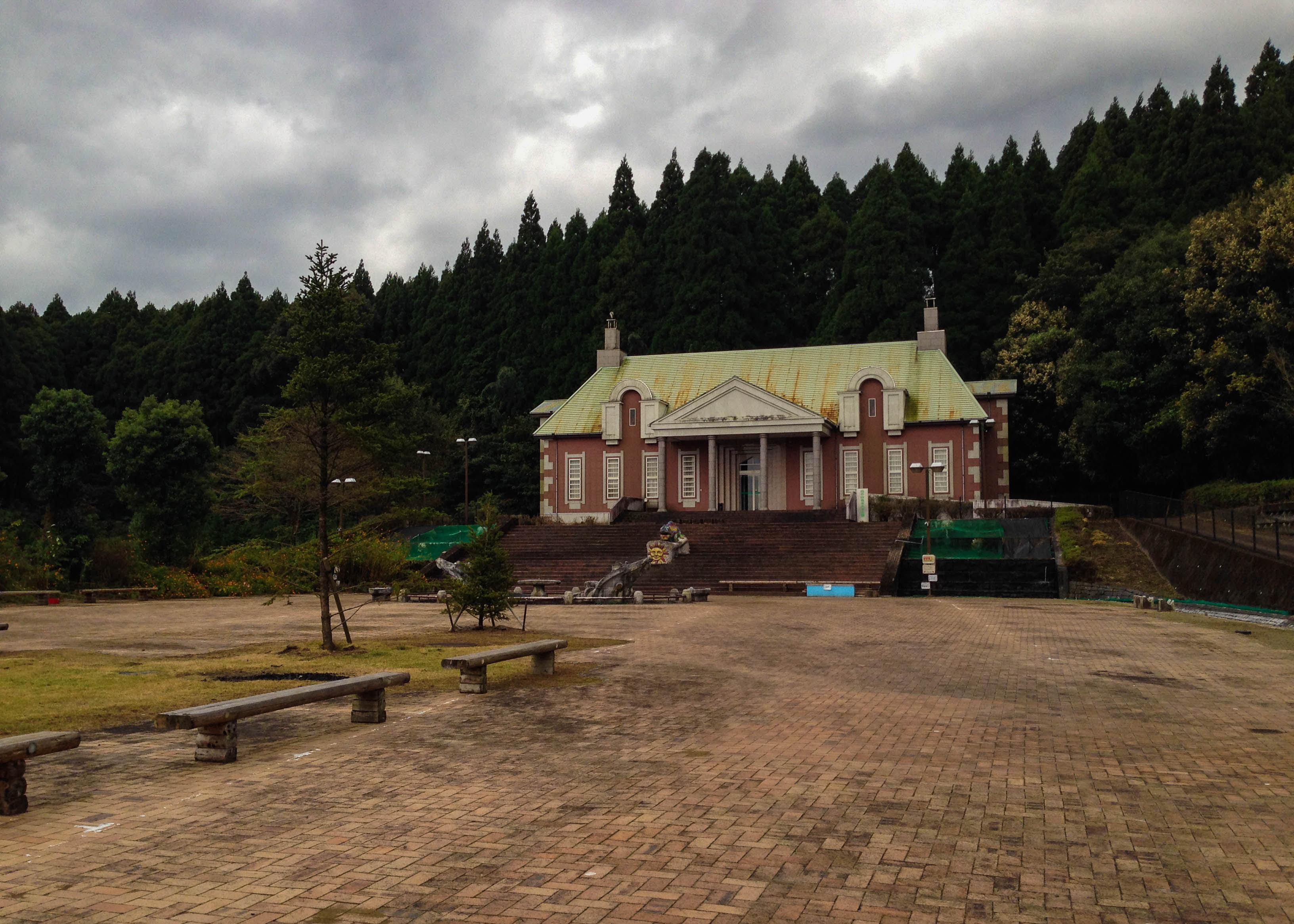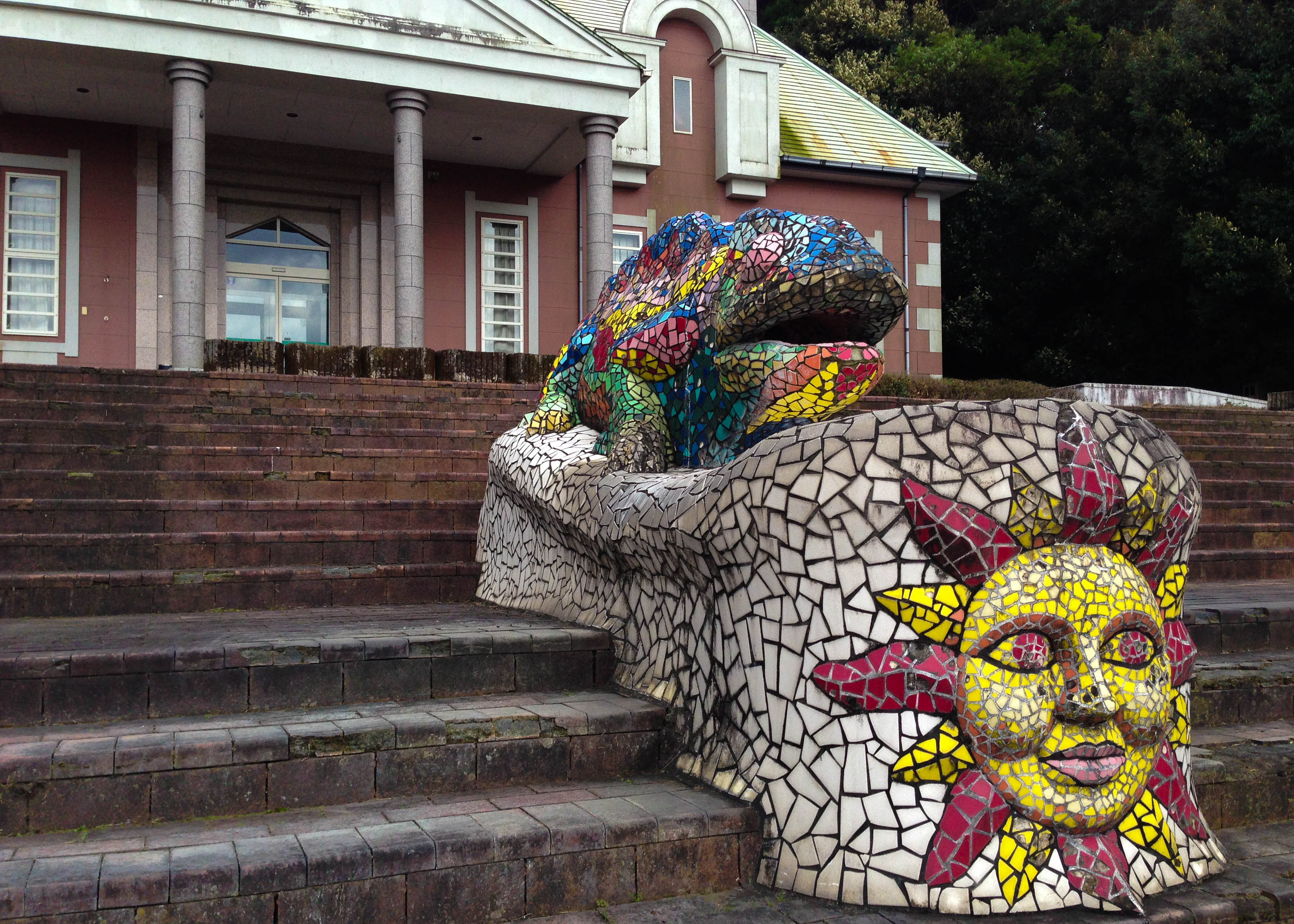 Further along, we stopped to marvel at a dragon atop a building housing restrooms and a couple of vending machines. There, we discovered a big fake horse and parts of some kind of costume.
A few years ago, Kobayashi merged with a village called Suki, and then later a town called Nojiri. Perhaps it was the weather, or the fact that we drove down on a day where everything seemed to be closed, but the entire area where Nojiri once stood  has a weird vibe about it.
Not only did we pass a lot of genuinely abandoned structures, the dense greenery along the road reminded me of Aokigahara. We joked that this was perhaps Homicide Forest.
There was so much more to explore, but the weather had taken a turn for the worse and we decided to head back to Takanabe before we got caught in the storm.
Nevertheless, our little spontaneous road trip had turned out to be quite interesting and was a welcome relief from otherwise being boarded up all weekend.
As for Vongfong, she came and went without causing too much trouble in Takanabe. Although, part of the bicycle shed in my apartment building broke away and landed against my car.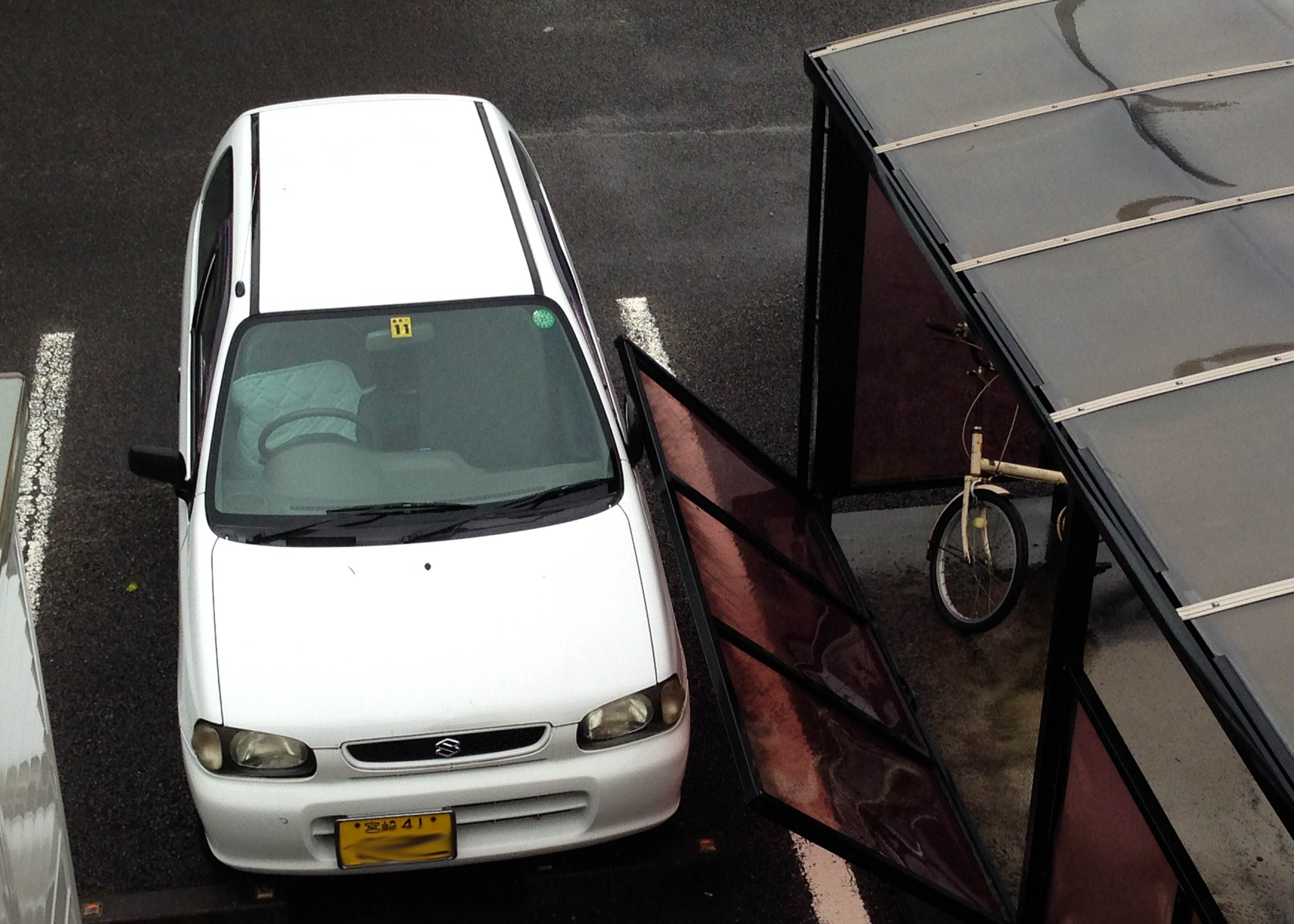 On Monday, we drove through the last of the rain and wind to get to the airport for John's flight. By the time we arrived, the sun had come out.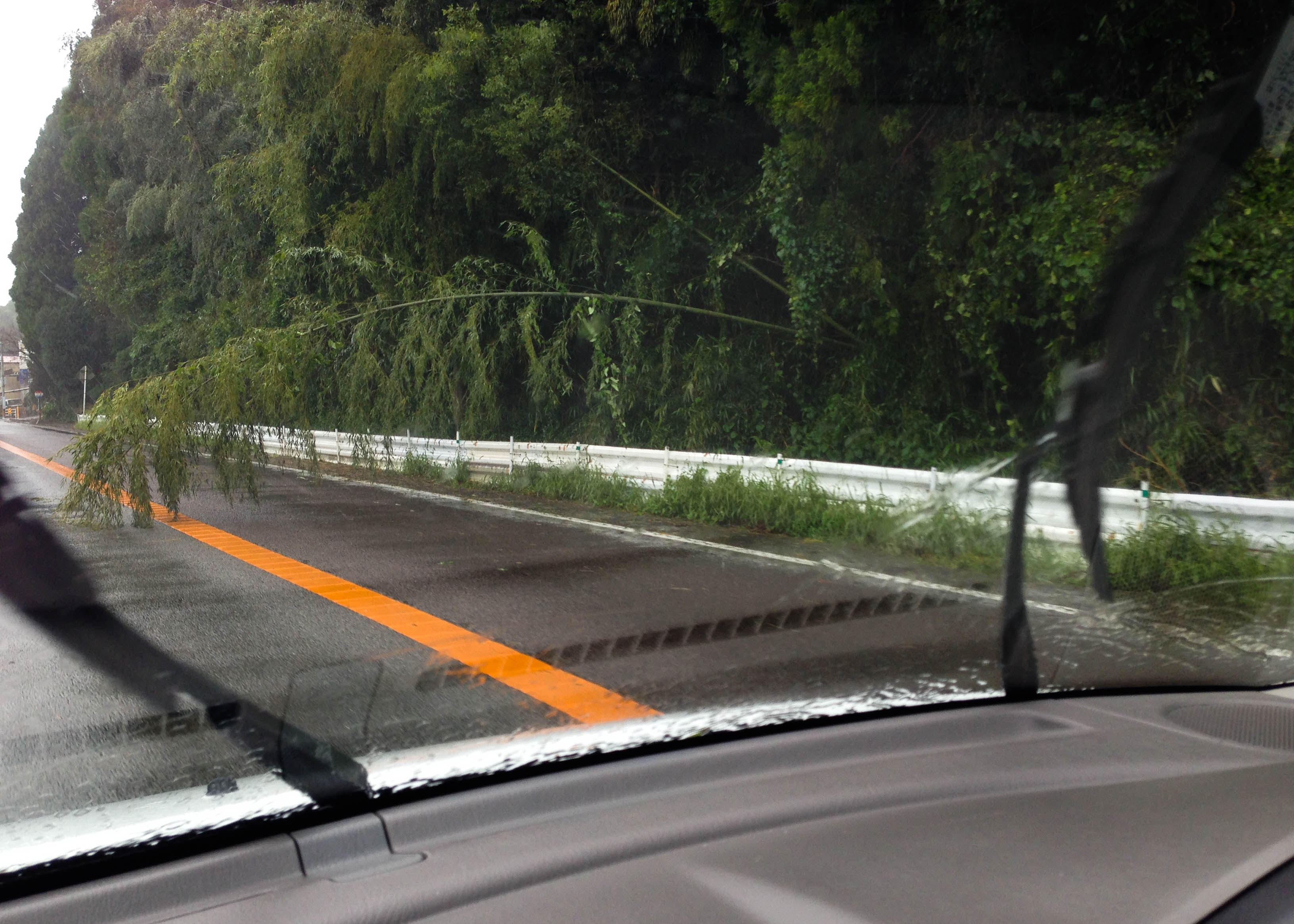 Related posts