Inside Japan's Dutch Theme Park
I've always dreamed of visiting the Netherlands, partly due to my Dutch ancestry but mostly because of my love of cheese and other edibles. So when Golden Week began approaching, an annual string of public holidays, and Austin and I were planning a road trip around western Kyushu, I figured why not  make a stop in Japan's very own Amsterdam.
Huis Ten Bosch (ハウステンボス) is a 17th-century style Dutch-themed amusement park located in Sasebo, Nagasaki facing Omura Bay. Named after one of the residences of the Dutch Royal Family, the "House in the Forest" recreates the atmosphere of a Dutch city with windmills, canals, and tulip gardens straight out of a Jacob van Ruisdael painting.
The park is the size of Monaco and pays homage to the city's relations with Holland, which date back to Japan's isolationist period. Despite the country's sakoku policies at the time, Dutch traders were allowed to buy and sell wares on Hirado island, and later Dejima in Nagasaki Bay.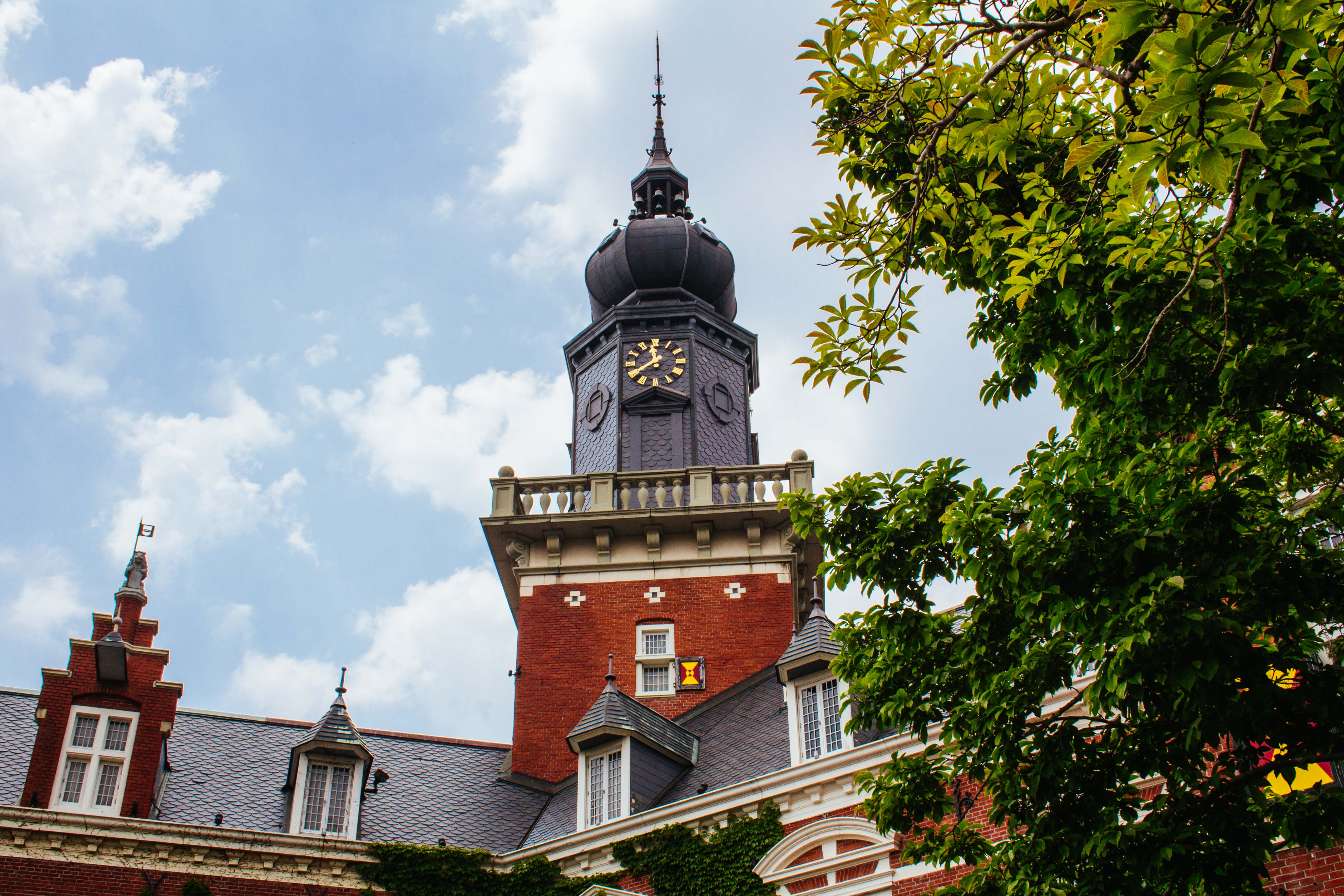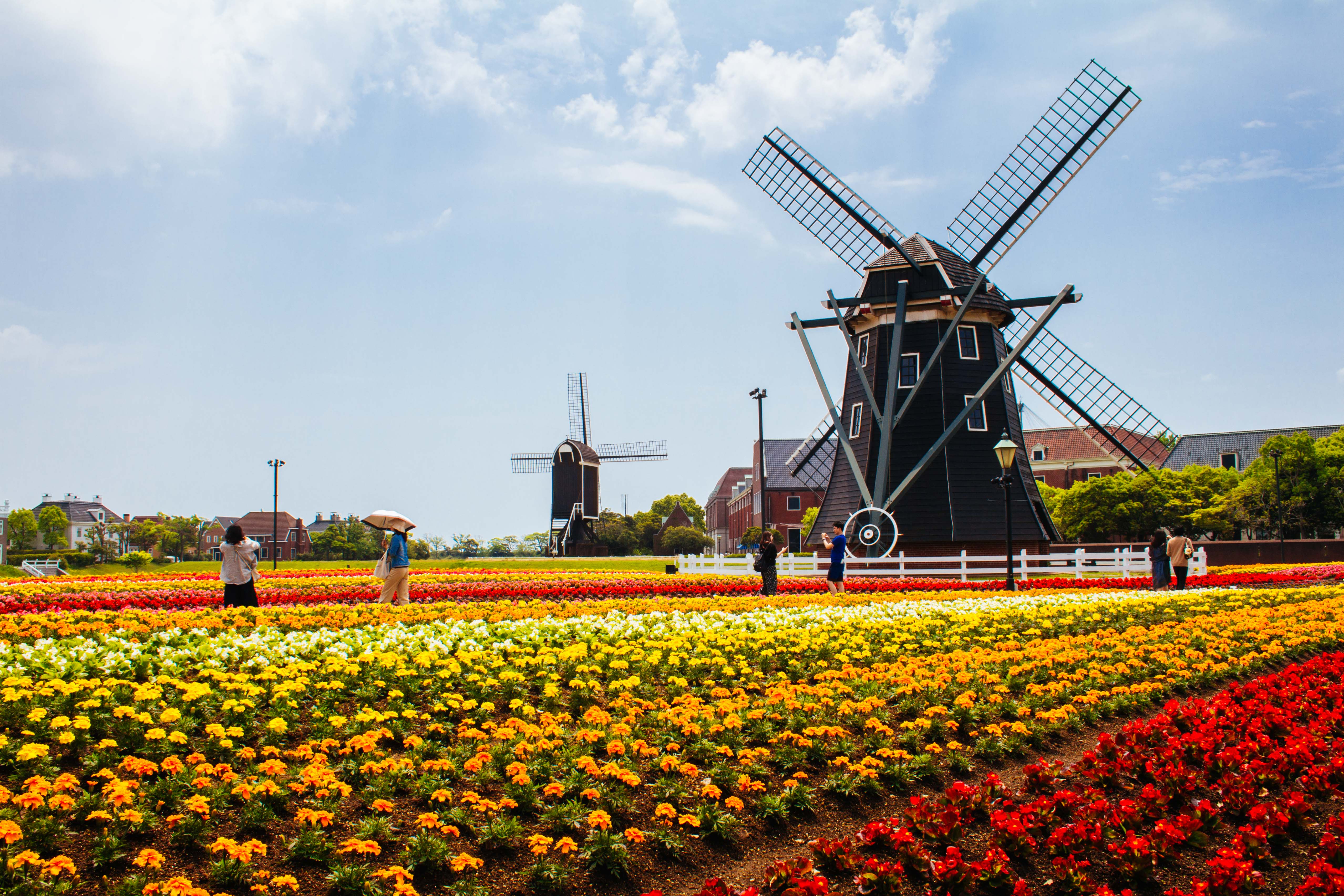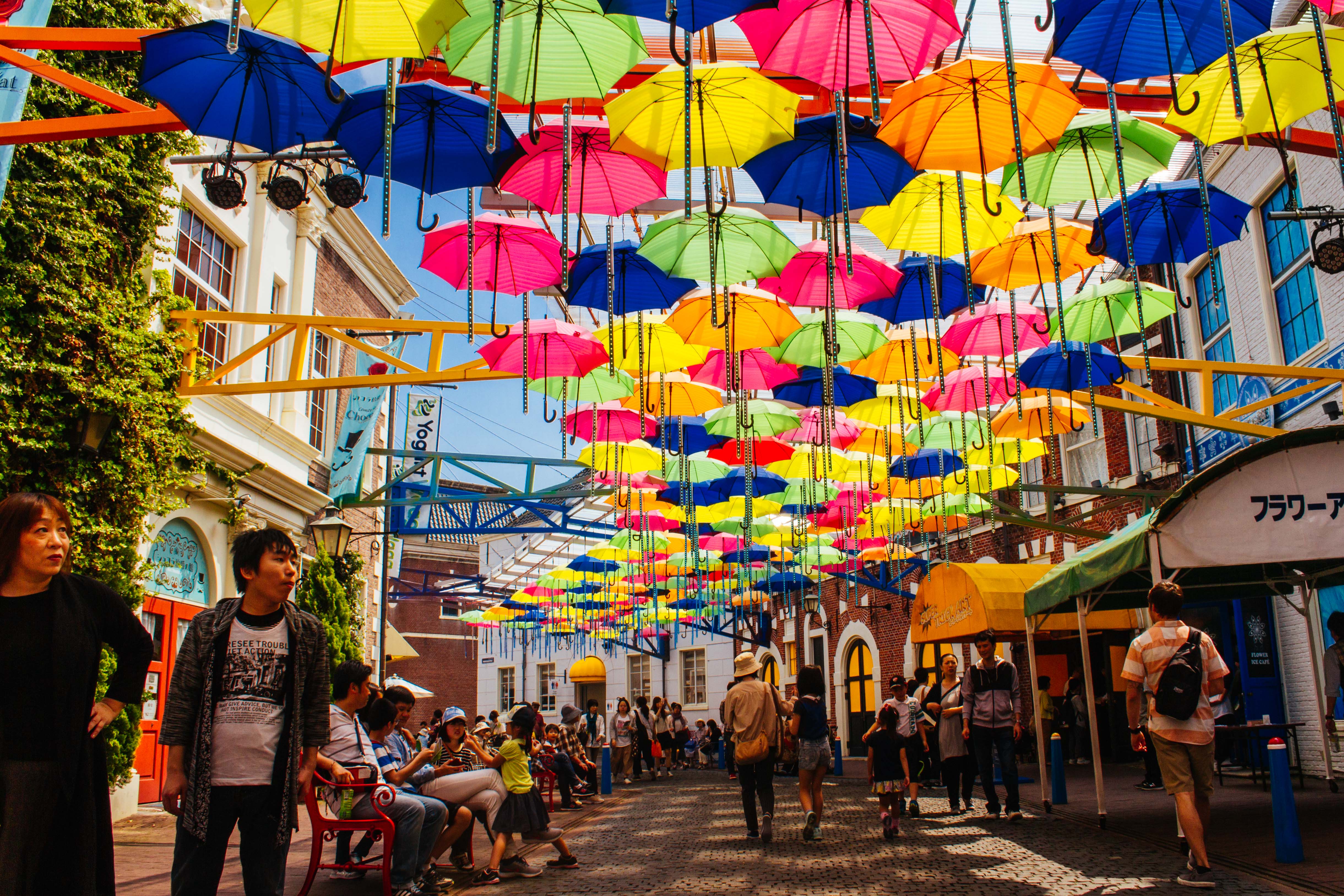 Conceived during the height of Japan's bubble economy and backed by some 200 public and private investors, Huis Ten Bosch, with its many museums, shops, hotels, vacation homes and condominiums, was set to turn the Sasebo area into a major sightseeing destination for Kyushu.
Indeed after it opened, the park was attracting 4.25 million annual visitors at its peak. By 2001, however, this number had fallen to 3.54 million. Two years later, the park filed for bankruptcy with a debt of 228.9 billion yen, the largest ever financial ruin of a Japanese amusement park.
Huis Ten Bosch remained open though and in the mother of all comebacks, was taken over by travel company H.I.S who injected 2 billion yen into its revival. Today, the park lives on as the home of the world's first robot hotel, and some of Japan's biggest flower festivals and illumination displays.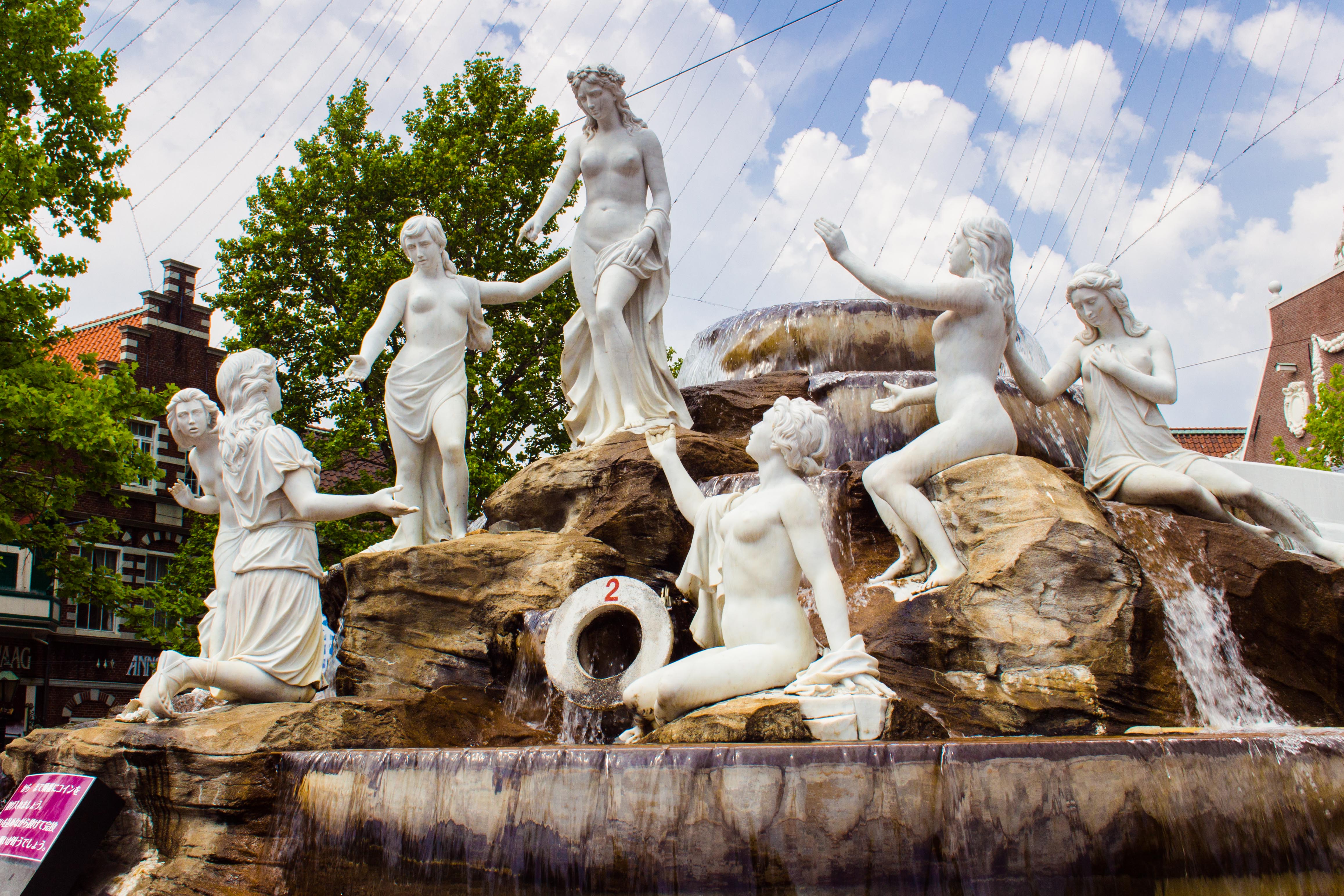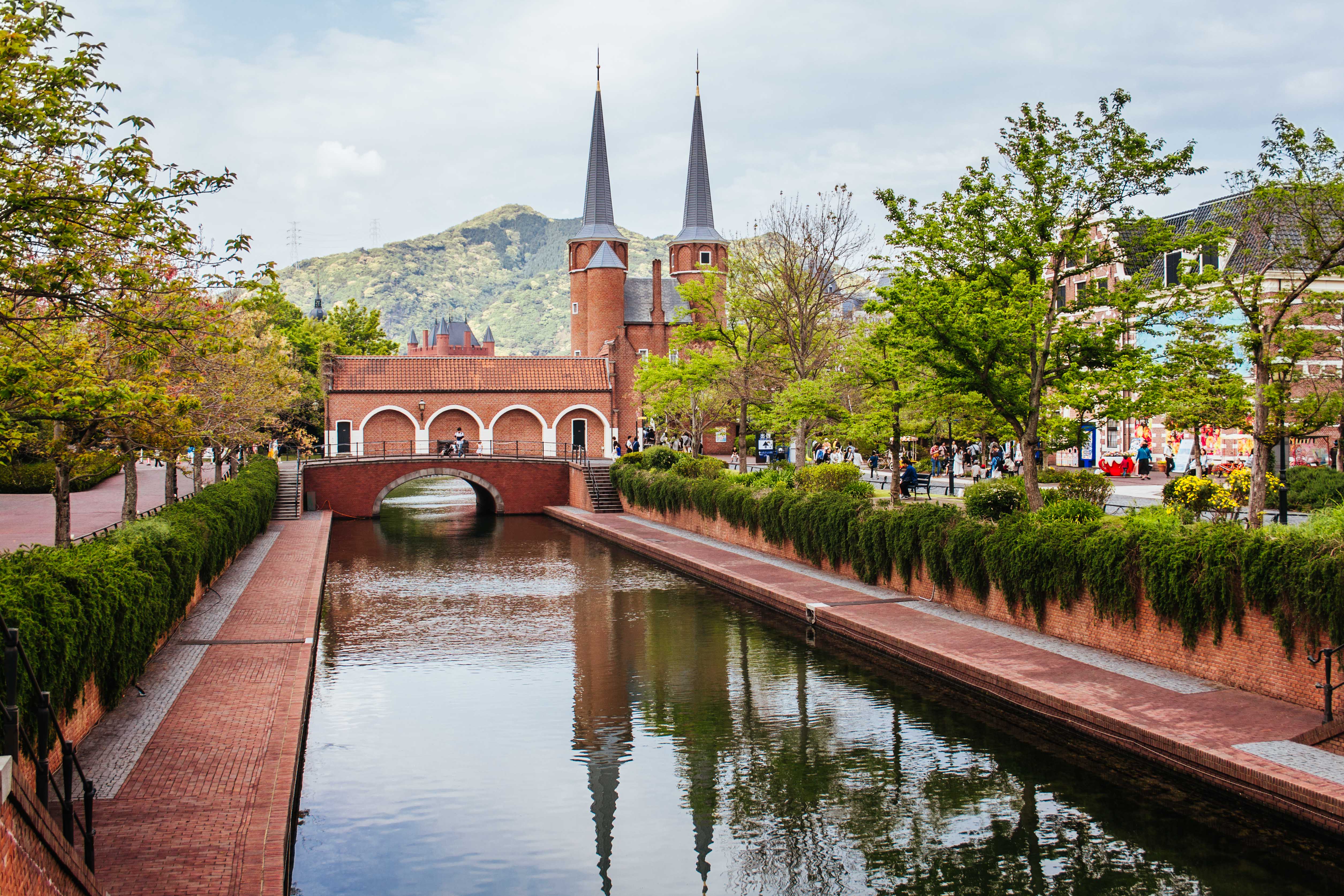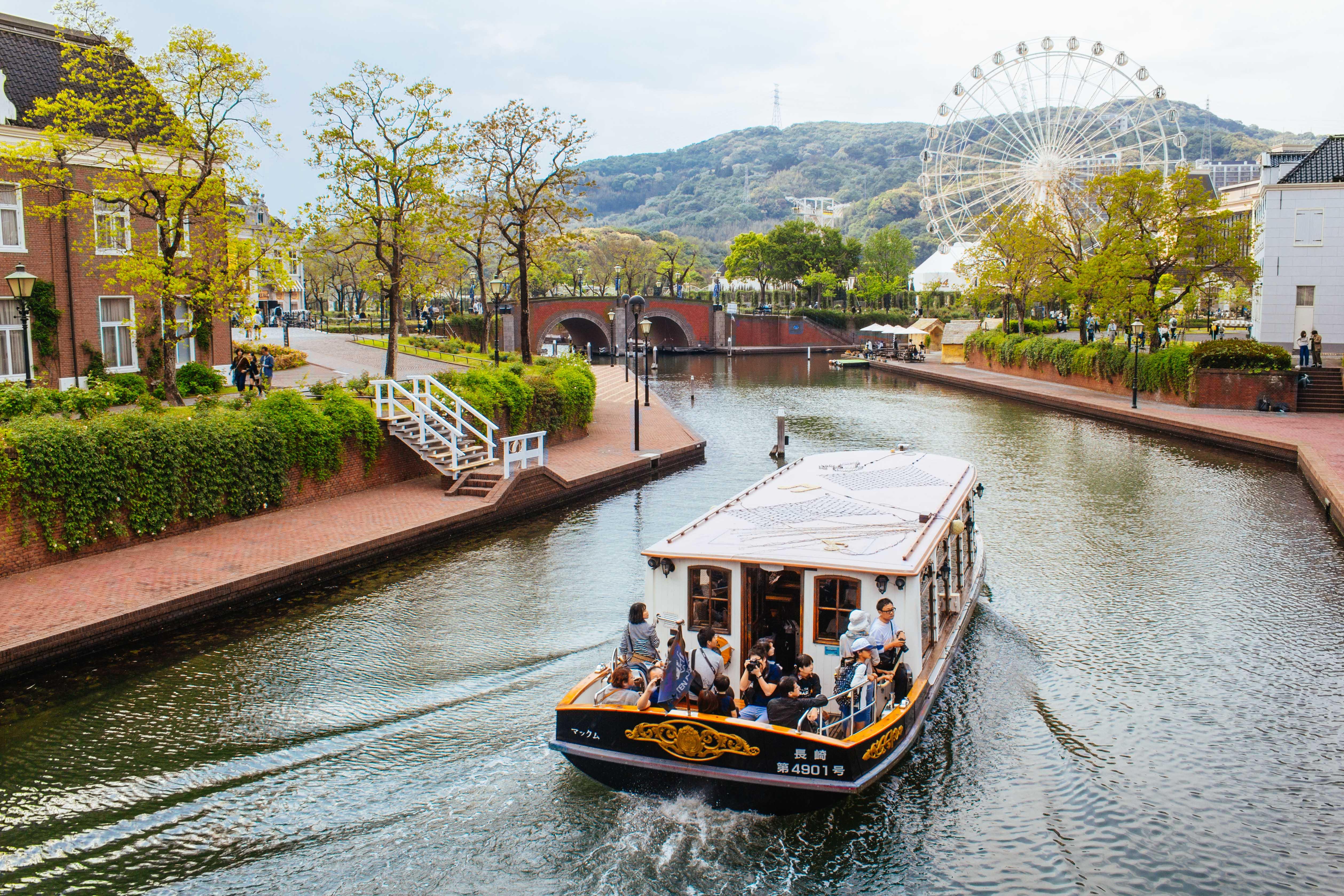 In addition to being ridiculously picturesque, Huis Ten Bosch is also eco-friendly; the park was built on an industrial landfill and about a third of its original budget went to constructing a recycling system that uses sewage and raw garbage to produce energy for the park and a compost for its flower gardens. The saltwater canals, freshwater ponds, and some 40,000 trees attract more than 60 species of bird and 150 species of insect, including an endangered butterfly.
Still, I wasn't sure what to expect when we pulled into the parking lot. The only theme park I've ever visited in Japan was deserted at the time, so I didn't really have anything to go off of. Was it going to be unicorns-vomiting-rainbows kind of kawaii, or just really  boring and kitsch? As we reached the ticket machine and parted with our 6,900円 ($61) each for the 1-day passport, I prayed it was neither.
Walking through the duplicate of Utrecht's Kastel Nijenroode at the park's entrance, my initial reaction was, "Oh." It's clear that a lot of time and effort has been put into the details of each building and their surrounds, but I realised, having never been to Europe, I had no idea how close or far off Japan's hammer was to the nail. And then – "Teddy bears!" Just like that, my attention had been stolen by Huis Ten Bosch's first attraction.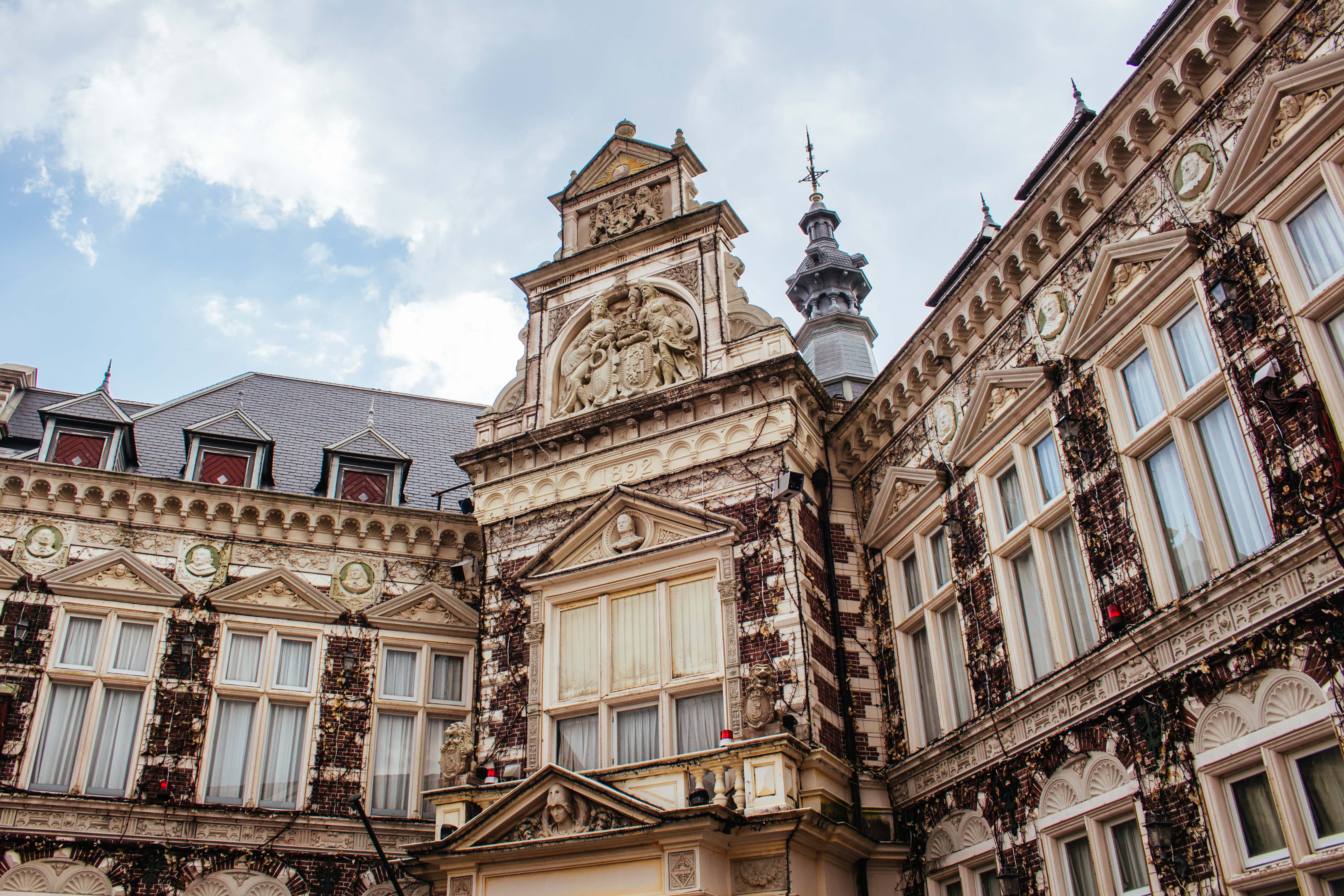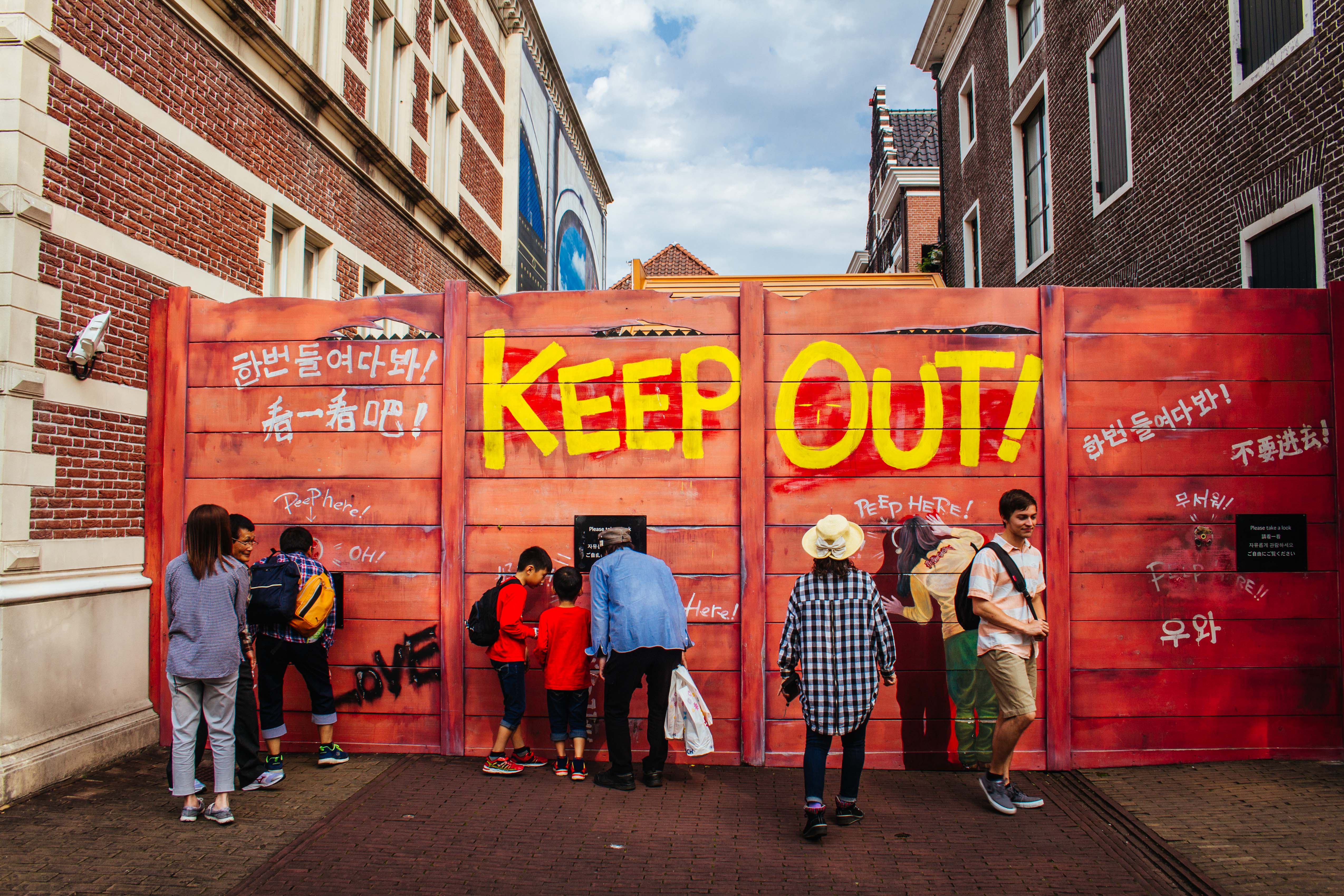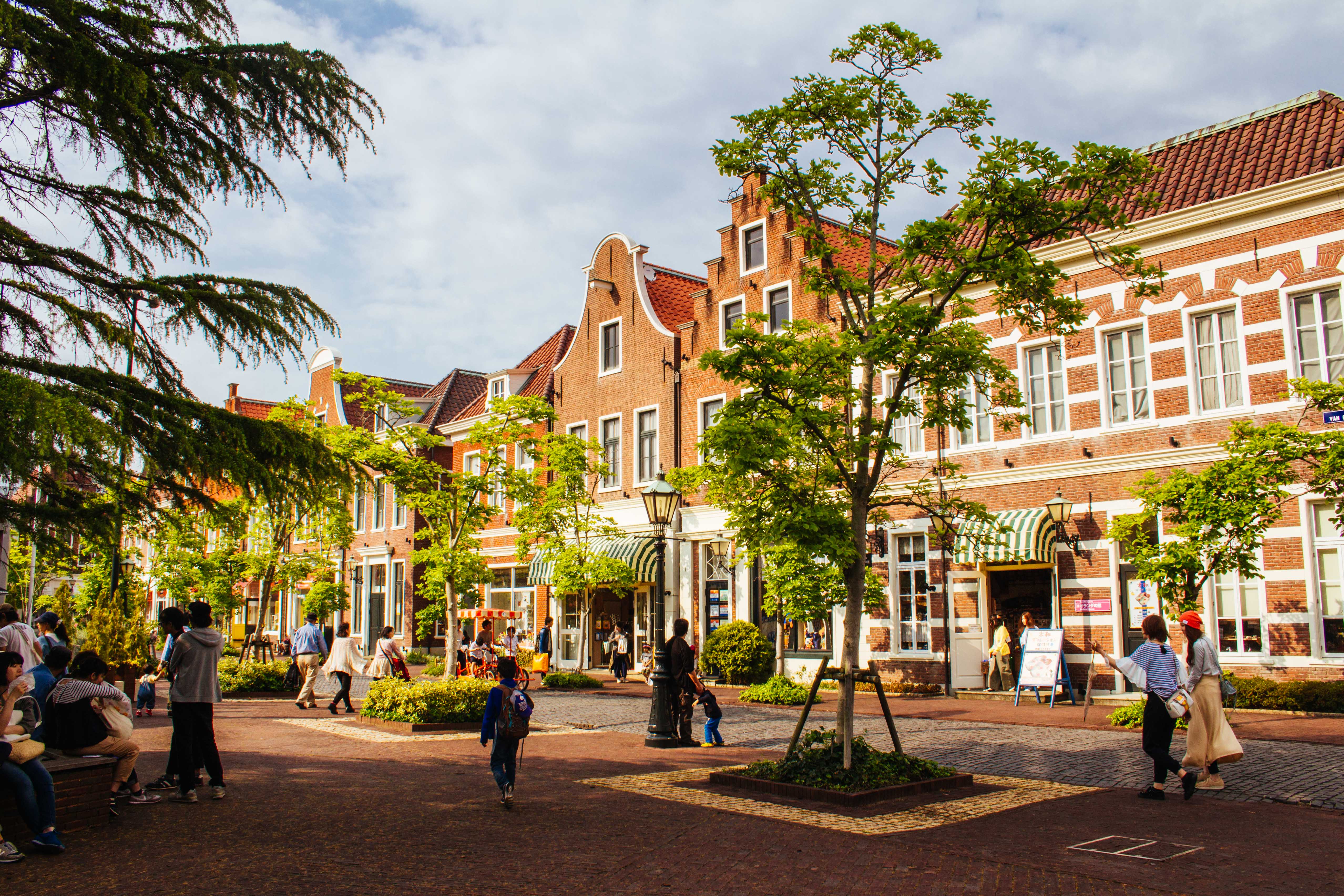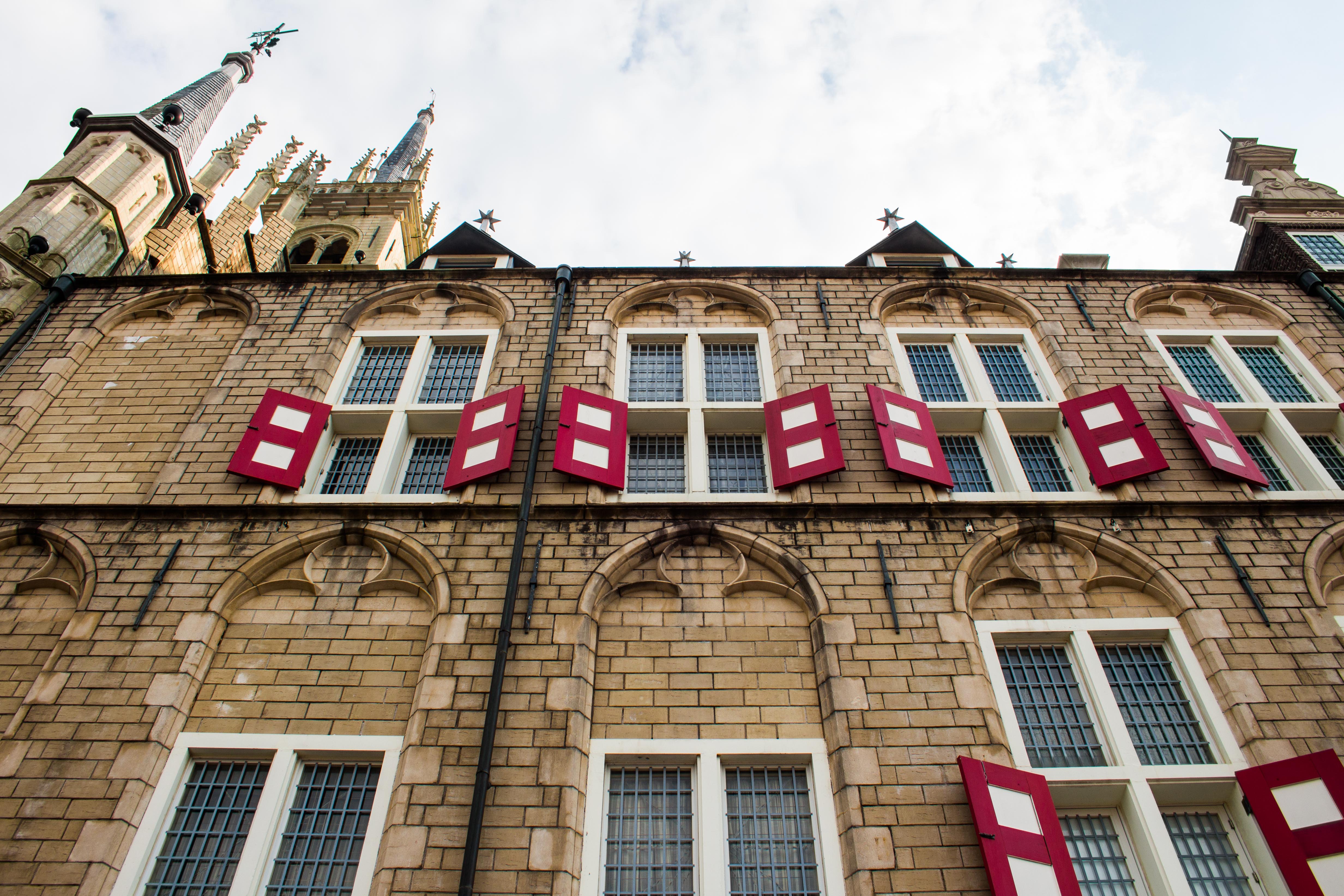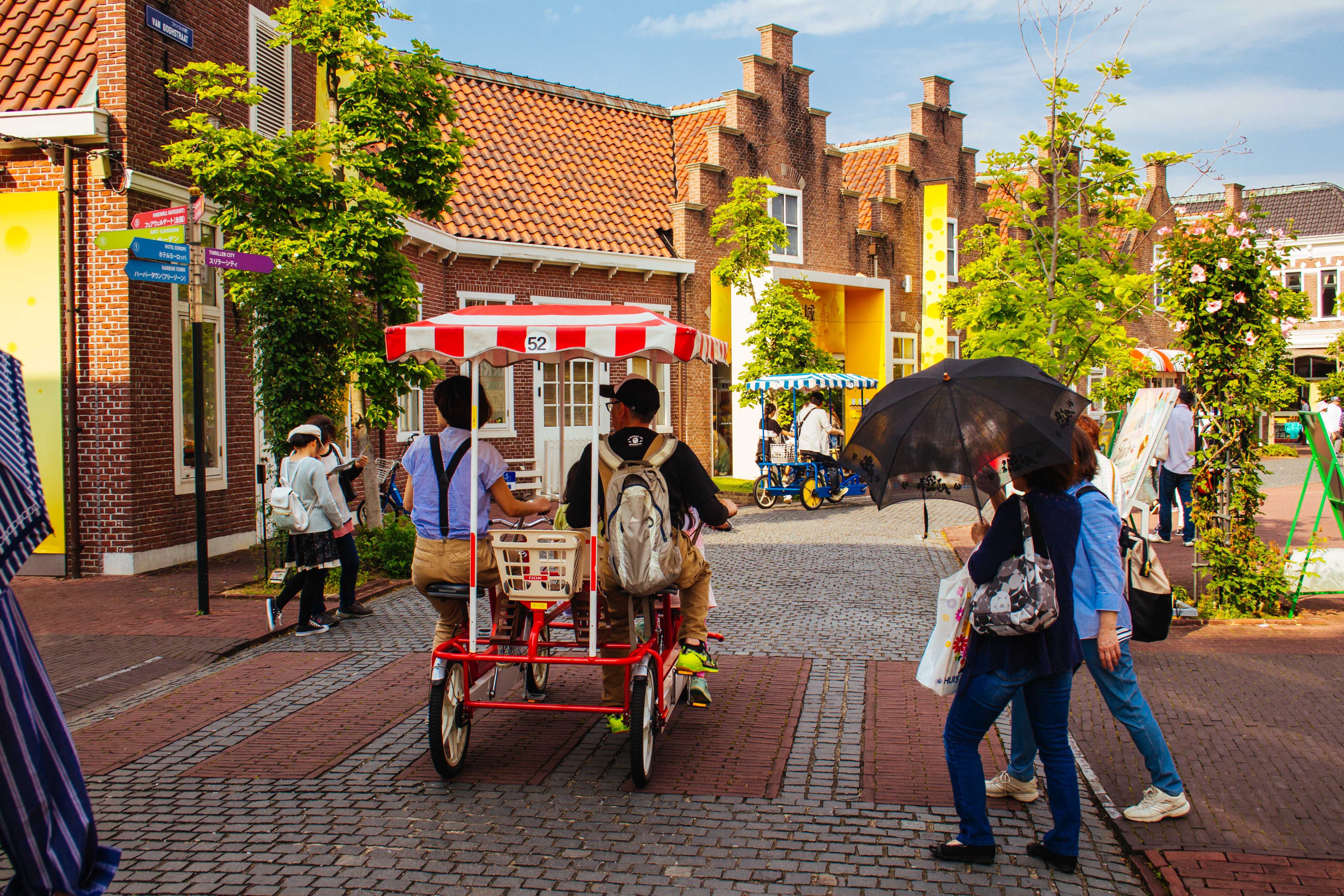 The Teddy Bear Kingdom is one of five museums in the park and boasts a collection of over 700 teddy bears, including limited editions and one-of-a-kind artist creations. As you walk through, you are told the history of the teddy bear through dioramas and the various bears on display. The highlight was watching a mechanical teddy cycle up and down a tightrope in the "Circus Room".
After the Welcome Gate, the park divides into nine different zones. The Flower Road is literally just that, meandering through colourful fields of electric windmills. After munching on free samples of cheese from the Buurunkaasu shop, we decided to try a Grolsch, one of the Netherlands' famous pale ales, at the adjacent outdoor coffee shop Caffest (the name makes me cringe every time). Looking out onto the scenery and sipping on an ice cold beer suddenly made it feel like we really were in Holland for a while.
We decided to skip the pirate-themed Adventure Park, which seemed largely geared toward children, and headed over to Attraction Town next. As the brochure states, "you can choose from almost too many attractions" here, including an ice cafe, a robot restaurant, a trick art gallery, a chocolate mansion, a flood simulator, and a bunch of shops that sell various souvenirs, including overpriced flower crowns. I'm pretty sure those have their origins in Greece, or the Ukraine, but of course I had to have one and paraded around with it in all of its culturally-confused glory.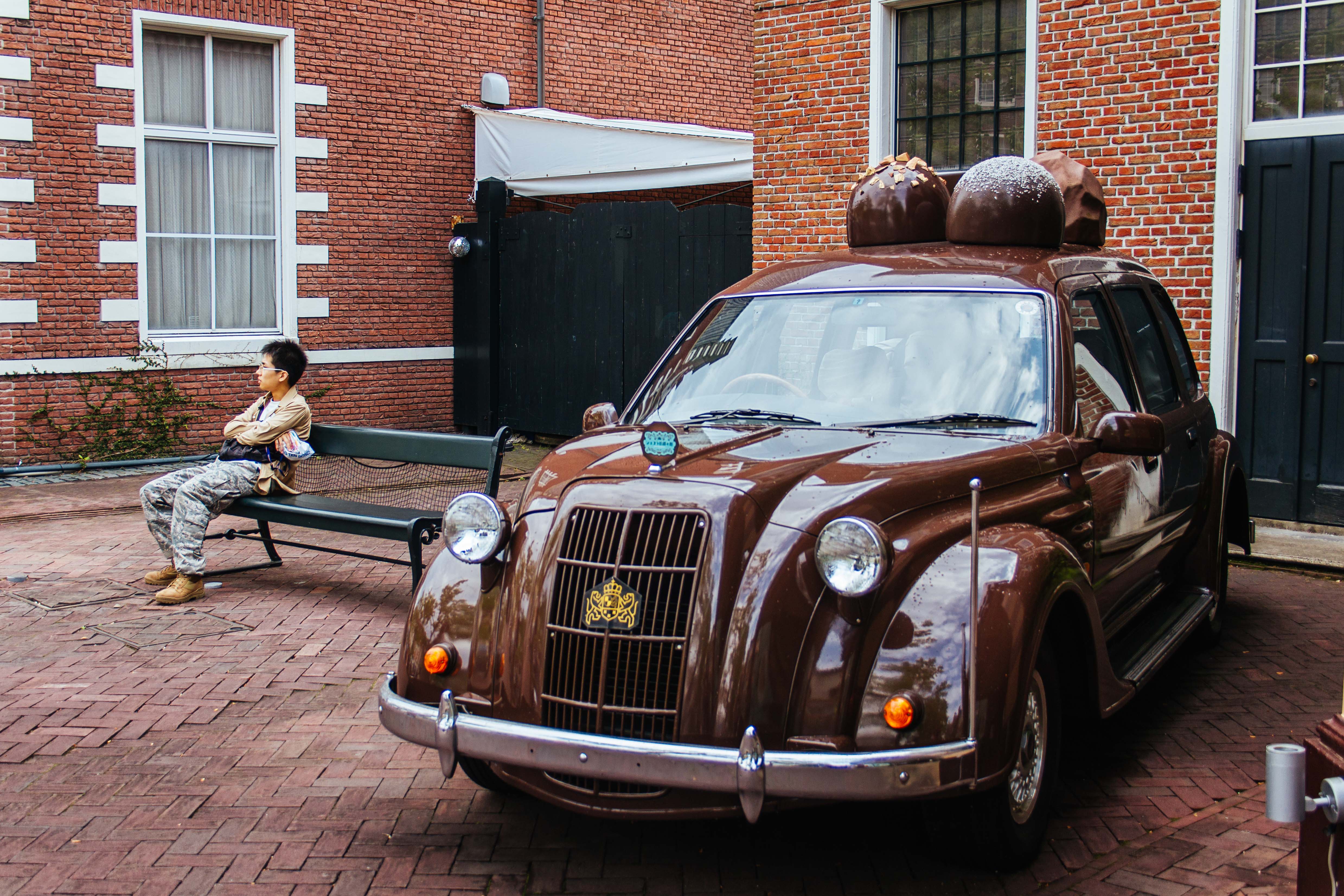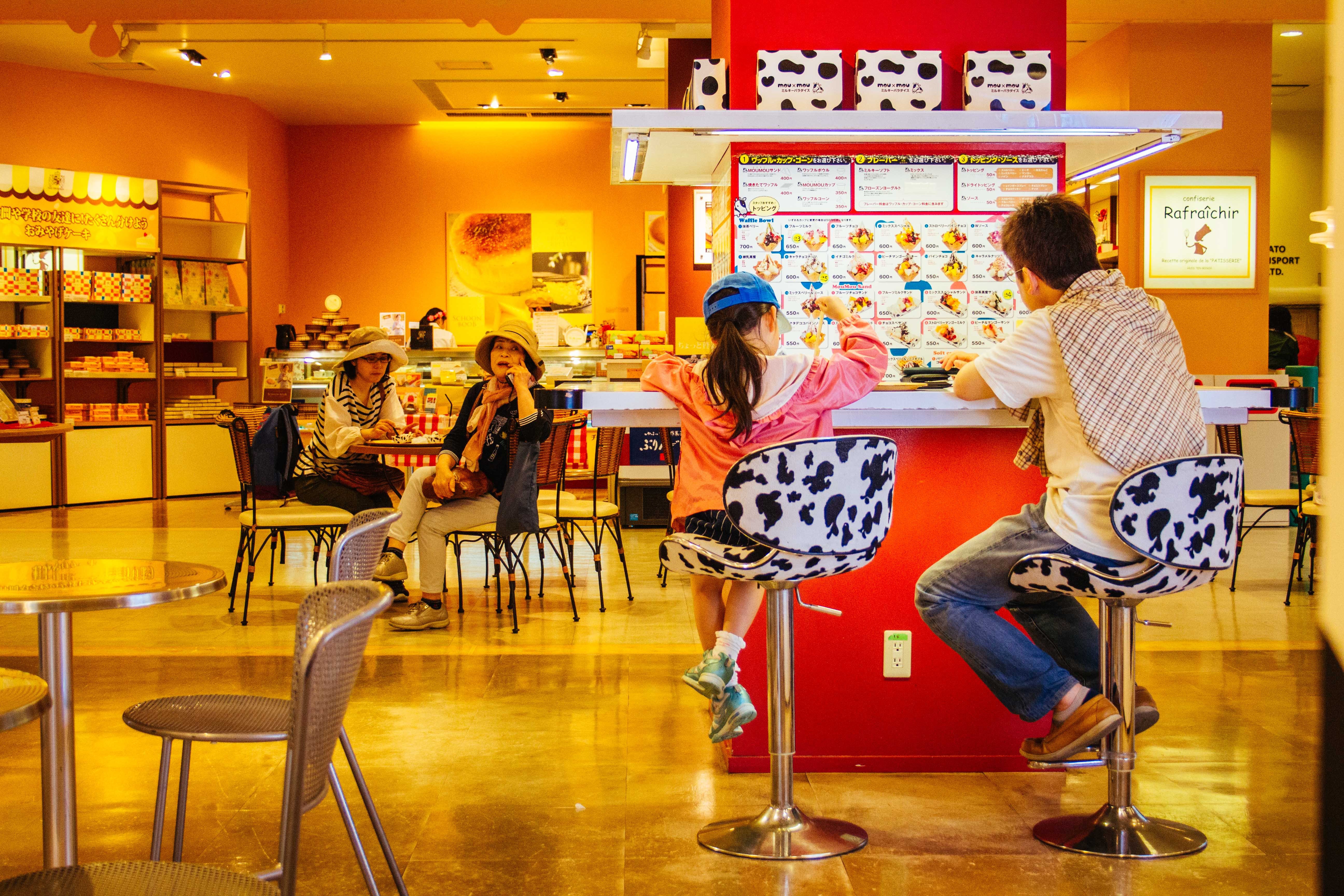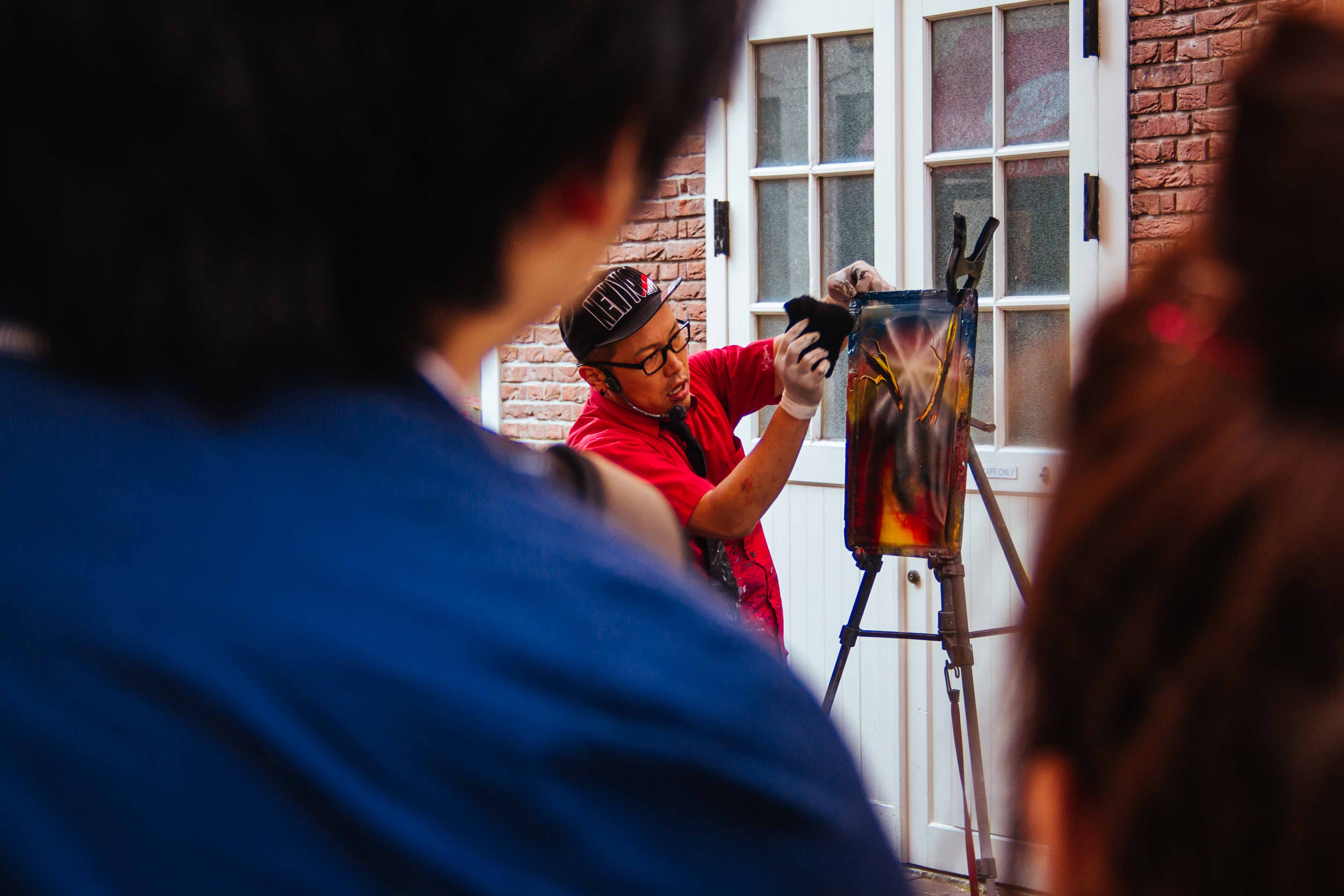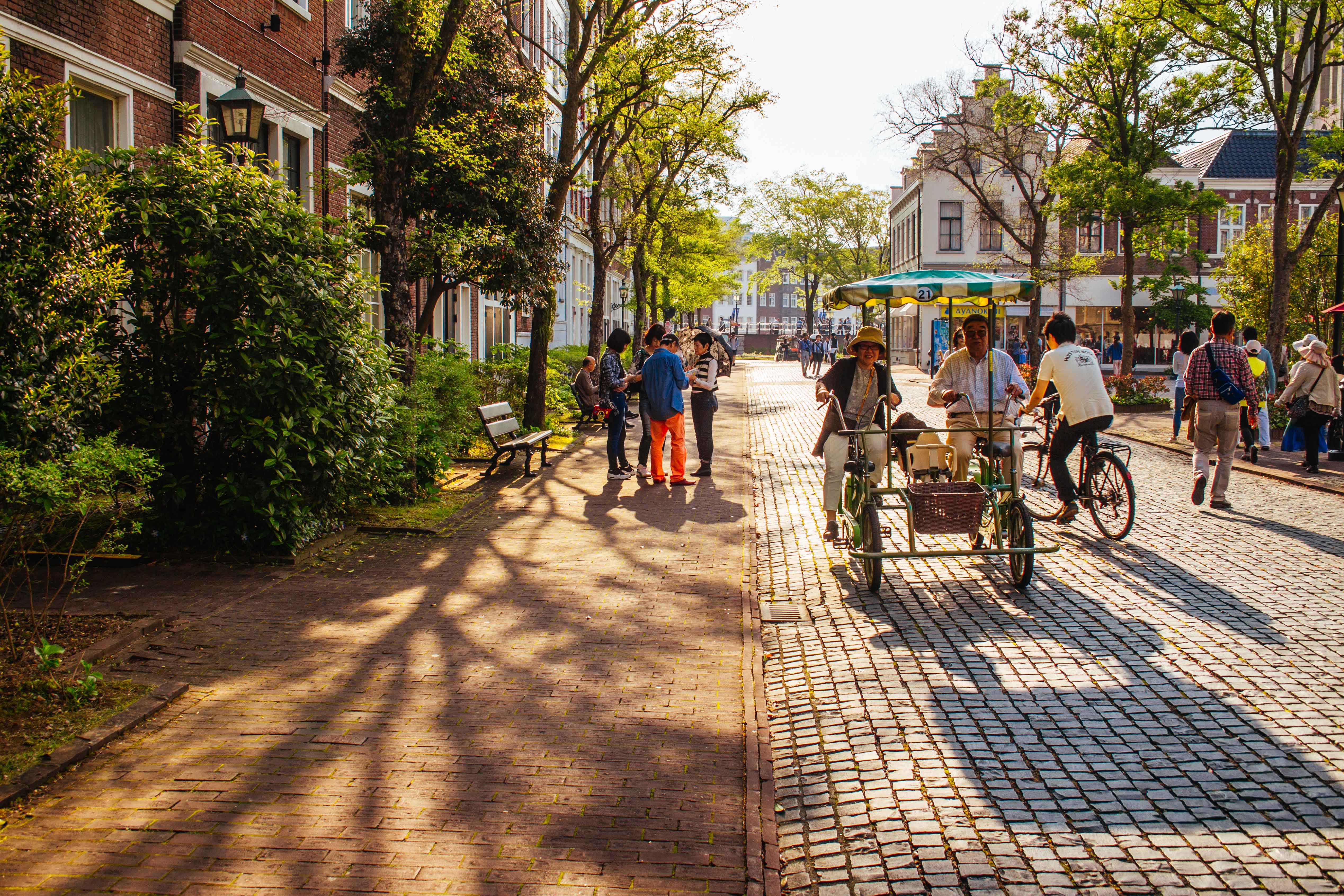 In Thriller City, there are a bunch of VR haunted house-type experiences to try out, although the wait time for each can be as long as 60 minutes. We headed into the House of Love and Horror instead, where your wish, written down on a piece of red cloth, is said to be fulfilled if you can make it through the pitch-dark, shrine-like tunnel. I'm pretty sure my screams could be heard all the way in Miyazaki, but it was definitely a thrill to say the least.
We popped over to the European Village in Amsterdam City next for a plate of sausages and another beer, and to try one of Nagasaki's famed Sasebo burgers. Said to be bigger and tastier than other burgers offered in Japan, these American favorites were once made for the US forces stationed at Sasebo Navy Base in the 1950s. As the years wore on, they started to become part of the local food culture. They're not bad, but the sausages were better.
After our snack, we headed to the Art Garden to ride the White Ferris Wheel. Even though it's one of the attractions you have to pay extra for (600円),  it's one of the few places  where you can really get a sense of the scale of the park – it's enormous! This zone also offers bungee jumping and helicopter rides.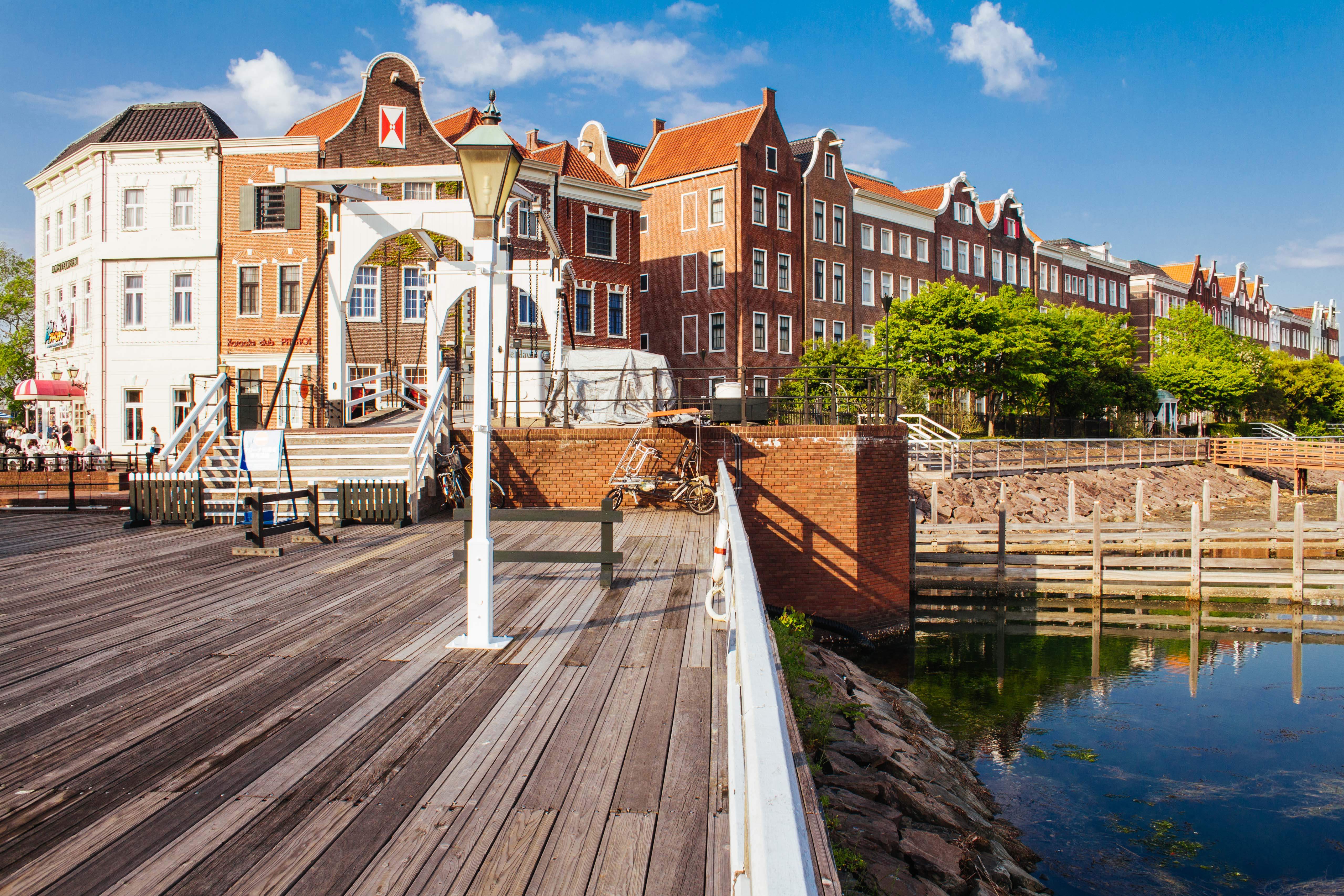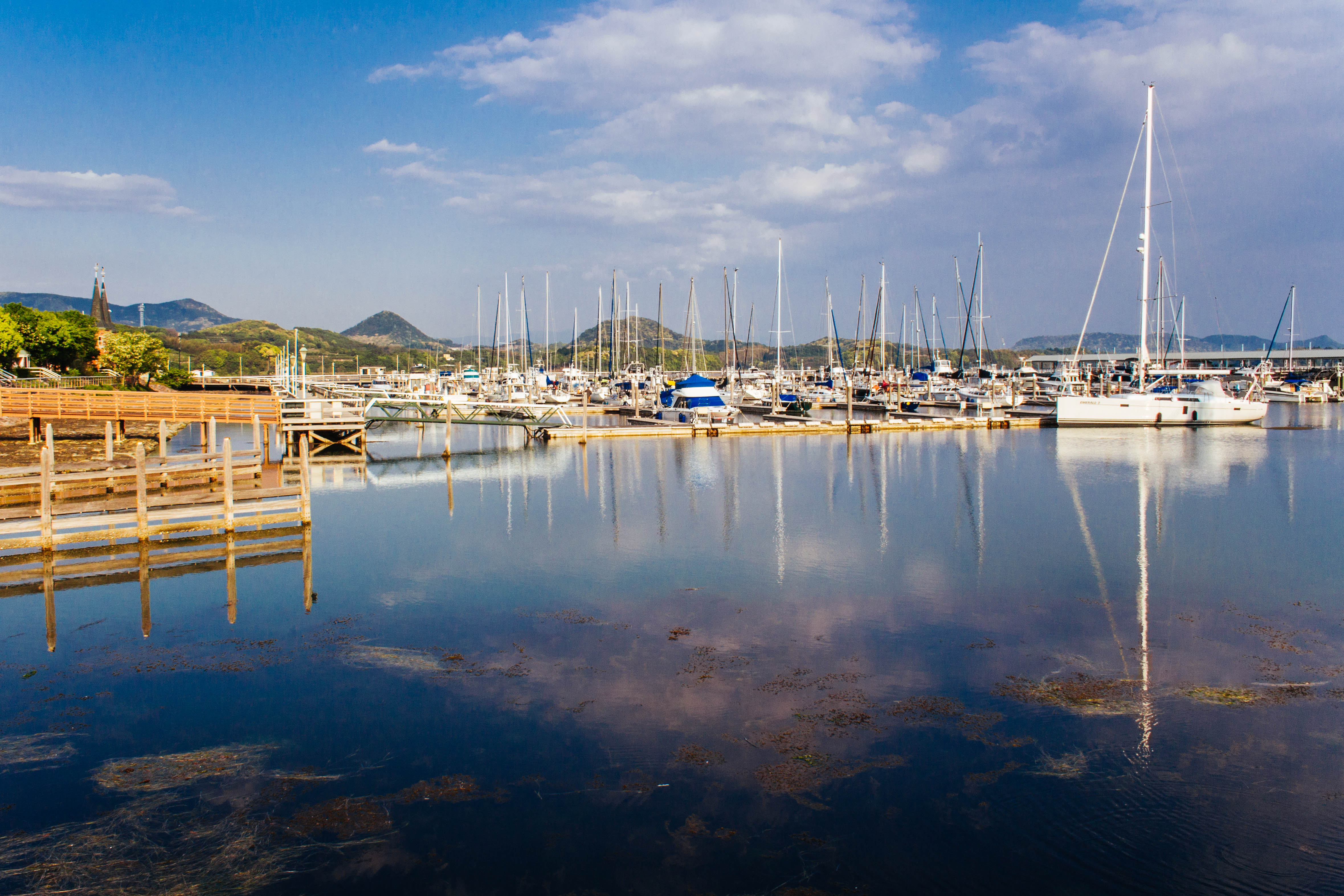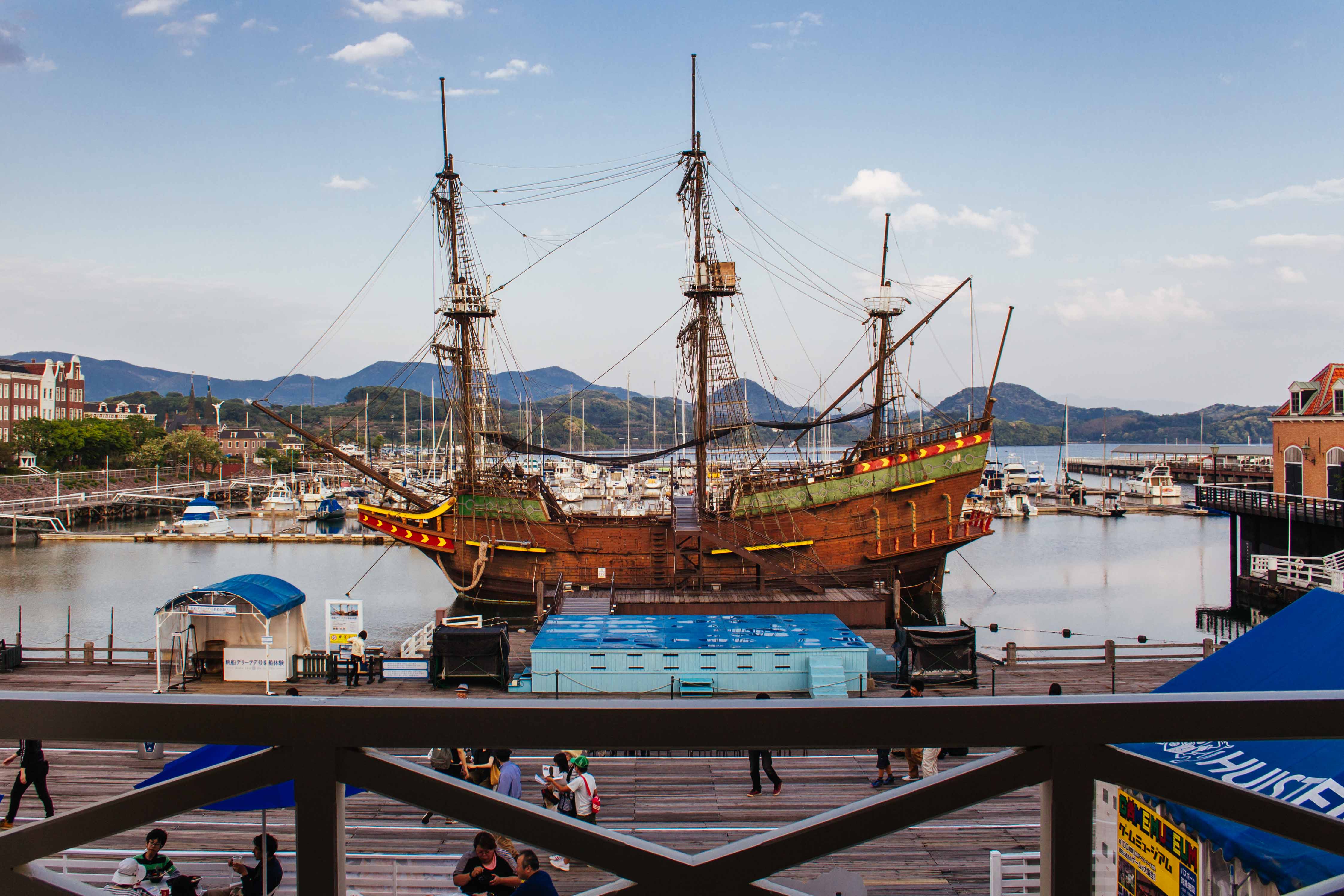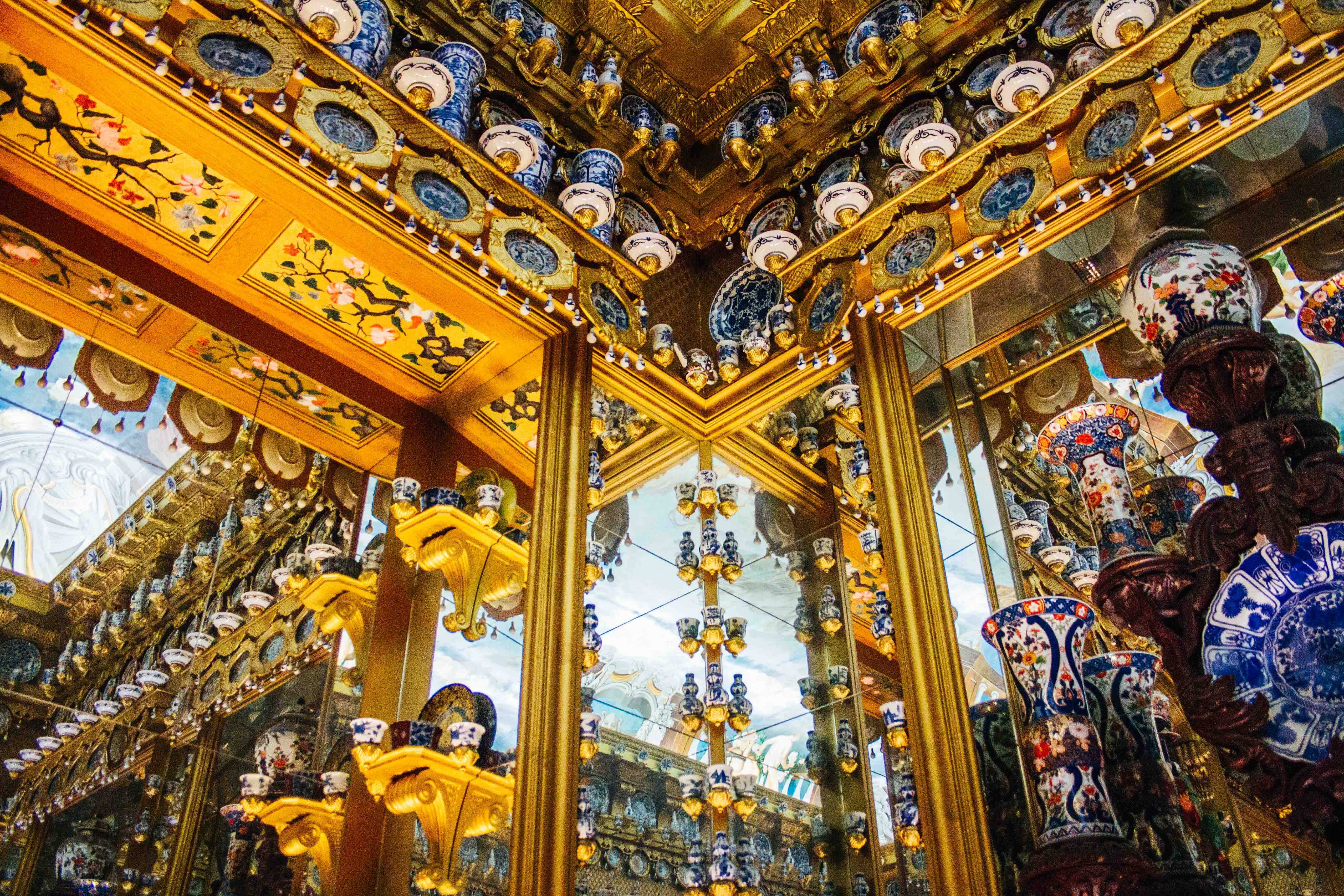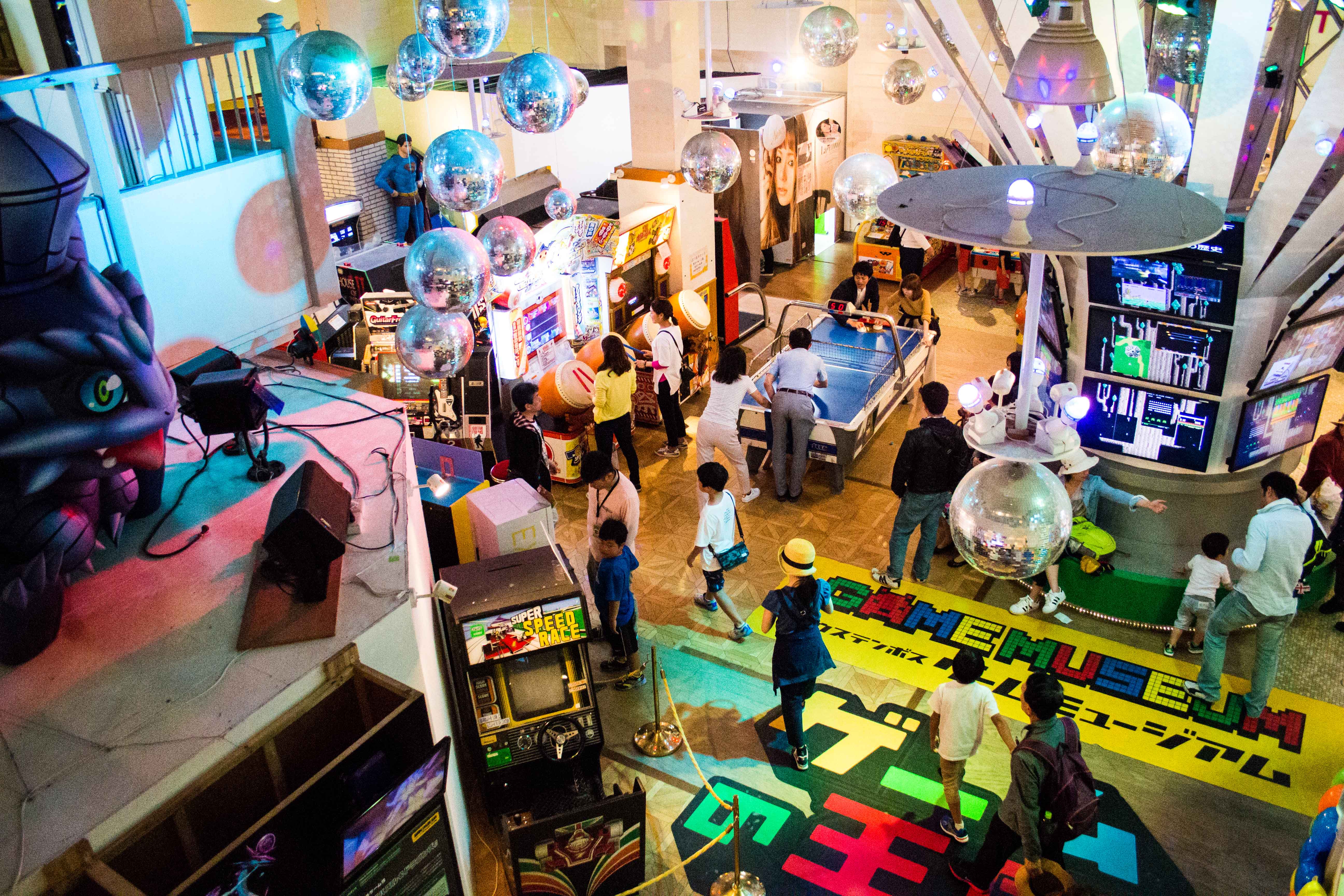 After a quick look around Tower City, which boasts a 80-meter high observation platform and a variety of different restaurants, we headed to Harbor Town. This part of the park is situated right on the water overlooking Omura Bay.
It's home to Japan's first museum of games on permanent display, including old favourites like Pac Man and Sonic the Hedgehog, most of which are available to play for free. There's also a life-sized replica of the De Liefde, the first Dutch sailing ship to ever reach Japan, and the Imari porcelain museum, which features a reconstruction of a room in a German palace.
From Harbor Town, you can take a stroll through Forest Villa up to the Palace Huis Ten Bosch, a carbon copy of the royal palace in The Hague in the Netherlands, complete with a baroque garden and indoor museum. Not wanting to fork out another few hundred yen to enter, we peered at it through its gates instead.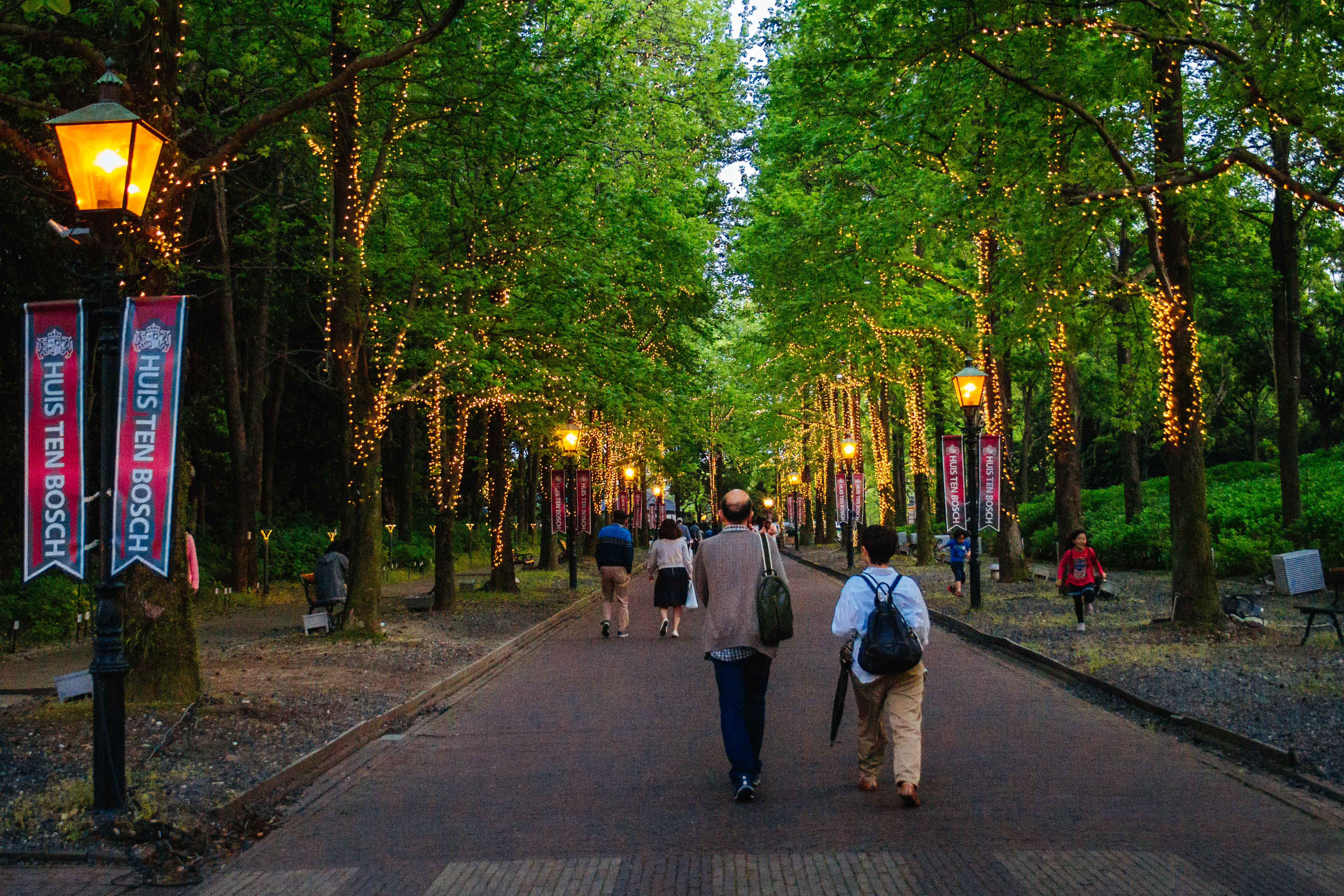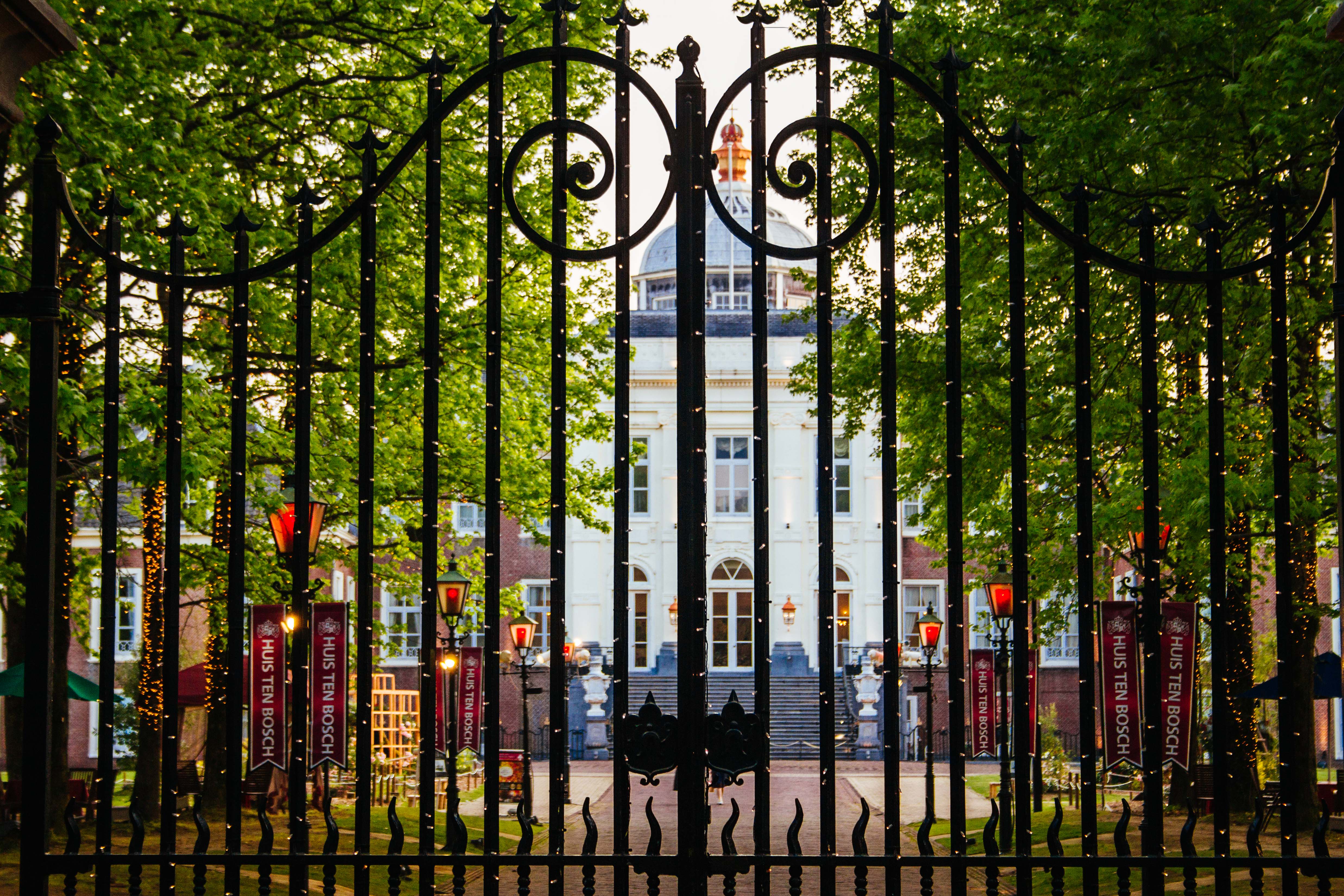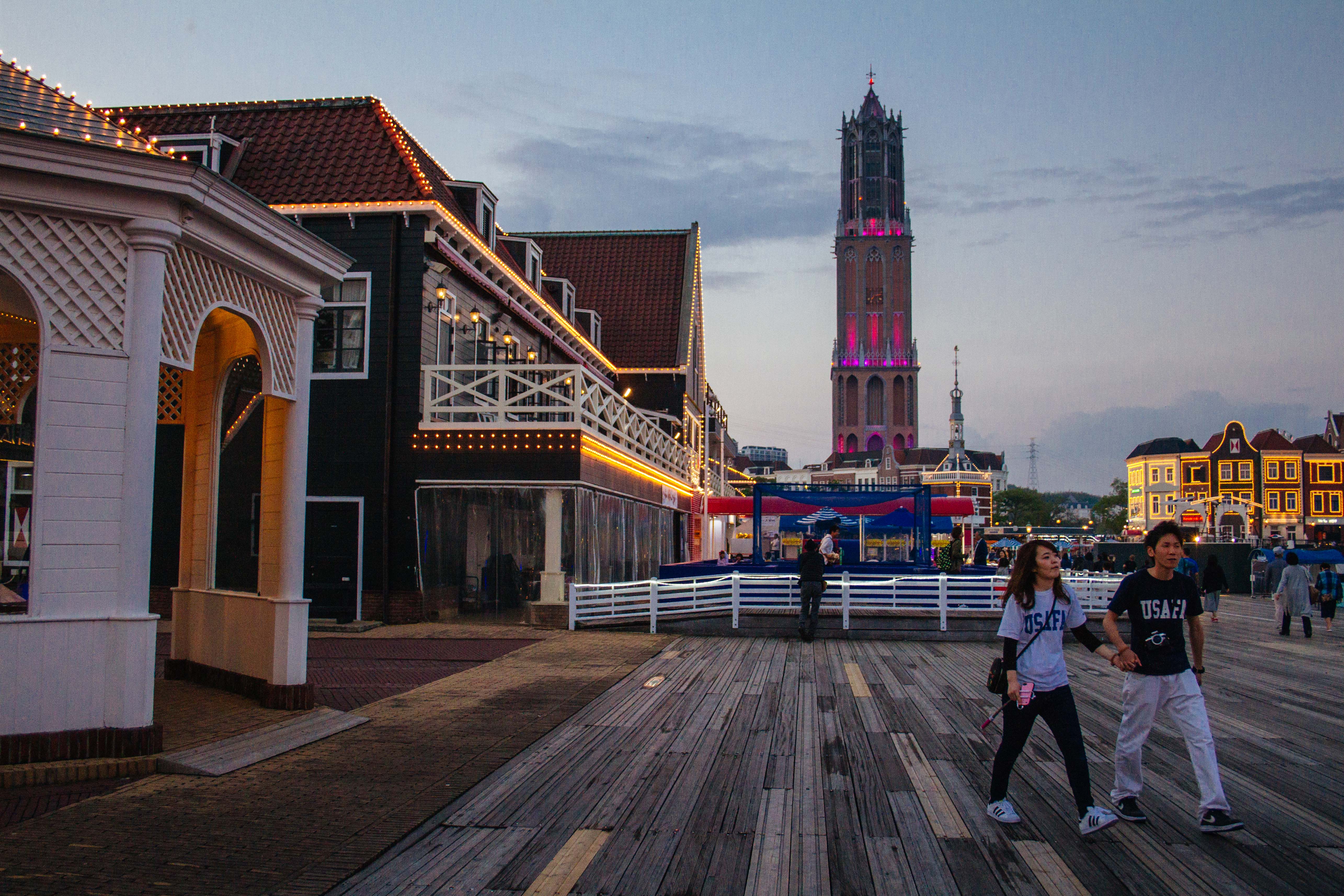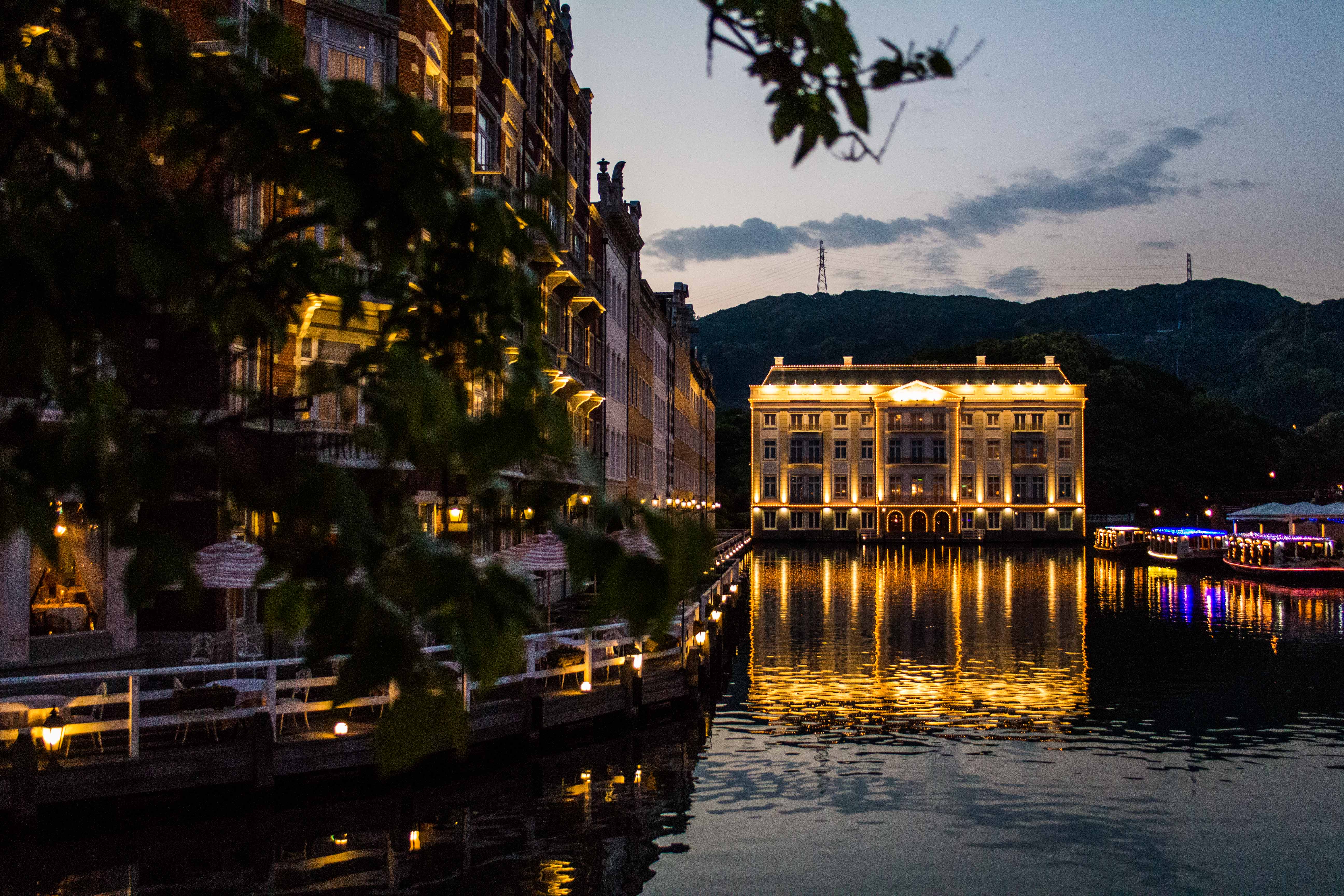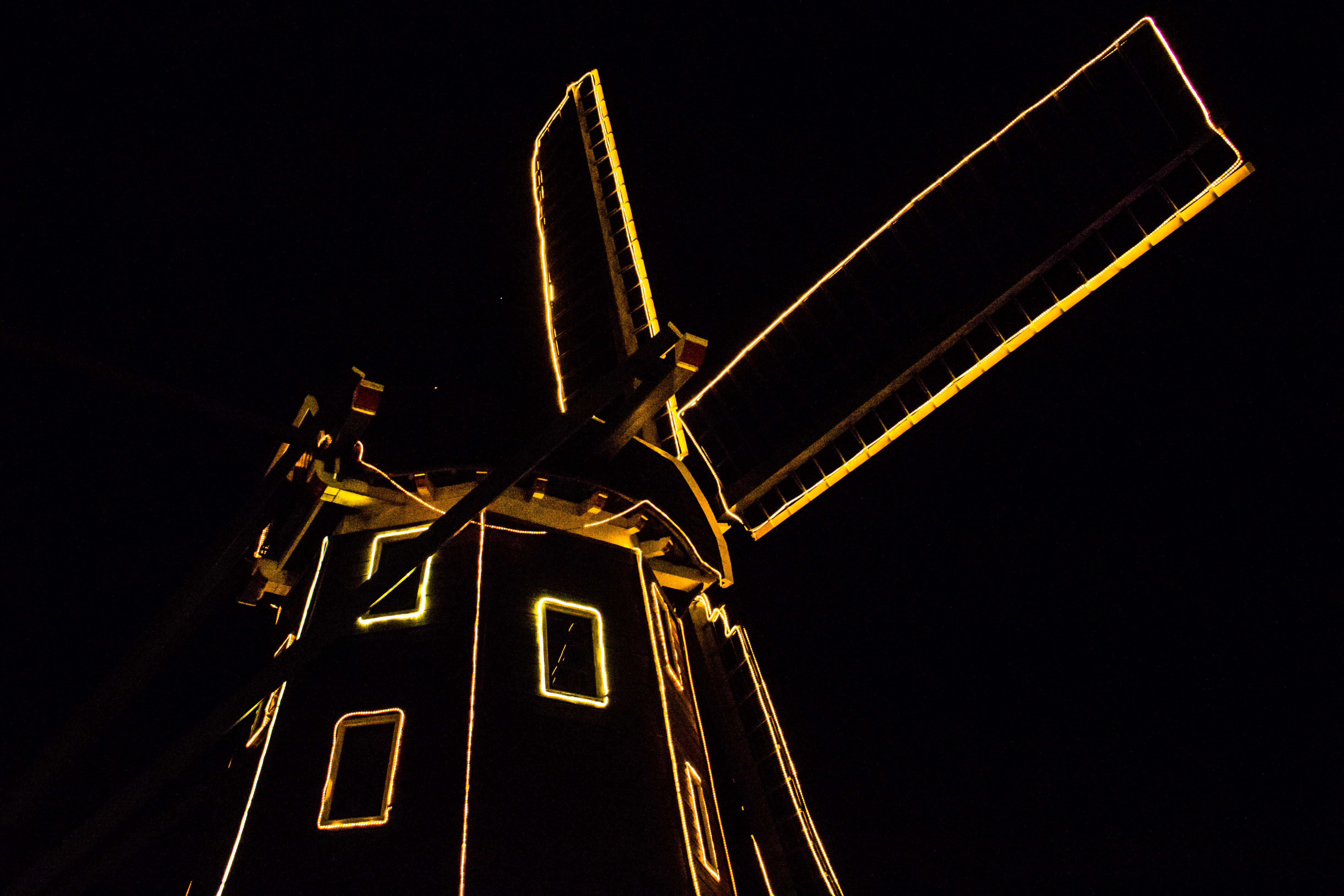 Once it started getting dark, we headed back to the center of the park for the Flower and Light Kingdom – an annual light display that runs from October 29th to May 7th. The event boasts 13 million bulbs and 3D mapping, and has been voted the number one most popular illumination in Japan for three years in a row.
The giant LED waterfall and fire-breathing dragon certainly did not disappoint, nor did the tulip-flavored ice cream we sampled on our way out. All in all, it was a pretty top notch day!
For information on park hours, ticket prices and access, click here.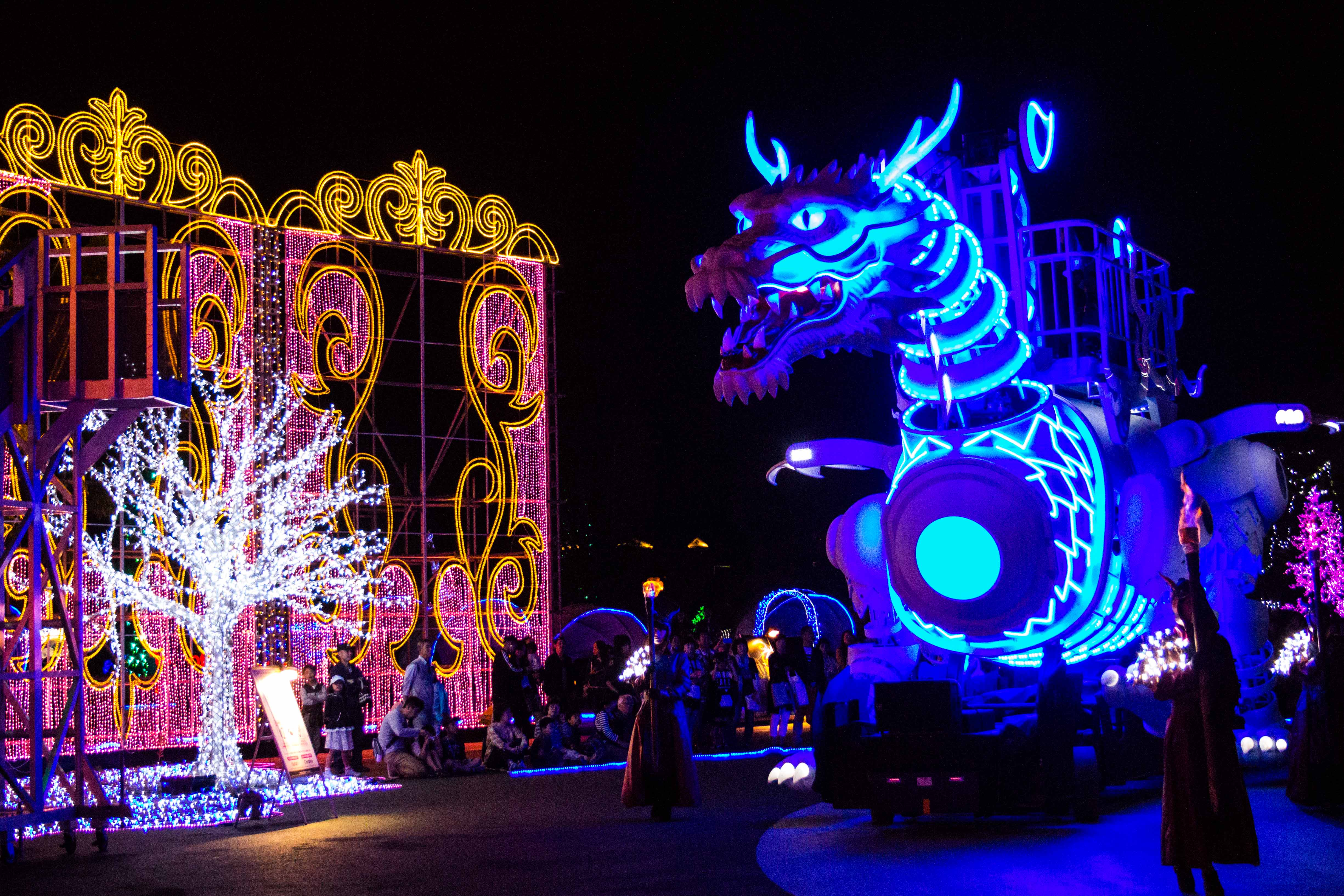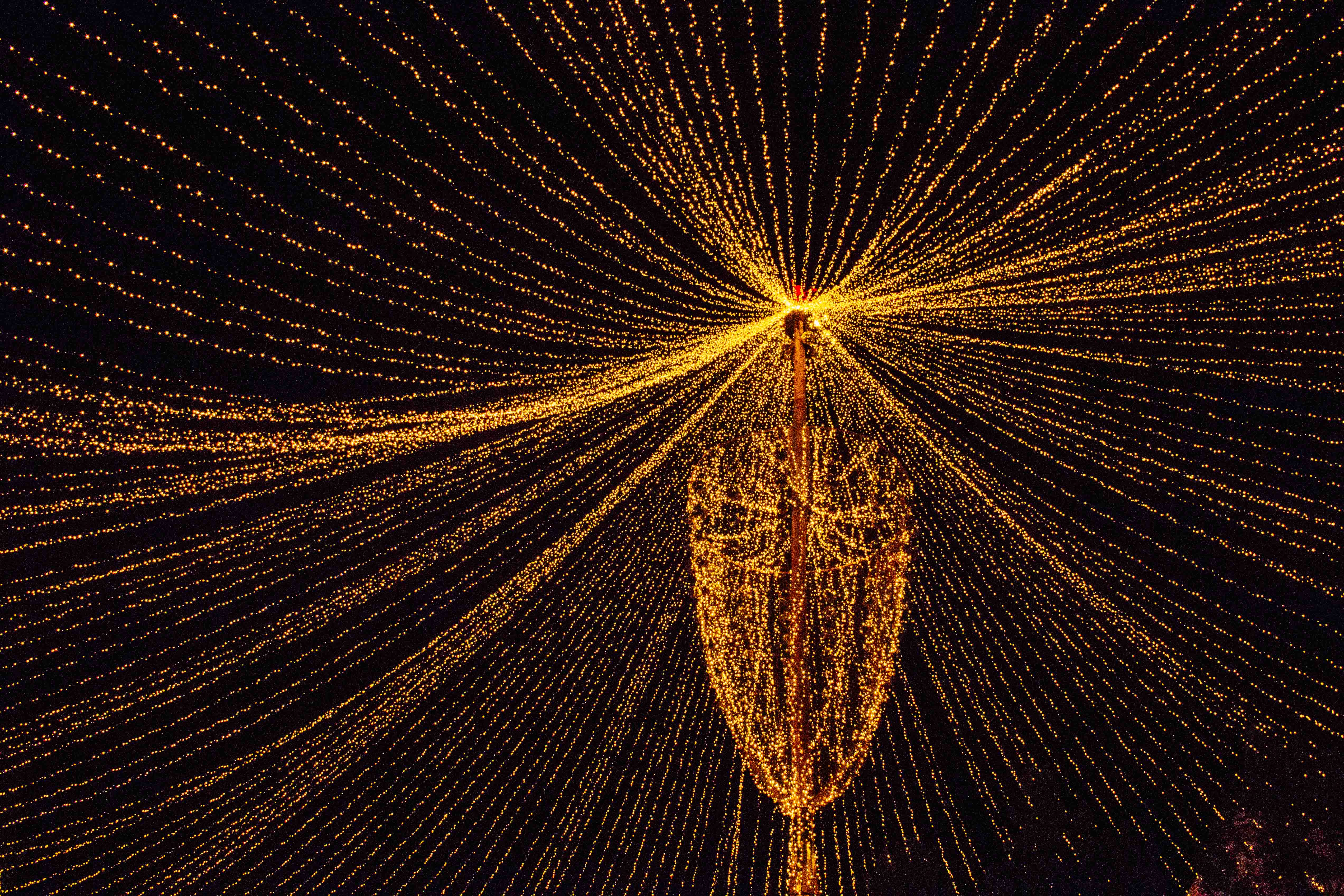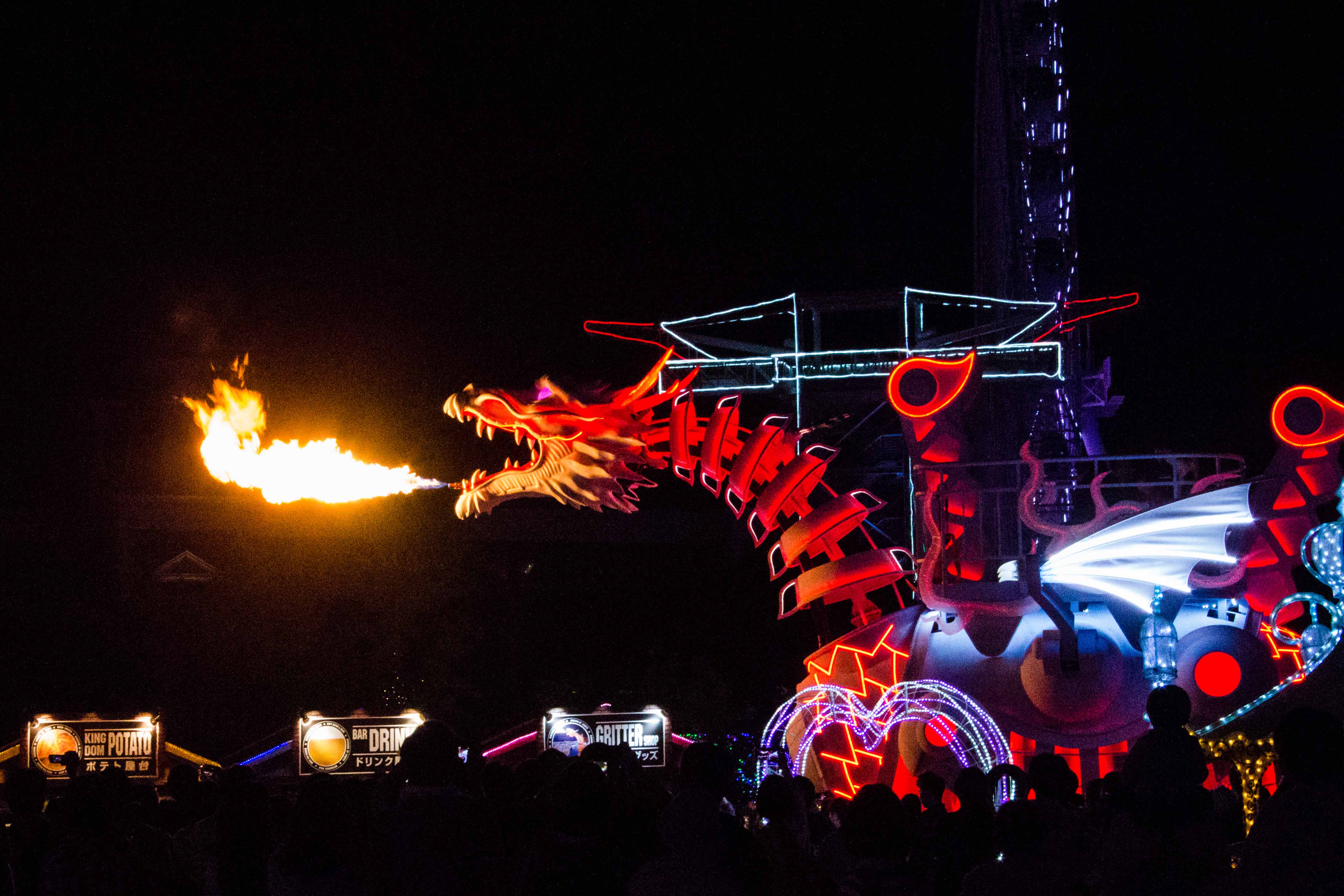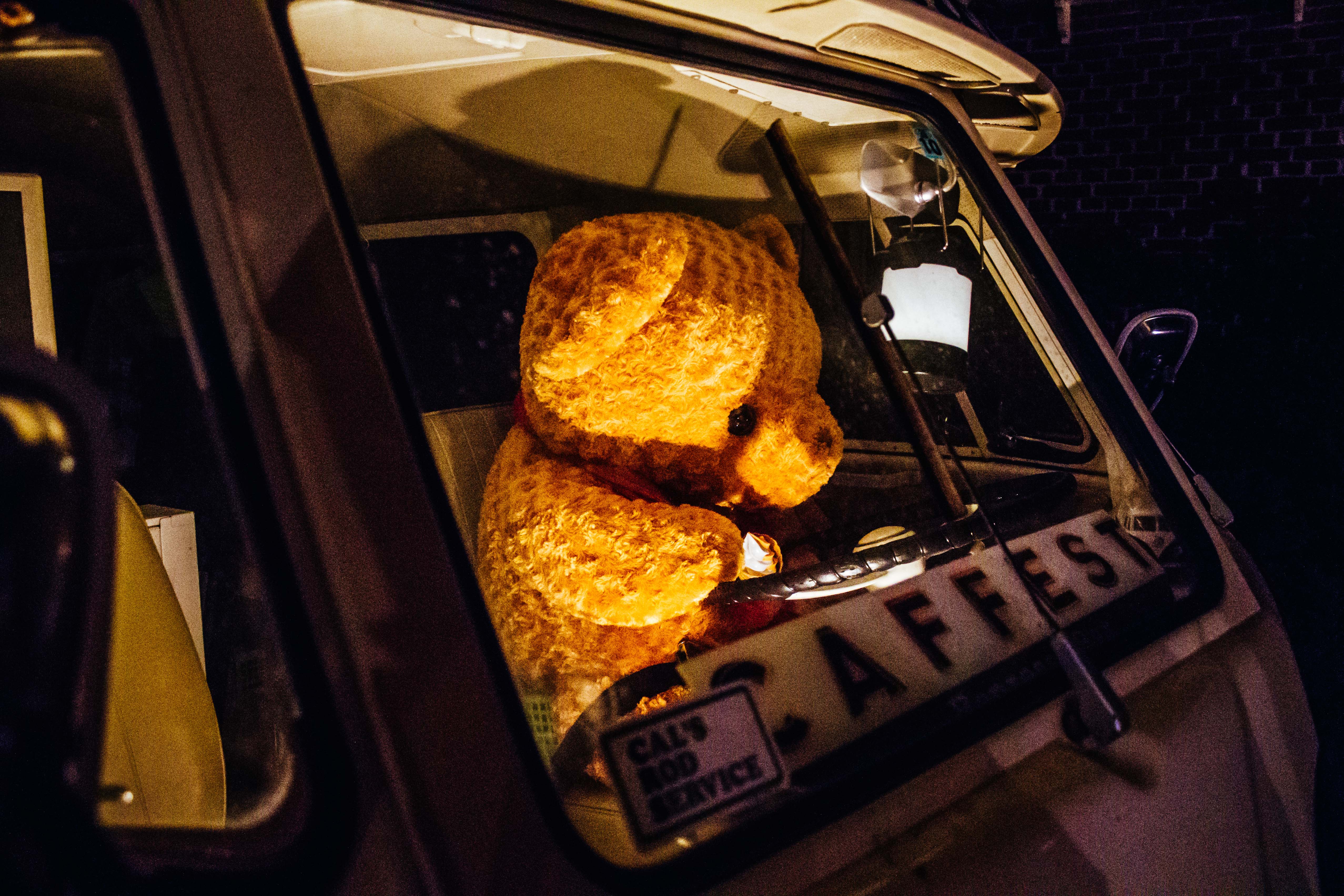 Related posts