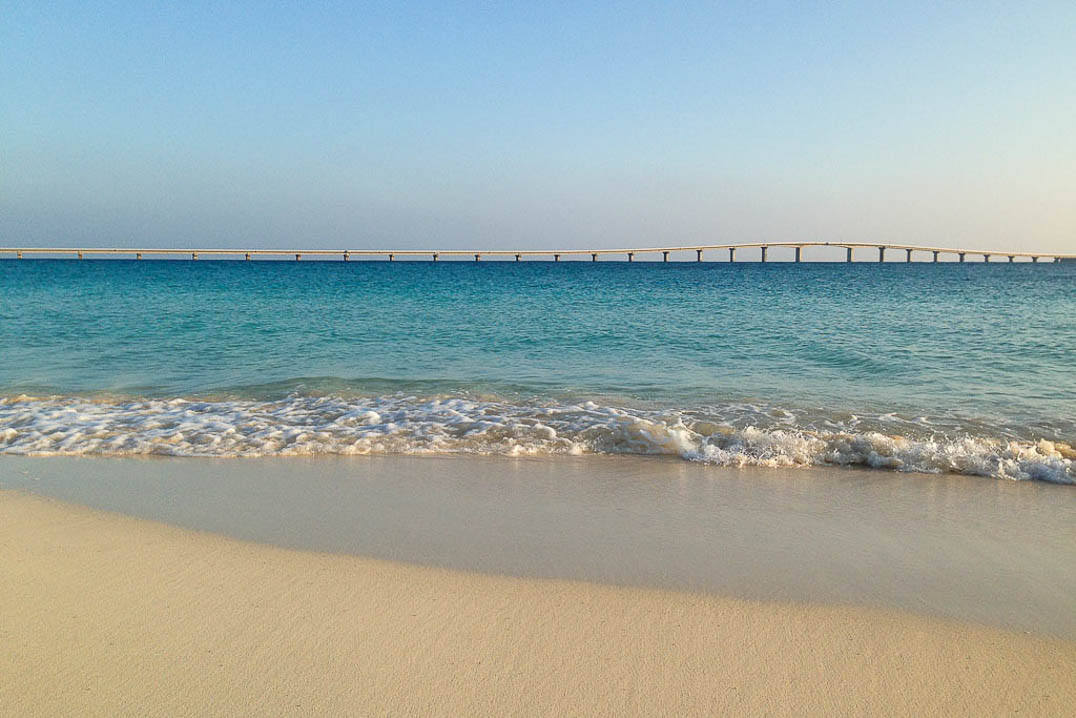 The rope of islands in the East China Sea that make up Japan's southernmost prefecture once prospered as an independent territory before falling under the control of modern-day Kagoshima in the 19th century. The Ryukyu Kingdom then became known as Okinawa, and was taken over by the US during World War II, under whose administration it remained until the 1970s. Several thousand military members are still stationed on the main island today, and that is one of the reasons it is so famous. The other is for the islands' surrounding seas, which are considered some of the most beautiful in the world, brimming with coral and marine life. The Ryukyu spirit lives on in Okinawan culture, language and cuisine, which is nothing like the rest of Japan. In fact, arriving there from the mainland is like falling down a rabbit hole. During Silver Week, I was lucky enough to follow Alice for 8 glorious days through Naha and Miyako with an awesome bunch of humans otherwise known as the Okinawarriors (check out our hashtag on Instagram!) We saw whale sharks for the first time, dined in the only Little America I know, bussed to a Peace Park that we never saw, drove across the longest toll-free bridge in Japan, caught flights and missed flights, and swam and snorkelled our days and nights away, feasting under the moonlight with new friends that welcomed us into their home and hearts like family. It was a holiday like no other and I don't believe I've ever visited a more magical place. How to do it justice? I can only offer a few snapshots and words that began to take shape on our last night at the beach…
Until the last grain smudges between my fingertips and is carried away on the breeze, my grip could turn statues into sand trying to hold on to you.
You, Miyako, who has reminded me of all the things 'real' life distracts me long enough from to forget.
You, a blip on the radar that shines brighter than all the stars in the night sky, to which I throw my head back and plead, "Why?"
Why can we not stay?
Drunk on love and sun and cans of green, laughing, laughing, spacewalking through dreams at the bottom of the ocean and inside spontaneous melodies, getting lost in the streets, jamming to sick freestyled beats, regurgitating our 6-word vocabularies, swimming naked and carefree, basking in the heat of your toasted marshmallow sky…
We could live forever, here on the edge of the world.
So far away from home, but so close to it in this new one…small reminders in those paper cups of Rooibos tea and in those tumbler glasses of Wild Africa cream, and in the corner a collection of drums that I just know can deliver Mzansi beats. How did you know I was coming?
Your sweet sunsets have birthed rivers in my eyes and I ache and ache trying to forgive you for your beauty. Its stark contrast to the raw, ugly, honest truth of me is almost too much to bear.
I've laid myself bare, in your sugarcane fields and turquoise seas. I've talked myself silly and breathed my fears on secret rooftops and into coconut beards. I've lost and found parts of myself in the torturous delight of all this company.
And now I'm suffering from a sleep that has been less of a destination each day and more of a pit stop on this journey.
Your salt is ecstasy to my wounds.
And when that tide rushes in, there's no point in trying to fight it. I surrender to your ebb and flow, to the give and take of this swell that pushes me back and forth between want and need, healed and bleeding.
Your waves are as transient as they feel, each just another moment that slips through the neck of the hourglass and beaches itself on the shore.
It has been our constant, this shore. A giant canvas that we have painted on and painted over. And it's here, I realize, that you have become enough.
Your beauty is enough.
Just as Tar Baby says, no "need to photograph, paint, or even remember."
I finally let you go because I can.
It is enough.
It is enough.
The radar tracks on, soothing me into lucidity…
In the cradle of my creativity, I find and carry you with me.